Miami to Tampa Bay Long-Distance Moving Solutions
Florida is one of the most dynamic states in the U.S. It has some of the fastest growing metropolitan areas in the country, each supporting a strong job market. That's one reason why it's not unusual for people to make the move between South Florida and Tampa Bay, which includes the cities of Tampa, St. Petersburg and Clearwater.
It's an in-state Florida move that Good Greek Moving & Storage has helped thousands of people make.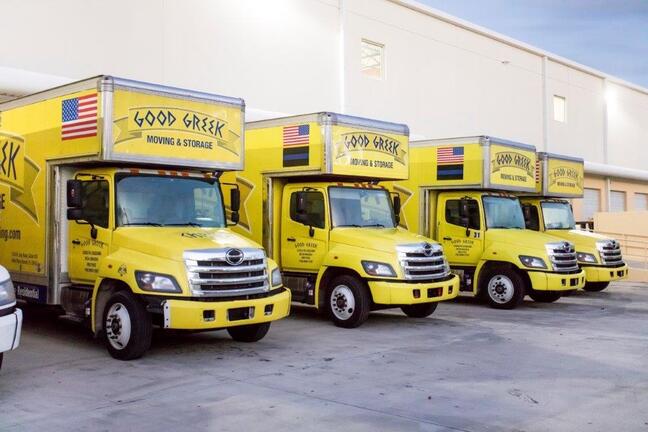 Miami to Tampa Bay Moving Experts
At Good Greek Moving & Storage, we have years of experience as professional movers. We've handled the moving needs of those moving from South Florida to Tampa, South Florida to St. Petersburg or South Florida to Clearwater.
We offer every kind of moving service you need, including packing and unpacking services and disassembly of light furniture. We are licensed to handle moves anywhere in the state of Florida. We also can handle moves across the nation or even to other parts of the world. Our reputation speaks for itself. If you are planning a move from the Miami area to Tampa Bay, contact us and we will let you know what we can do for your move.
Why Pick Good Greek for Your South Florida to Tampa Bay Move?
Good Greek Moving & Storage is one of the best-known moving companies in South Florida. We have experience moving people across Florida and the nation. We offer a range of services to make your move as smooth as possible.
They include:
A free estimate for your move.
A written price estimate. We don't do last-minute charges or moving-day surprises
Light disassembly and assembly of furniture at no extra cost (such as bed frames)
Packing and unpacking services
Packing supplies if you want to pack yourself
Supplies to keep your fragile items safe (such as blankets and/or pads)
Secure storage space where you temporarily place your belongings, if needed. The units are monitored with CCTV security and use a computerized inventory tracking system
24 hours a day, 7 days a week customer service
Good Greek Moving & Storage handles every kind of move. That includes small apartments, large homes or multi-level townhomes. If you have a business that you need to move from South Florida to Tampa Bay, we can handle that, too.
From the moment Jack came to our apartment to see what needed to be moved, we knew we were in great hands...
Reasons to Move to Tampa Bay
Many people make the move to Tampa Bay because of work. The economy in Tampa, St. Petersburg, Clearwater and the surrounding areas such as Brandon, New Port Richey, Bradenton and Sarasota are attracting more and more people.
The U.S. Census Bureau reports that the population in the area grew almost 7% just between 2010 and 2015. The Tampa Bay area has become a big draw for the tech industry, attracting workers from around the country. The area also has great attractions, including world-class museums and some of the highest rated beaches in the world.
The Tampa Bay area also has sports teams in most of the major sports. They include the Tampa Bay Buccaneers in the National Football League, the Tampa Bay Rays in Major League Baseball and the Tampa Bay Lightning in Major League Hockey. The Tampa Bay Rowdies play soccer in St. Petersburg in the USL Championship League. Just down the interstate, Orlando is the home of the Orlando Magic (National Basketball Association) and Orlando City (Major League Soccer).
Other attractions in the area include:
The Salvador Dali Museum
The Don Cesar Hotel
Busch Gardens
The Florida Aquarium
Clearwater Beach, Anna Maria Island and Fort De Soto Park (to name a few of the many great beaches)
Lowry Park Zoo
Tampa Riverwalk
Egmont Key National Wildlife Refuge
Seminole Hard Rock Casino and Hotel
Those are just a few of the many attractions in the area. Many people in Tampa Bay also make the short drive to Disney World and the other amusement park attractions in Orlando.
Tips For South Florida to Tampa Bay Move
When you are moving from Miami to Tampa Bay, there are some important tips to keep in mind.
Many people move in Florida, so you must be aware of the scam artists who prey on people when they already are in a busy, stressful situation of trying to move. Look for a moving company with plenty of experience and a stellar reputation. You also want to ensure they are properly licensed to handle your kind of move.
Only pick a mover who offers extra insurance through a third-party provider
Pick a mover who can offer you a written price before the move
Look for companies that are full-service movers, offering you all the services you might need, such as packing supplies and packing and unpacking.
Your mover from Miami and South Florida to Tampa Bay can go smoothly if you pick the right moving company. We urge you to contact us at Good Greek Moving & Storage and give us the chance to make this your Best Move Ever!
Miami to Tampa Bay Long-Distance Moving Services
Are you planning a cross-country relocation from Miami to Tampa Bay? Good Greek Moving & Storage provides full-service long-distance moves throughout the United States. Call (813) 438-2700 or request a free moving quote today.