Planning a long-distance move to or from Florida is stressful. There's the packing, cleaning, changing utilities, and possibly selling your home. But the biggest decision is choosing the best long-distance movers responsible for transporting your possessions across the country. Eliminating the stress of that decision is what Good Greek Moving & Storage specializes in doing.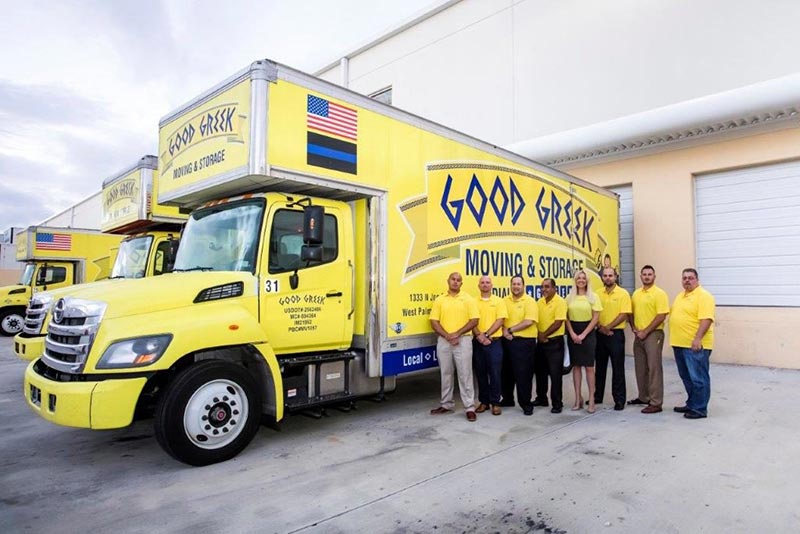 Premiere Florida Long-Distance Movers To Anywhere In The United States
The experienced long-distance movers at Good Greek Moving & Storage understand what you're going through. They take seriously their job of making your cross-country move stress-free.
Good Greek Moving & Storage manages Florida moves from apartments, condos and houses. They work with individual residents and businesses. They offer pick-up and delivery services to points throughout the United States. Rest assured they comply with all regulations for moves across state lines and have a long track record of satisfied customers.
We used Good Greek for our long distance move from South Florida to Metro Atlanta and they were awesome!
Why Should I Pick Good Greek Moving & Storage for my Cross Country Move?
Moving specialists from Good Greek Moving & Storage have earned a reputation for trustworthiness. That's why each move is backed by the Best Move Ever.
As full-service, long-distance movers, Good Greek offers:
Complete packing and unpacking services
A full line of packing supplies
In-house estimates before the move
That estimate is cool- no last-minute price hike surprises!
Professionals who can answer your questions leading up to moving day
On moving day, supervised, uniformed movers are prompt, polite and ensure your items
are packed safely.
Disassembly and reassembly of your furniture
Storage is available for your belongings
24-hour, 7 days-a-week business hours
How Much Will My Long-Distance Move Cost?
Good Greek offers in-home estimates for your move. Because each move is unique, they assess the number of items and the time needed to pack, transport and unpack. Good Greek believes in fair pricing and offers some of the cheapest long distance moving options. Make sure to ask about our special offers for long distance moves.
There are enough stressful issues involved with a move. Choosing the best long-distance mover shouldn't be one of them. Contact us about how we can make your long distance move your Best Move Ever.
Call For a Free Moving Estimate: South Florida (888) 459-0892 – Tampa (813) 438-2700
Popular Long Distance Move Destinations
Florida
Fort Myers, FL
Jacksonville, FL
Gainesville, FL
Talahassee, FL
Southeast US
Charlootte, NC
Nachville, TN
New Orleans, LA
Asheville, NC
Austin, TX
Raleigh/Durham, NC
Birmingham, AL
Northeast US
Boston, MA
Washington D.C.
Philiadelphia, PA
Pittsburgh, PA
Burlington, VT
Providence, RI
Hartford, CT
Richmond, VA
Midwest US
Chicago, IL
Detroit, MI
Indianapolos, IN
St. Louis, MO
Hansas City, KS
Omaha, NE
Dallas, TX
Houston, TX
West & Southwest US
Denver, CO
Colorado Springs, CO
Pheonix, AZ
Las Vegas, NV
Albuquerque, NM
Tuscon, AZ
San Diego, CA
Los Angeles, CA
San Francisco, CA
Pacific Northwest
Seattle, WA
Portland, OR
Tacoma, WA
Vancuuver, BC
See all areas served here.