Florida's Best Choice Furniture Moving Company
Good Greek Moving & Storage is Florida's preferred furniture moving company. With locations in Fort Lauderdale, Tampa and West Palm Beach, our expert local movers provide convenient furniture transportation throughout Florida and beyond. We have the equipment, skill and experience to handle everything from home and garden furniture to office equipment and fragile items. To discuss your moving and storage requirements, speak with our specialists about a free moving quote.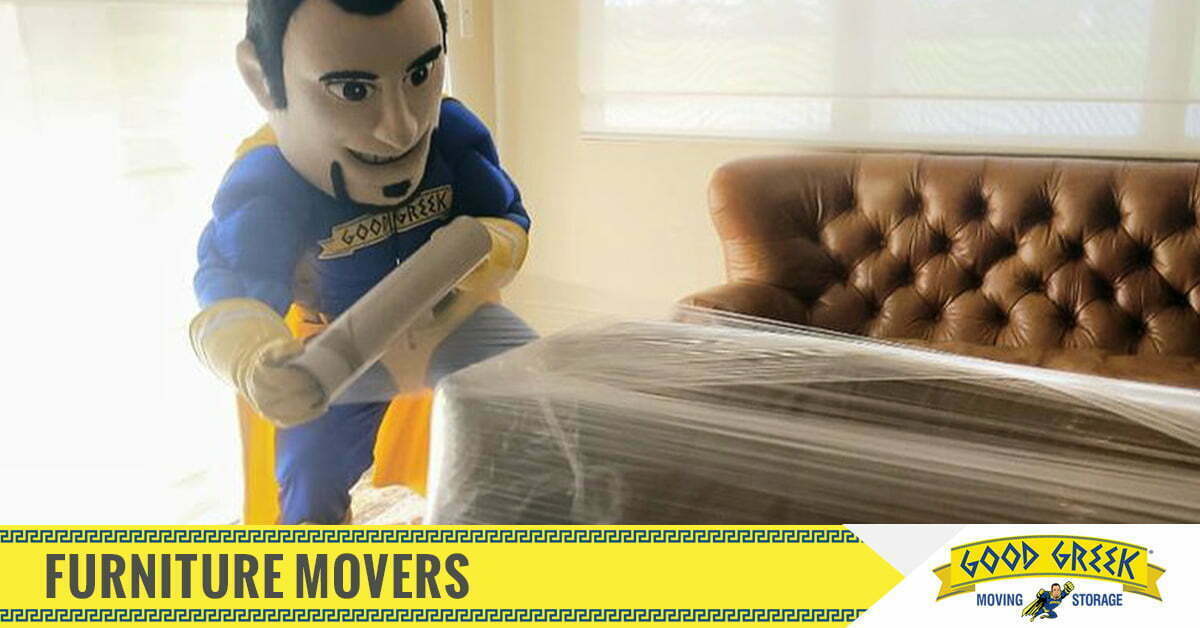 Furniture Moving Specialists in Florida
Moving furniture is one of the most challenging aspects of most relocations. From the risk of injury to potential breakage, there's a lot that can go wrong, but using a team of specialized movers can help bypass these factors. At Good Greek Moving & Storage, our highly trained and experienced team combines upfront planning, secure packing services, safe lifting techniques and top-quality equipment to ensure a hassle-free move.
Expert Residential Furniture Moving Services
Over the years, many homeowners usually acquire a lot of furniture. A residential move may involve transporting sofas, coffee tables, dining tables, bookcases, desks, televisions, art, antiques, pianos and much more. Backed by years of experience, our skilled crew can navigate even the tightest spaces and doorways, protecting your items until they are safely installed in their new destination.
Some of Our Residential Furniture Moving Solutions
Protective padding to prevent scuffs and tears.
Efficient loading and unloading of all furniture.
Arrangement of furniture at the new property.
Experienced Commercial Furniture Moving Solutions
Good Greek Moving & Storage works with Florida businesses during office moves. We have the skill and expertise to conduct large-scale relocation projects as well as more simple home office moves. With the guidance of a moving coordinator, our team sets up desks, chairs and other office furniture with minimal disruption to business operations.
Some of Our Commercial Furniture Moving Solutions
Light furniture disassembly and reassembly.
State-of-the-art equipment to handle complex items.
24/7 customer support for home and business clients.
Why Trust Good Greek Moving & Storage With Furniture Moving?
Furniture moving doesn't need to be difficult when you choose Good Greek Moving & Storage.
Pre-move furniture assessment and free estimate.
Personalized solutions covering heavy, fragile and antique furniture.
Furniture dismantling (and reassembly).
Fast packing and safe transportation.
Furniture storage options at our secure facilities.
Delivery and placement at the new location.
Common Questions About Our Furniture Moving Services
Yes. Our moving specialists are trained to carefully pack and load heavy items using safe practices. We use equipment like dollies, hand trucks, blankets, sturdy ties and other equipment and materials to ensure a flawless move.
We use specialized equipment and high-quality packing materials to safeguard your furniture during loading and transportation. Among the materials we use are furniture blankets, sturdy boxes, custom-made crates and shrink wrap.
Yes, we provide comprehensive insurance coverage to protect your furniture during the moving process. Insurance offers the peace of mind that comes with knowing your valuable items are protected in the unlikely event of furniture damage.
Florida's Premier Furniture Movers and Storage Company
Good Greek Moving & Storage offers comprehensive and affordable furniture moving services in Florida and across the country. For help with local and long-distance moving, speak with our expert movers today. Call (561) 683-1313 or request a free moving quote now.