Florida White Glove Movers for a First-Class Relocation
Every move is important. Almost every move includes artwork or other decorative items that people want treated with special care during the move. People who want the security of knowing their items are given the white glove treatment should hire a South Florida moving company that specializes in putting the needs of customers first.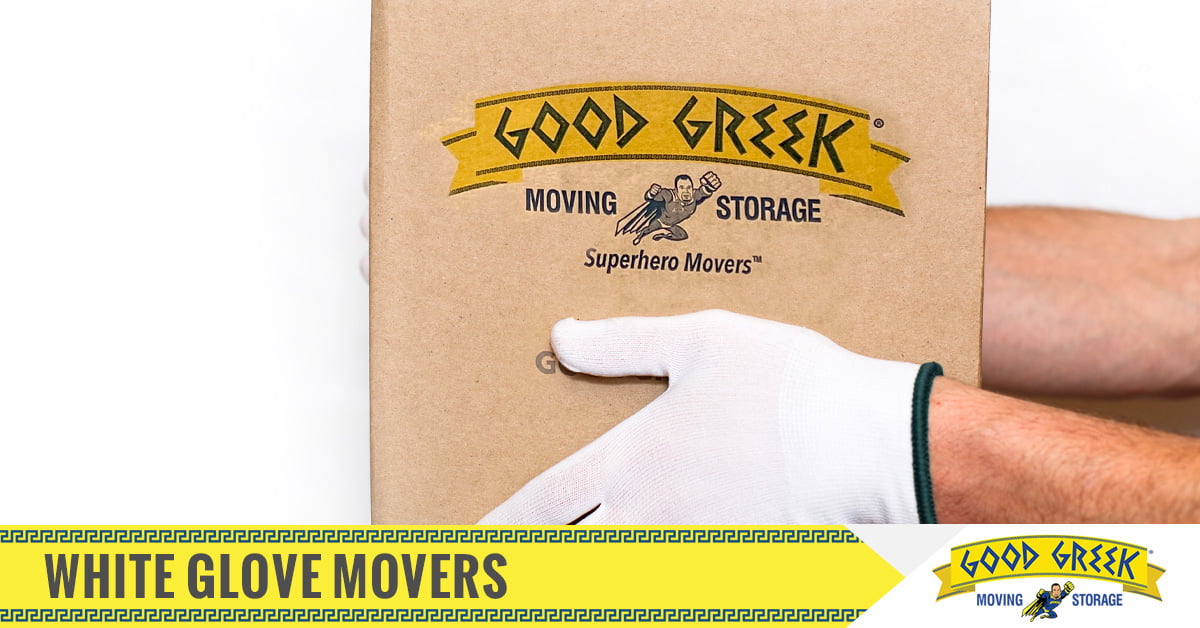 White-Glove Moving Starts With Top-Notch Customer Service
We pride ourselves at Good Greek Moving in offering professional moving service where we treat every customer with respect. Our white-glove service starts with coming to your home and personally meeting you and inspecting what you need to be moved. By offering an in-person visit, we can better assess exactly what we will need to ensure that your items are moved safely and with the lowest possible chance of damage.
As part of our customer service, we also offer a written estimate for your move. We have people ready to answer customer calls, 24 hours a day, 7 days a week. At Good Greek Moving, white-glove service starts with getting treated with respect.
Special Services with "White Glove" Care
Whether you are moving into or out of Florida, we can give you the specialty services you need to make the move as stress-free as possible. The following are some of the special services we offer.
Piano Movers – We are fully licensed and insured to move all makes and models of pianos. That includes uprights, consoles, baby grand, and grand pianos.
Storage Experts – If you need to store your items, we offer clean and secure storage with 24-hour monitoring and CCTV security. We also have a computerized inventory system for accurate tracking of all items.
Auto/Motorcycle – We offer auto and motorcycle shipping throughout the United States. We offer both closed carriage and open carriage transport that allows shipping for any budget.
Packing, Unpacking, and Crating – Good Greek Moving & Storage is a full-service relocation company and will handle all your needs from start to finish. Our professionals will pack and unpack your loose and fragile items in a fraction of the time that it would take you! We offer free debris and box removal included with all pack/unpack moves and free box delivery for self-pack moves.
Apartment, Townhouse, Single-Family Home and Commercial Movers
We can handle any type of move at Good Greek Moving and Storage. They include all the following.
Apartment Moves – We provide fast and cost-efficient moves of one, two, and three-bedroom apartments. No job is too small!
Townhome Moves – Our professional movers are experts in dealing with multi-floor moves.
Single-Family Home Moves – No matter the size of the house – from a three-bedroom ranch to a mansion – Good Greek Moving & Storage will provide expert care for your belongings.
Commercial Moves – We can handle relocating businesses and offices throughout Palm Beach County and Florida with the least impact on operations.
Local, Statewide and Nationwide Apartment Movers
Good Greek Moving & Storage is licensed to handle home and apartment moves in South Florida, across the state of Florida, across the country and around the world. So, whether you are moving from New York City to West Palm Beach or Pembroke Pines to Los Angeles, we offer the services to do the job right.
Why Hire Good Greek Moving & Storage?
We offer the best moving services in South Florida. Our white glove treatment starts with treating each customer with respect. Our moving professionals have a customer-first approach to our business and always look for ways to make your move as stress-free as possible. If you have an upcoming move, we ask that you give Good Greek Moving & Storage a call at (561) 683-1313, to hear what we can offer to make your move the Best Move Ever.