Florida's Storage Services for Commercial and Residential Moves
Good Greek Moving & Storage is an established provider of storage solutions for homes and businesses in Florida. We offer short-term and long-term storage for our clients as part of our first-class local moving services and long-distance relocations. So whether you and your family are relocating across the country, or your business needs a safe space for its office furniture, we're here to help.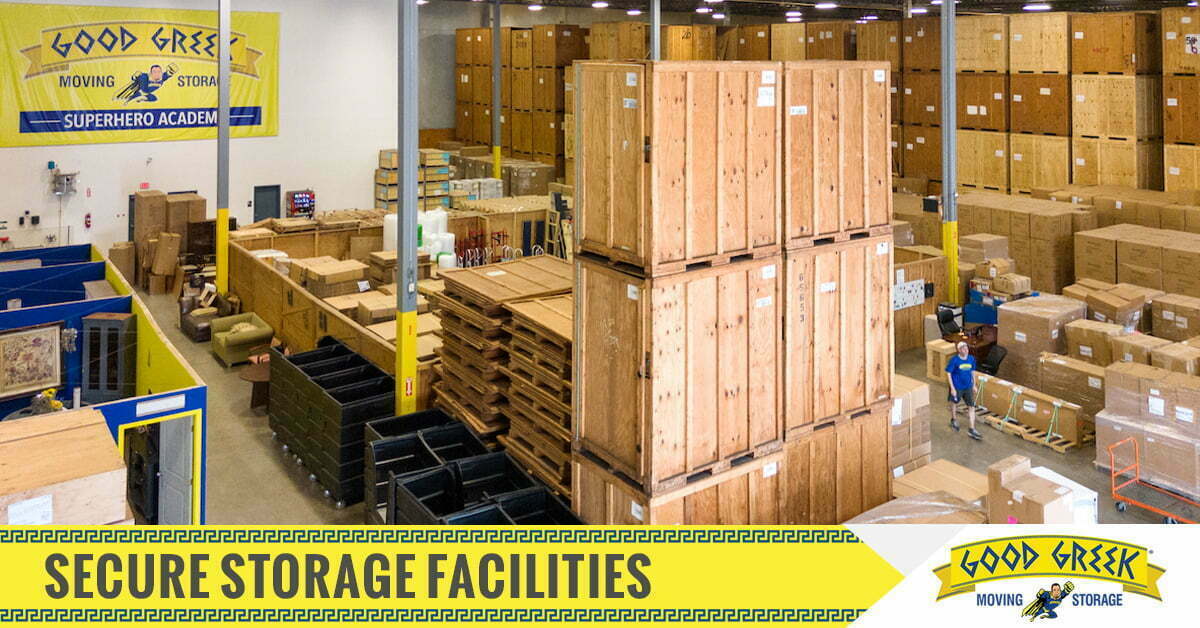 What to Expect From Our Safe Storage Facilities
At Good Greek Moving & Storage, we understand the importance of delivering flexible, competitively-priced storage services to our clients in Florida and nationwide. For these reasons, we have developed storage solutions adaptable to your needs.
We believe you should pay only for what you need, and our storage unit options cover every need, from small apartment moves to corporate relocations. In addition, our storage units are clean, modern – and protected by high-level security. Our home and business storage services feature the following.
More than 1,000 storage units available in our climate-controlled facility.
Closed-caption surveillance video (CCTV) monitoring.
A computerized inventory tracking system.
Clean, well-maintained and pest-free units.
Adaptable units starting at 5' x 7' x 7' (one room).
Storage Services for Businesses
For more than two decades, Good Greek Moving & Storage has been a reliable moving partner for businesses in Florida and beyond. As part of our commercial, industrial and office moving services, we provide safe storage to suit every requirement.
Whether you are relocating to a new corporate headquarters, downsizing to a home office, conducting a long-distance commercial move, or want to stagger a move to avoid unnecessary disruption, our storage service is the perfect choice. Trust us to securely store your furniture, industrial equipment, technology, tools, documents and other items before transferring them to your desired location.
Residential Storage Solutions
As Florida's expert long-distance movers, we understand the complexity of moving to a new location across the country. Fortunately, our state-of-the-art storage services help ensure a hassle-free moving experience. Let us know your situation, and we can provide flexible, cost-effective storage options for all local and cross-country residential moves.
If your new home is not quite ready for you to move in (or you're facing a delay in selling your existing property), our residential storage will prove helpful. Our team is on hand to pack, transport and store your belongings until the time is right for unloading at your new location.
Common Questions About Storage Services
Our facilities are climate-controlled, monitored by CCTV, operated by trained staff – and complete with durable storage bins.
Costs vary depending on the space required to store your items and the length of time needed. Our experts conduct an evaluation to determine your storage requirements, then deliver an accurate storage estimate.
Yes. We can carefully pack, load and transport items such as works of art, pianos, computers and appliances. With CCTV monitoring in our secure storage facilities, your items will be safe in our hands.
Contact Us for Affordable Storage Solutions in Florida
Good Greek Moving & Storage is proud to offer the highest quality storage solutions for residential and commercial clients in Florida. With locations in Fort Lauderdale, Orlando, Tampa and West Palm Beach, our local and long-distance moving and storage team is ready to help. To contact us, call (561) 683-1313 or request a free moving quote today.