Florida's Trusted Cross-Country Movers and Relocation Specialists
At Good Greek Moving & Storage, we provide comprehensive cross-country moves to and from Florida. Our skilled moving team works with homeowners and businesses for interstate relocations across the country. And with over 20 years of moving experience, our clients can be assured of a first-rate relocation. Our services also include auto transport and international moving, so we can create custom moving plans that fit the needs of our clients.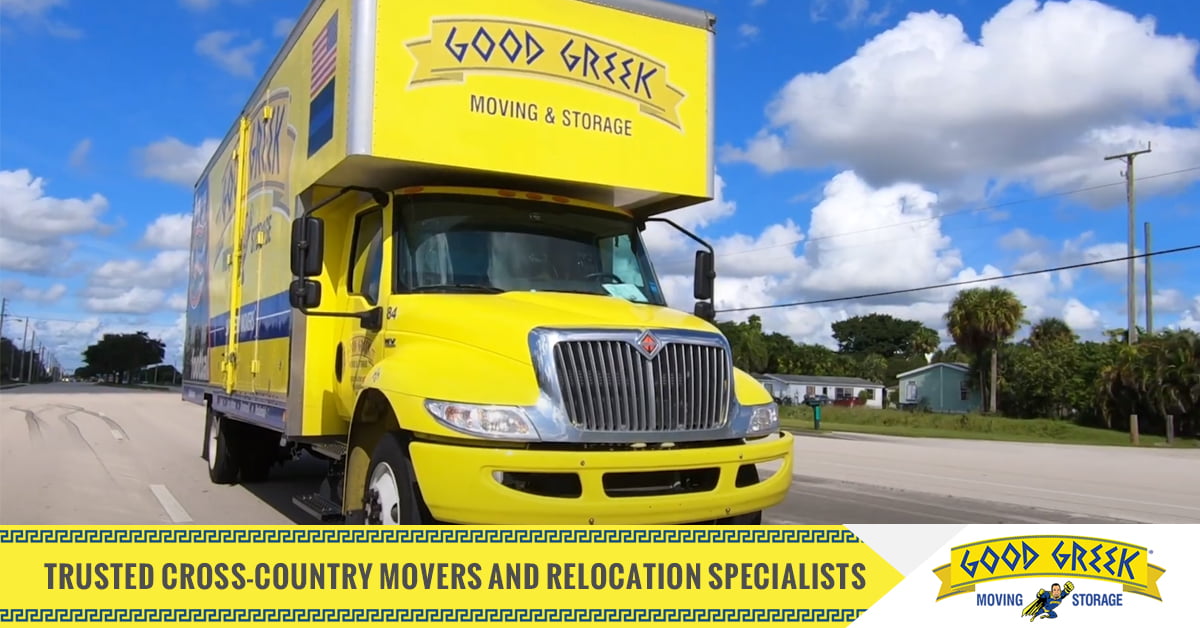 An Overview of Our Cross-Country Moving Services
As dedicated Florida long-distance movers, we understand the challenges of relocating to a new state. Here are some of the ways we take the stress out of a move.
Cross-Country Residential Moving
Whether you are leaving Florida for new opportunities or relocating to The Sunshine State, we manage the entire home-moving process from start to finish. Our team provides secure packing, fast transportation, expert logistics and convenient unpacking at the new location.
Cross-Country Commercial Moving
From moving corporate headquarters to opening new branches in new states, cross-country commercial movers are important allies for businesses. Our precise planning and efficient execution ensures that a company faces only minimal downtime during a transition.
Storage Solutions for a Cross-Country Move
Storage facilities play a key role in the long-distance moving process. We store items in secure, climate-controlled units until clients are ready for delivery.
Auto Transport Services
For cross-country transportation of cars, vans, motorcycles, boats and trucks, count on the auto transport services from Good Greek Moving & Storage. We use open carrier and enclosed carrier vehicle transport for damage protection over long journeys or short hops.


Main Elements of a Cross-Country Move
Many factors combine to create a straightforward and efficient long-distance move, including the following.
Upfront estimates and transparent pricing.
Door-to-door convenient moving.
Detailed initial planning and logistics.
Route planning, with understanding of state regulations.
Labeling and inventory management.
Full-service packing, loading and unpacking.
Every cross-country relocation will be customized for the individual home or business owner. We take time to understand each client's requirements to craft a cost-efficient, reliable move.


Common Questions About Cross-Country Movers
Depending on the distance, a cross-country move could take anywhere from a few days to a couple of weeks. Complex commercial moving projects will take longer than a relatively simple residential relocation. In all cases, speak with our moving team for a timeline.
To begin, start by decluttering your home, and selling or donating unwanted items. Work towards organizing your belongings, as this practice – and hiring professional movers well in advance of the move – helps minimize stress.
It can be helpful to create "an essentials bag" that contains important documents, small valuables, medications, chargers, toiletries and so on.
Contact Us for Cross-Country Moving Throughout the United States
Good Greek Moving & Storage provides home and business moving services in the United States. For dependable cross-country movers and storage specialists, contact our team today. Call (561) 683-1313 or request a free moving quote now.