Florida Moving Company Reviews and Client Testimonials
From the moment Jack came to our apartment to see what needed to be moved, we knew we were in great hands. The day of the move, the boys arrived right on time and were very friendly and professional. They used a wrapping method with padding to ensure everything was securely transported.
They worked quickly and carefully, it was clear that they knew exactly what they were doing. When we arrived at the house, they placed everything exactly where we wanted it in a very efficient and careful way. We had some laughs and, over all, we had a great time together. Their professionalism went above and beyond. We highly recommend them and I'd definitely use them if we ever plan to move again.
Elizabeth Lewis
Espresso & Chanel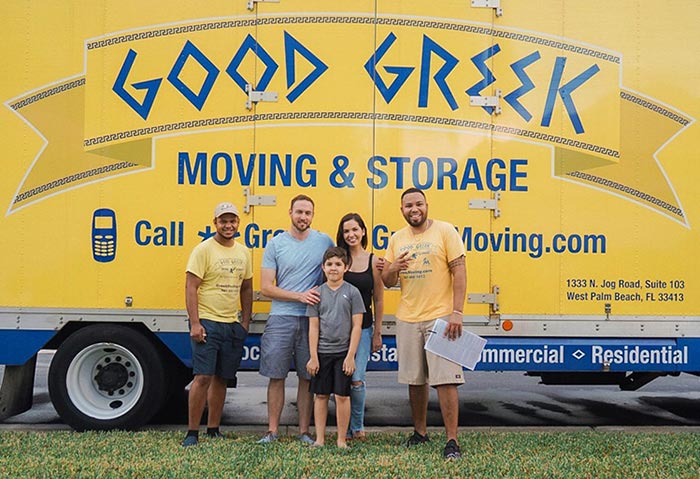 Awesome Experience on Out of State Move!
Seriously the best experience! We used Good Greek for our long distance move from South Florida to Metro Atlanta and they were awesome! From Mike, Blake at the very start to Dario, Juan and Miguel who loaded the truck and finally Junior and Adrian who did the unloading at our final destination. All wonderful professionals who made everything so easy for us.
Vanessa Teitler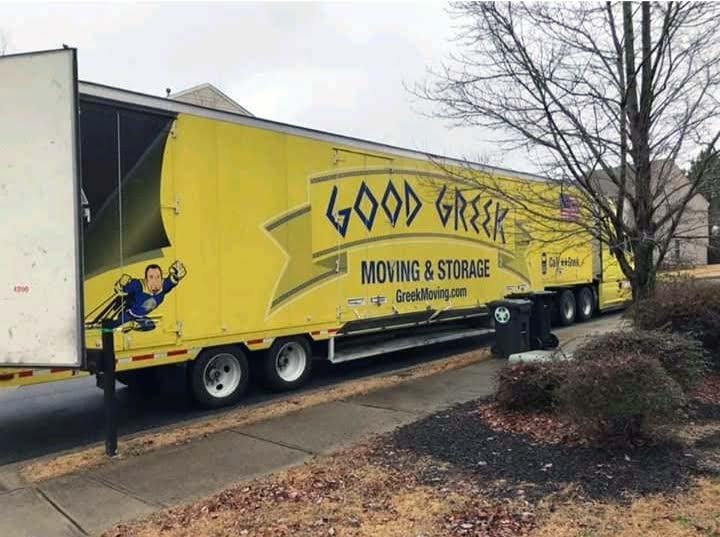 Florida's Best Local and Long-Distance Movers
As a well-established Florida moving company, Good Greek Moving & Storage has numerous positive reviews from homeowners and businesses in Palm Beach, Fort Lauderdale, Tampa and beyond. Contact us to discuss our moving and storage services. Call (561) 683-1313 or request a free moving quote today.
Good Greek Moving Reviews – West Palm Beach
We recently used Good Greek for a local move, and we very happy with the service we received. Four men arrived first thing in the morning, and worked the entire day. They wrapped all of the pictures, mirrors, and furniture carefully. We had zero damage to any of our belongings. Once we were at the new location, they reassembled all the furniture and arranged it as we requested. Not only did they do professional work, they were cheerful the entire day! We highly recommend Good Greek!
It is not very often that you find a moving company and people that are honest, professional and true to their word-that is GOOD GREEK MOVING & STORAGE , West Palm Beach, Florida.
From the first encounter with Phil DePasquale (Director of Sales )to Shirley and office staff to Adrian (Mover & Driver) along with his team members everyone communicated, was efficient and most of all treated our possessions like it was their own. Phil stated I would not pay a penny more than my quote and true to his word I didn't!!!
It's nice to know that GOOD GREEK Moving & Storage stands behind their promises and delivers!!!
I used Good Greek Movers to move from NY to Florida 4 years ago since they were recommended to me by a relative. I truly believe I didn't get the accurate picture of what a great company they are. They were so much better than described. What could have been a tough move was made easy by their excellent professionalism, service, reliability and caring. Yesterday I needed to have several items moved locally. Again Good Greek exceeded my expectations and made a complex move painless and pleasant. I think it would be fair to say they should change their name from Good Greek to GREAT Greek Movers.
First of all, if you are considering using Good Greek based on reviews, look no further. CALL THEM AND SCHEDULE IT. They were the sweetest, most genuine, professional, punctual, careful and diligent crew EVER. The guys that did my move- and i mean my ENTIRE MOVE… from start to finish were Omar, Bryan, Giovanny and Ifran. I cannot tell you enough how amazing these guys were. When i move again I'm calling these guys!!!!!!!!!!!! THANK YOU GOOD GREEK!!!!!!!!!!
Have used GG twice and BOTH times was the best move ever! They are on time, prepared, careful, clean and strong!!! Def have my forever movers! They even surprised us with a moving gift.
Good Greek Moving Reviews – Tampa
Fun, fast, fresh, friendly, focused. The five F's. Cody, Walter, Jorge
Daniel and Leo did an amazing job! I will be recommending these guys to everybody! Thanks so much Good Greek Tampa!!! Go Bucs!
Fantastic services! Omar, Leo, Cavin and Cody were absolutely fantastic! Extremely professional and just pleasant to talk to. Will be recommending to all friends and family!
Great Company, Joe and crew did a great job. Extremely fast. I recommend the super hero package. GO Bucs!!!
Thank you to Jordan, Adell and Dan for an excellent move. Nothing broken, everything exactly where we wanted it. Thank you for making this move so easy for my mom! Highly recommend this group!
Good Greek Moving Reviews – Ft. Lauderdale
Timely, good communication with several follow ups by the company to verify how the move is going, team did great job protecting and wrapping furniture. Worked fast and efficiently
Moving is a stressful time. Good Greek made it less so. The crew that moved us was professional, efficient, courteous and patient. I highly recommend them.
Santos, Eladio, Jose, Coco. Great job and professional and responsibility.
Moving can be stressful, and moving in South Florida can be unpredictable and maddening if you don't choose the right movers. After several bad experiences, we chose Good Greek. It was a great move.
Highly recommend! Very efficient and professional. Made moving day easy and stress free!! Eladio, Adam, and Kumari we're wonderful and super personal guys. Absolutely the best moving experience I've ever had!
My 86 year old neighbor had to have furniture delivered from a store as store would not deliver to 6th floor of her condo building. Good Greek was very accommodating. The movers, Justin, Jason, and Chinee were very very professional and polite. We highly recommend this company
Great job, Guys were there they did a great job of wrapping and we were on our way. Took no time and they unloaded and unwrapped and set everything up for us, thanks again Guys!
Good Greek Moving Reviews – Yelp
This company was Great! They came out and gave a free estimate and scheduled a date for me to move and they also provided storage in that estimate which beat my Public Storage monthly storage payment. They arrived early packed everything and wrapped it for protection. I highly recommend this company and will be using them again in 4 months!
The time frame for the movers to arrive was accurate. They called 30 minutes prior to arrival and where nprompt.
The team lead explained Everything thoroughly.
They worked promptly and where carefull with our things.
The staff was friendly and professional.
Over all a great experience. I would recommend them.
They arrived at the time we were told. They were very professional & took care wrapping & loading my furniture on the truck. Unloading went smoothly and they were quick & courteous.
The three men crew was fast and efficient. We started by loading a few rooms from the apartment onto their truck. After bringing it to the new home, they also emptied two 16 foot POD's. All in, we were under two hours. Then apartment was only 3-4 miles from the home, but regardless, they did not waste any time. Thanks Marcello, Erik, and Alex for making the move an easy one.
I needed a quote on a move. I emailed a few companies. Good Greek waa the only company that actually called me back and not just an email. They were the best pricing, and customer service was great. We had the movers Marcus and Jacob that moved us. We will be needing movers again really soon and I will be getting with Good Greek Movers again. They made sure we were comfortable with each step of the move and would ask our opinions on different ways to help out. I will recommend them to anyone I know.