Florida Piano Moving and Relocation Services
The professionals at Good Greek Moving & Storage are Florida's leading white glove movers, specializing in piano relocations throughout the country. Located in Fort Lauderdale, Tampa and West Palm Beach, we handle complex instrument transportation within the state and across the nation. Our highly skilled team understands the unique requirements of a piano move, providing door-to-door delivery wherever you need to go. And backed by our customer-first approach, you're in good hands with Good Greek piano movers.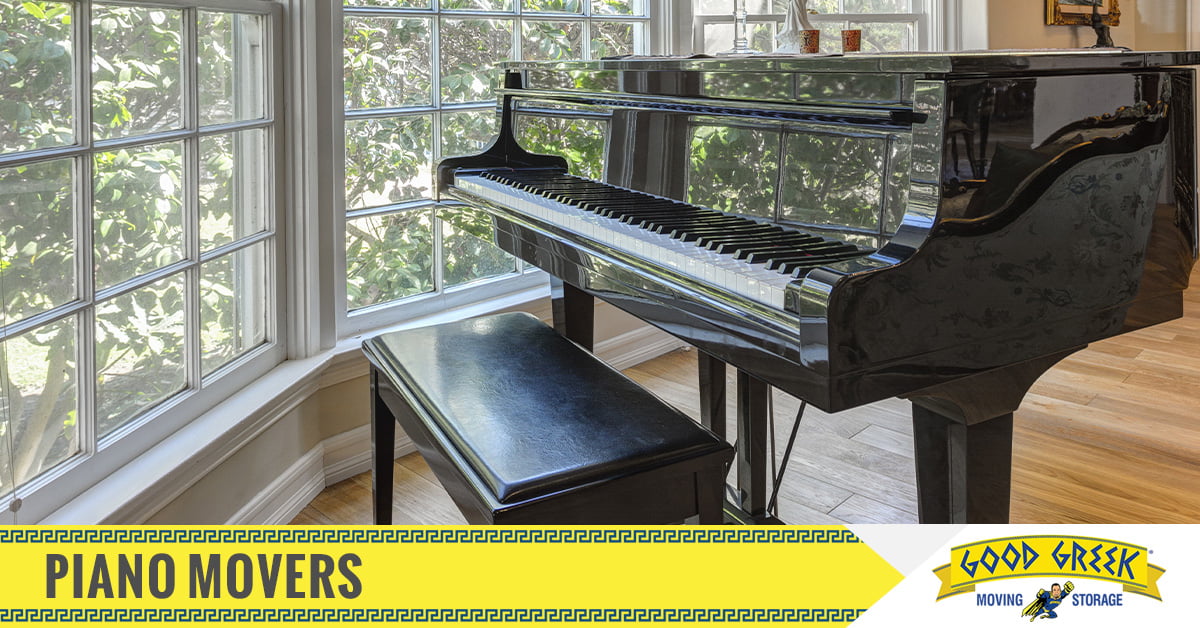 Comprehensive Piano Moving and Storage Services
A piano is a valuable, much-loved possession – one that requires care throughout the moving process, from planning stages to delivery. From the preparation and packing stage to the final unloading at your new destination, safety and security are key priorities. At Good Greek Moving & Storage, we provide expert assistance with all types of pianos.
Grand Piano
Baby Grand Piano
Concert Grand Piano
Upright Piano
Electric Piano
Hybrid Piano
Organs
Whether as a standalone relocation or during a full-service residential moving and storage experience, we follow a time-tested, proven process. Our expert movers understand the importance of maintaining both the piano's exterior appearance and the integrity of its sound. Here is a closer look at the piano moving process.


An Overview of the Piano Moving Process
While every move differs in some way, there are indeed some consistent features involved in every successful piano relocation.
Consultation and Planning – We evaluate the type of piano, outline pickup and delivery locations, plus identify any potential challenges (such as stairs, tight doorways, etc.).
Preparation and Packing – Padded moving blankets offer effective protection as we move the instrument to our well-maintained trucks.
Loading and Transportation – Specialized equipment, including a piano dolly and durable straps, ensures the piano is fixed firmly in place for the journey.
Unloading and Unpacking – Having reached your destination, we carefully unload the piano and set it up in your new home.
Secure Piano Storage in Florida
During both residential and commercial relocations, many clients choose to use our storage facilities while they prepare for a move. Our Florida storage services are perfect for short- and long-term piano storage, with climate-controlled units and CCTV monitoring. By maintaining optimal temperature and humidity levels, we ensure your piano is protected from fluctuating weather conditions.
Common Questions About Piano Moving Services
Piano moving prices will vary depending on the distance and requirements of each move. At Good Greek Moving & Storage, we provide upfront estimates and transparent pricing to help clients make an informed decision.
Most pianos are heavy, large and awkward to move, requiring specialized equipment to prevent damage or injury. It is recommended that you hire a professional moving team for large or fragile items like musical instruments.
It's unlikely that moving a piano will cause damage if you work with an experienced moving company. From careful planning and lifting techniques to packing materials and specialized equipment, every aspect of a piano move makes safety a priority.
Florida's Top Piano Moving and Storage Solutions
At Good Greek Moving & Storage, we provide fast, affordable moving services from our locations in Fort Lauderdale, Orlando, Tampa and West Palm Beach. As experienced piano movers, you can trust us with your prized musical instruments and other large and delicate items. To discuss a move, call (561) 683-1313 or request a free moving quote today.