Florida's Leading Full-Service Local Moving Company
For professional relocations and storage solutions, trust the expert local movers at Good Greek Moving & Storage. Our commercial and residential moving services cover everything you need for a comprehensive relocation – packing, loading, storage, transportation and a wide range of specialty services. And with locations in Fort Lauderdale, Tampa and West Palm Beach, we are fully equipped for local moving throughout Florida.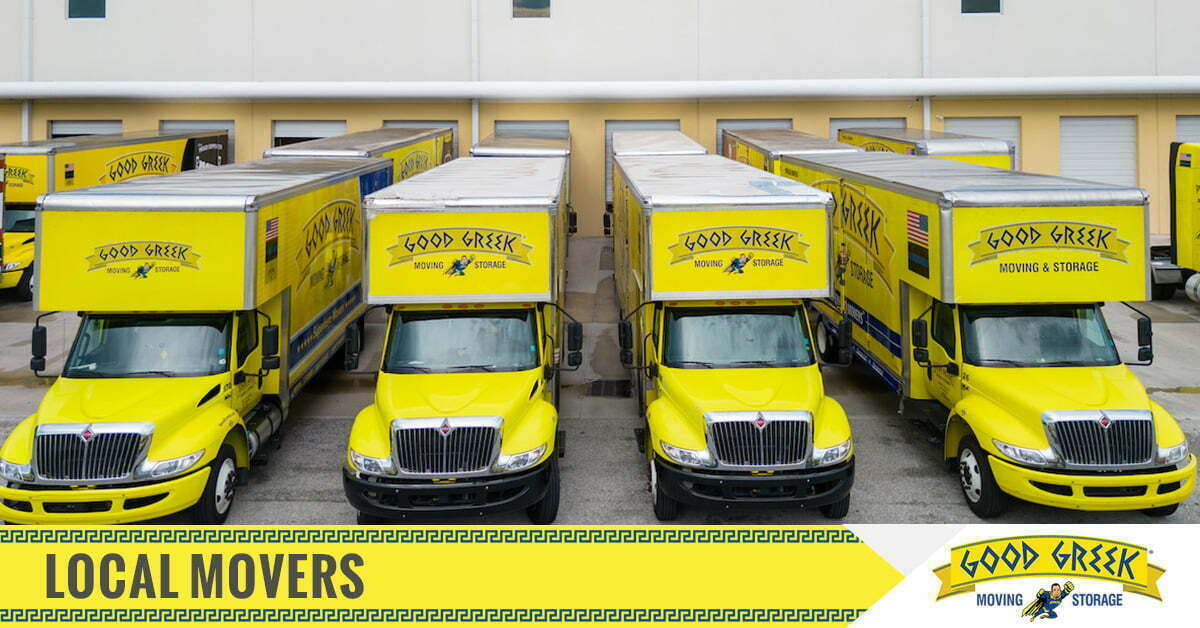 Comprehensive Local Moving Services in Florida
After more than 20 years of moving both homes and businesses all around the state of Florida, local moving is still at the heart of our company. We are proud to deliver safe and affordable relocation services to our local community. Let's look at some of the ways we can help with a move.
Local Movers for Residential Relocations
Whether you are moving into your first apartment or upgrading your family home, there are many reasons to seek out a local moving company. At Good Greek Moving & Storage, we understand that every move is unique and may come with challenges. That's why our flexible relocation services deliver everything you need for a seamless move. From our professional packing and unpacking services to our modern storage facilities, we tailor the moving process to your needs.


Some of Our Local Home Moving Services
Apartment moving for one, two and three bedrooms.
Downsizing or upgrading the family home.
Customized solutions for multi-family residences.
Expert Commercial and Office Local Movers
We have worked with Florida businesses of all sizes for more than two decades. From small offices to industrial facilities, we have consistently helped organizations navigate the local moving process. And as even a small move across the city can create complexities for a business, we use our expertise to plan hassle-free relocations within your schedule. Best of all, as full-service local movers, our integrated solutions can execute large-scale moving projects with minimal disruption.
Some of Our Corporate Local Moving Services
Efficient office moving, including furniture and high-tech equipment.
Employee moves or corporate relocations to a new office space.
Help transition from a corporate office to a home office.
What to Expect From Our Local Moving Professionals
Good Greek Moving & Storage has built a reputation for affordable and streamlined relocations throughout Florida. As a local moving company committed to customer-focused services, we strive to exceed expectations. Here are just some of the things you can expect from our moving specialists.
Free in-house estimates with no hidden charges.
Safe packing that treats your possessions with the greatest respect.
A friendly local moving team based in Florida.
Superior customer support to answer your questions.
Positive reviews and ratings from home and business clients.
Some of Our Specialty Local Moving Services
Our comprehensive Florida residential and commercial moving services include packing, loading, transportation, unloading and unpacking. We disassemble and reassemble furniture items, and can even hold your belongings in our state-of-the-art storage facilities.
In addition, we also offer specialty local moving services. Some of our clients require piano moving, auto transport, white-glove moving and packing, junk removal and so on. Let us know what you need from a local Florida move – we are here to accommodate you.
Common Questions About Local Moving Services
Local moves typically refer to relocations that take place within a short distance on the same day. A local move often takes place within a radius of 50 miles in the same state (though this distance may of course vary).
The cost of a local move will depend on the client's requirements. For example, a small apartment move will usually require fewer employees and less equipment than a typical office relocation. Our local moving company will provide an upfront estimate after an in-person visit to your home or business.
Yes. Our local moving services cover senior relocations to assisted living communities, new homes and apartments. We even provide downsizing assistance including storage and junk removal if needed.
Contact Florida's Local Moving Specialists
Good Greek Moving & Storage is the preferred choice for local moving and storage solutions in Florida. From our locations in Fort Lauderdale, Tampa and West Palm Beach, we provide reliable commercial and residential relocations. Call (561) 683-1313 or request a free moving quote today.