Local Movers Serving Miami Gardens
If you are planning on moving to or from Miami Gardens, Florida, you might want to consider hiring a moving company. While there is a variety of moving companies to choose from, no other company provides the outstanding service and satisfaction of Good Greek Moving and Storage. Known as the official mover of the Miami Marlins, we at Good Greek Moving and Storage have what it takes to simplify your move. Whether you require residential or commercial moving services in Miami Gardens, we are the moving company to call when you want excellent movers at a competitive price.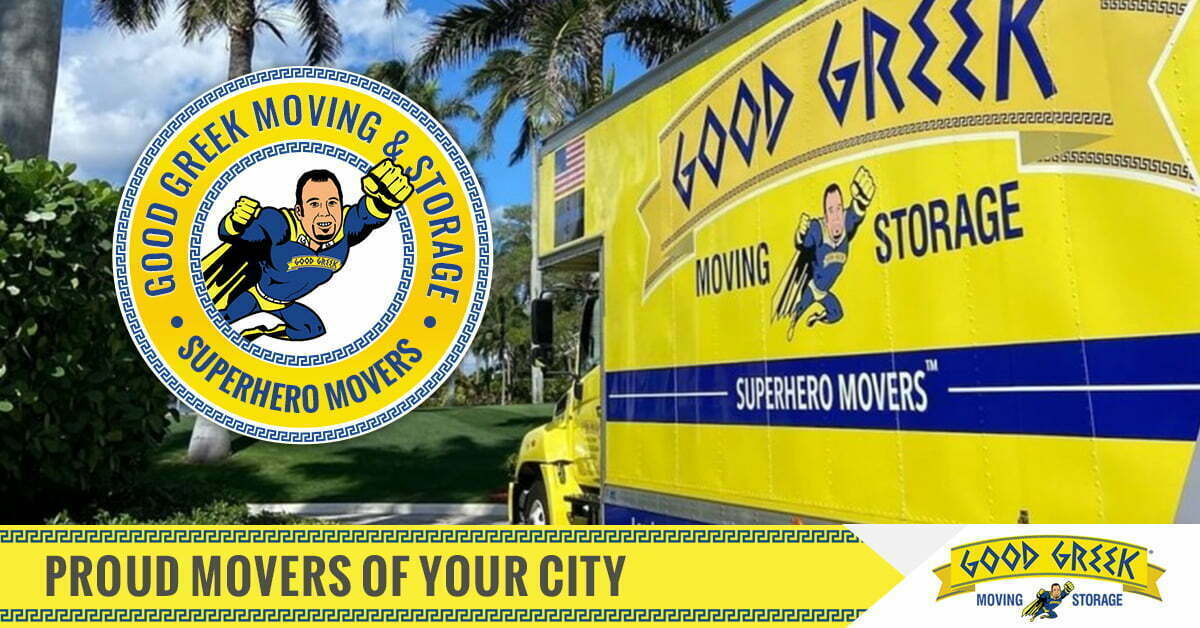 Good Greek Moving & Storage is one of the most highly-rated professional movers serving Miami Gardens, N. Miami and all Miami-Dade County with 70 plus 5-star Google reviews. Our knowledgeable and experienced moving company specializes in local and long-distance moving, storage, packing and unpacking. Take the first step in your move to beautiful Miami Gardens, Florida today.
BEST MOVE EVER
When moving across town or across the country, the moving process doesn't have to be stressful. Good Greek Moving & Storage is the only company to offer "The Best Move Ever" ensuring a stress-free move on time and on budget. Their service is unmatched which is why they offer their estimates to prove it. Serving Palm Beach, Miami-Dade, and Broward County has been an honor for The Good Greek as they love providing the best possible moving experience.
MIAMI GARDEN MOVING COMPANY
With over two decades of experience in the moving industry, we at Good Greek Moving and Storage have the knowledge and experience needed to help take the stress out of your move. Whether you are relocating your Miami Gardens business or you're moving your family into a new home, our moving service has what it takes to make your big move a lot less stressful. From helping you pack your belongings to getting them safely to your new place of business or residence, we will help you through every step of your move.
RESIDENTIAL MOVING SERVICES
Living in Miami Gardens can provide you and your family with a high quality of life, and that is why we love to help people move here. Even if you need to move out of this beautiful part of Florida for one reason or another, we can still help. We understand how difficult a move can be, and that is why we are here to provide you with moving services you can trust. Contact us today to get started.
MIAMI GARDENS BUSINESS MOVERS
Relocating your business can be stressful enough without worrying about the details involved with the move. If you want to spend less time stressing about the relocation of your company so you can focus all of your energy on making your business a success even during the relocation process, contact the helpful and friendly moving professionals at Good Greek Moving and Storage.
LONG DISTANCE MOVES
Moving long distances can be a serious undertaking. That is why you will want the help of professional and courteous movers who have experience with long-distance moves. Whether you are moving across the state or the country, we have just what it takes to help you out during every step of your long-distance move.
RESEARCHING MOVING COMPANIES FOR MIAMI GARDENS, FLORIDA
While there may be quite a number of moving companies that offer moving services in the South Florida area, no other moving business offers the Best Move Ever. Whether you live or work in Palm Beach County, Martin County, or Broward County areas of South Florida, we are the moving business to call when you want to make your residential or commercial move simple and affordable.
LICENSED AND INSURED MOVERS
When you hire the help of Good Greek Moving and Storage, you can rest easy knowing you are hiring the help of a company that is licensed and insured. Not only that, but each of our moving professionals have passed background and drug tests to ensure your belongings are safe and secure during your move. When you hire the moving help of Good Greek Moving and Storage, you can be confident you are hiring the help of true professionals.
MIAMI GARDENS MOVING RESOURCES
MIAMI GARDENS MOVERS SERVING
MIAMI GARDENS MOVING ESTIMATES
At Good Greek Moving and Storage, we make it easy for you to find the moving help you need at a price to fit almost any budget. Whether you prefer an online moving quote or you want us to come out to your home or business to figure out the expense of your move, our friendly and professional moving specialists will provide you with a moving quote in a way that works best for your lifestyle and schedule. Contact us for a free estimate today!