Florida's Best Packing, Unpacking & Crating Company
For safe and affordable packing, unpacking and crating services in Florida, trust Good Greek Moving & Storage. Our friendly and highly-skilled relocations team provides residential and commercial moving services across the country and worldwide. And with more than two decades of moving experience, we ensure that your possessions are packed and transported with the greatest level of care.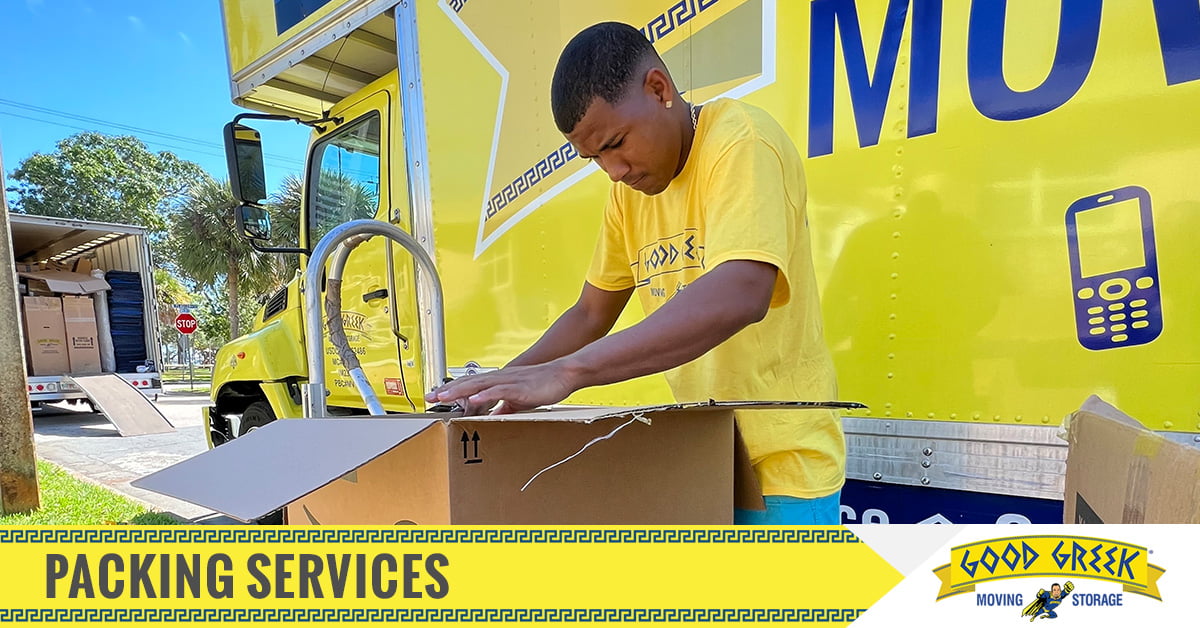 Trusted Residential Packing Services
At Good Greek Moving & Storage, we help homeowners and tenants with residential packing and unpacking services. Whether you are downsizing to a smaller property or moving to a new family home, our full-service movers have got you covered.
Using high-quality packing materials, we take great care to pack and load possessions using time-tested, optimized techniques. And upon arrival at your new house, apartment, retirement home or townhouse, we then upload and unpack, allowing you to settle into your new home with minimal hassle. We handle the entire process with our full-service packing approach to ensure your belongings arrive in perfect shape.
What to Expect From Our Home Packing Services
High-quality packing supplies, including sturdy boxes and protective cushioning.
Flexible packing options that include full packing service, partial or self-packing.
Polite and skilled packing team that treats your possessions with great care.
Commercial and Industrial Packing and Crating Services
For fast and efficient commercial and industrial packing you need experienced planning and organization, plus an expert packing crew. Our professional packers have worked with many types of Florida-based businesses such as offices, corporate headquarters, hotel chains, industrial facilities and charities. We operate a streamlined service that covers packing, unpacking and crating for everything from office furniture and computer equipment to large appliances and industrial machinery.
As a vastly experienced moving company, we understand the need to minimize business disruption. Our team communicates with commercial clients to create an agreeable schedule, then works diligently to stay on track and within schedule. Regardless of the challenge, our commercial packers can accomplish the task.
What to Expect From Our Business Packing Services
Efficient packing and unpacking to reduce operational downtime.
Skilled Florida white glove movers to handle valuable items.
Secure crating for large or valuable items requiring added protection.
Superior Packing, Unpacking and Crating Solutions
Good Greek Moving & Storage proudly offers white glove packing and moving services to our commercial and residential clients. Initially, an in-person visit to your home or business premises is instrumental in developing a packing and crating plan, ensuring the move can go without a hitch. Additionally, clients can call us 24 hours a day, seven days a week and will not be kept waiting.
Speciality Packing Services in Florida and Beyond
As full-service movers, we also provide specialty moving and storage services. Every relocation is unique and requires flexibility. With this approach in mind, we have the equipment, skills and packing team ready for even the most challenging items.
Covering pianos, classic cars, motorcycles, boats and appliances, we carefully pack and crate items using padded materials, robust boxes and quality packing tape. From the initial packing and loading stage to the final unpacking at your new property, we ensure that prized possessions are safe from harm.
Common Questions About Packing, Unpacking and Crating Services
We bring high-quality packing materials to your home or business on moving day, including sturdy boxes, bubble wrap and cushioning, packing paper, crates and moving blankets. And if you choose a self-pack move, we can also provide packing supplies.
You can prepare for the packing process by decluttering your home or office and separating items for junk disposal or donation. Also, set aside your must-have possessions – those items you want to keep with you during the move itself.
Yes. Our professional packers offer light disassembling and reassembling of furniture. This includes beds, dining room tables, bookshelves and other larger items. We take steps to ensure safe packing and loading of your furniture and possessions.
Professional Packing, Unpacking and Crating Services in Florida
At Good Greek Moving & Storage, we provide hassle-free moving for residential and business clients. Located in Fort Lauderdale, Orlando, Tampa and West Palm Beach, we deliver quality packing, unpacking and crating services for an efficient, reliable relocation. To learn more, call (561) 683-1313 or request a free moving quote now.