Miami to Los Angeles Long-Distance Moving Services
You've decided to make the big move from Miami to Los Angeles. Hollywood, here you come! If you've been feeling a little anxious about the relocating to the left coast, don't worry. Everyone gets a little nervous when getting ready for a big cross-country move. You're going to do just fine. The following information is designed to help the move go even smoother.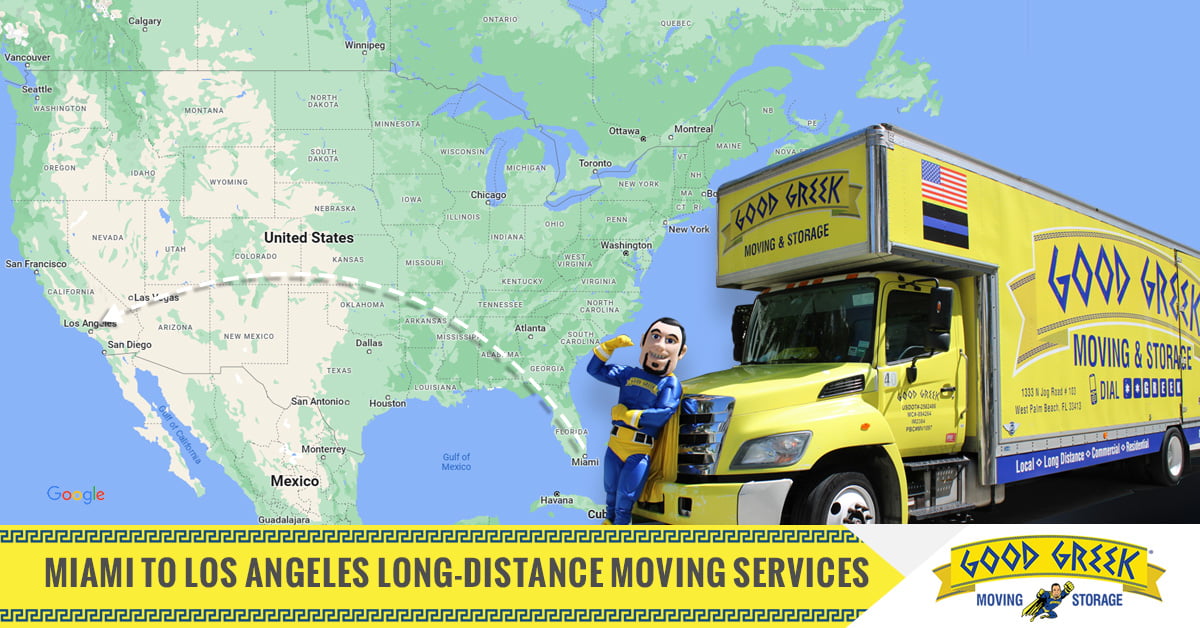 Good Greek Moving & Storage handles cross-country moves from Miami to Los Angeles and other destinations. We're fully licensed to handle all your long-distance moving needs. We've also picked up a few pointers along the way that can make your move go that much better.
Why Move to Los Angeles?
Before getting into moving tips, let's first take a look at L.A. and why people move there. Los Angeles is the second largest city in the country. It's home to Hollywood, tech companies, energy companies, aerospace and defense, education, creative design and hospitality, and tourism, according to the Los Angeles County Economic Development Corporation.
It also – famously! – has perfect weather all year round.
Population in Los Angeles
Los Angeles and the surrounding areas, which includes Long Beach and Orange County south of Los Angeles, has more than 13.3 million people. That's more than double the 6 million in the Miami metropolitan area.
Major Employers in Los Angeles
The "Thirty-Mile Zone" in southern California, also known as the Studio Zone, is home to all the major film studios, including Paramount, 20th Century Fox, Universal, Walt Disney, Sony and Warner Brothers. Los Angeles is also considered the center of the television industry. The city has the busiest port in North America. It's also a hub for tech and manufacturing.
Other companies with headquarters in the Los Angeles metro area include Live Nation Entertainment, Mattel, SpaceX, Fandango, Farmers Insurance, Reliance Steel and Aluminum Company, Molina Healthcare, Trader Joe's and Hulu.
Education in Los Angeles
The Los Angeles area is home to many colleges and universities. They include the University of California-Los Angeles, University of South California, California State University, Marymount College, The American Musical and Dramatic Academy and the American Film Institute Conservatory.
Weather in Los Angeles
Weather can vary across southern California since you can go from the beach to the top of a mountain in a single day. Overall, the weather is typically in the 70s for a high and the 60s for a low. There's not much variety, although heat can spike in the summer months and the evenings can get chilly.
You're going to need a jacket more than you ever needed it in Miami. And prepare yourself for the Pacific Ocean, it's very chilly compared to the Atlantic Ocean at Miami beaches.
Entertainment and Sports
Disneyland is in the Los Angeles area, as is Universal Studios Hollywood, Knott's Berry Farm, Six Flags Magic Mountain, Legoland California and Pacific Park on the Santa Monica Pier. In sports, the area is home to many teams, including the Los Angeles Dodgers, Los Angeles Angels of Anaheim, Los Angeles Rams, Los Angeles Chargers, Los Angeles Lakers, Los Angeles Clippers, Anaheim Ducks, Los Angeles Kings, L.A. Galaxy and LAFC. If you like sports and entertainment, you won't get bored in Los Angeles.
Museums and the Arts
The Los Angeles area is also home to some of the best museums and performing arts halls in the United States. They include the Los Angeles County Museum of Art, The Getty and The Broad. The performing arts venues include the iconic Walt Disney Concert Hall in downtown L.A.
Things to Know When Moving to Los Angeles
There are some things to keep in mind as you prepare to move your home from Miami to Los Angeles. These are some of the things newcomers take time to get used to.
Traffic. Los Angeles traffic is infamous for a reason – it's really that bad. Prepare to spend some time in your car. This also is something to consider when deciding where to live and work – the closer together, the better. By the way, every major road is called "the' in L.A. You might take I-95 in Miami, but in L.A. you take "the 405" or "the 10."
Also, everyone talks about it. A lot.
Mexican food. It's a culinary standoff between Texas and California on which state has the best Mexican food, but the truth is both are great in their own way. If you're coming from Miami, prepare to be blown away by how fantastic fresh Mexican food is – you will become a taco snob!
Home entertaining. Because people tend to have larger homes in L.A., which really is a bunch of suburbs strung together around the city center. Because of this, there tend to be a lot more house and dinner parties. Keep that in mind as your search for your new home. You also might want to make friends with someone from Malibu or Silver Lake!
The beach. If you like the warm breezes of a Caribbean-style beach, then the beaches in Los Angeles will seem cold. The Pacific Ocean tends to be much chillier, the sand is not the white color you are used to and water is not turquoise. One the other hand, there are whales off the coast of California.
Packing Tips For Your Move
Here are some moving tips to keep in mind that can make your move go smoother.
Pre-Move Clean Out
Now is the time to finally get rid of the stuff you've wanted to get rid of for years. Make sure to clean out all the "usual suspect" areas: garage, attic, spare bedrooms, closets, utility room, and storage shed.
Get Packing Materials and Supplies
Make a checklist of the following items. Each is needed for a move.
Large, medium and small size boxes
Bubble wrap
Scissors
Packing tape
Sticker labels
Marker pens
Packing Station
You're going to want one of these, Clean out an area that does not have a lot of foot traffic and designate it as the place where you will stack the boxes to be loaded onto the moving truck.
One Room at Time
Start early with packing. Rather than doing a little bit here and little bit there, take on one room at a time. That makes the work more manageable and allows you to completely clean out a room.
Box Tips
Keep these common issues in mind when packing boxes.
Don't overstuff. Pack boxes so they can be taped closed easily. This also helps with stacking and transport.
Use the right size. Heavier items should do in smaller boxes.
Seal the bottoms. Make sure the bottom of the box is sealed properly and can hold the weight of the items.
Proper loading of boxes. Heavier items should toward the bottom of boxes and the lightest items at the top.
Selecting a Long-Distance Mover
Good Greek Moving & Storage is licensed to handle moves across the state and anywhere in the nation. That's the first step in selecting a long-distance mover – ensuring they have the proper licensing to handle your move.
Other services to look for include:
A free moving estimate.
A price estimate so there are no moving day cost surprises
Light disassembly and assembly of furniture
Packing and unpacking services
Packing supplies
Moving supplies such as blankets and/or pads
Secure storage space to temporarily house your belongings
24 hours a day, 7 days a week customer service
Experienced and Trusted Long-Distance Movers
If you are considering a move from Miami to L.A, Good Greek Moving & Storage has the experience and knowledge that you need. We are trusted movers, which you can see from our many positive online reviews. We handle any size move and treat every client with professionalism. If you want to know what we can do for your planned move to Southern California, please contact us and we can talk about what we can do for you.
Call For a Free Moving Estimate: South Florida (561) 683-1313 – Tampa (813) 438-2700
Good Greek in the Media
Visit our media section to watch more videos.