Trusted Miami Beach Home and Commercial Movers – Good Greek Moving & Storage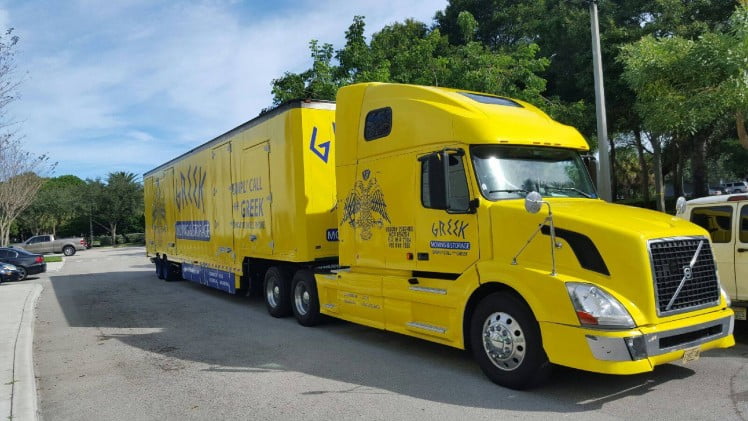 Moving to or from Miami Beach Florida? Call Good Greek Moving & Storage!
Good Greek Moving is one of the most highly-rated Miami Beach moving companies serving Miami-dade County and all of South Florida. We are proud to have thousands of satisfied customers and 70 plus 5 Star moving company reviews on Google. The Good Greek provides knowledgeable and experienced moving crews that specialize in a full range of professional moving services so you can be assured of a stress-free move. We offer free moving estimates and take the time to provide accurate moving price quotes, unlike other moving companies in Miami.
At Good Greek Moving & Storage, we're proud to be your local top-rated South Florida mover. Not only are we the trusted moving company in the South Florida area, but we are the official mover of the Miami Marlins. As Miami Beach movers, we're thrilled to provide you with incredible service at an unbeatable price.
That's right – we deliver top-notch moving services to South Florida's very own Miami Marlins, and we're more than happy to supply you with the same level of customer satisfaction. You'll be thrilled with our competitive prices which will make your relocation much easier to endure. At Good Greek Moving & Storage, we offer free price quotes online, over the phone as well as in your home. You'll enjoy our written estimates as well.
FREE MIAMI BEACH MOVER PRICE QUOTES
By completing an inquiry form or by calling one of our team members, we'll provide you with a free price quote available in writing and unlike other Miami moving companies, we will honor our quote. If you want the highest quality moving service available in the Miami area, we're your go-to source. Give us a call at (561) 683-1313.
MOVING COMPANY SERVICES
For the top Miami Beach moving services, you can depend on the team here at Good Greek Moving & Storage. We're proud to have served the Miami Marlins and we're excited to work with you for all of your moving needs. We offer a full range of moving services and supplies such as boxes, packing, assembly moves, and storage. At Good Greek Moving & Storage, we provide our customers with the highest quality expertise. It doesn't matter if your move is simply down the street or if you're moving across the country: we're happy to be there for you during every step of your relocation. We'll also help you move out of your Miami Beach apartment or condo.
HOME, APARTMENT & CONDO MOVES
SHORT DISTANCE AND LOCAL MOVES
LONG DISTANCE MOVES
PROFESSIONAL PACKING & UNPACKING
SAFE AND SECURE STORAGE
RESIDENTIAL MOVES
COMMERCIAL MOVING SERVICES
OFFICE AND BUSINESS MOVES
MOVERS FOR HIRE
FURNITURE AND PIANO MOVING
AUTO TRANSPORT
See our complete list of professional moving services.
SAVE MONEY ON YOUR MOVE
Our promotions page will keep you up-to-date on our latest offers. Make sure to check them out so that you can enjoy a painless move from one area to another. We're Miami Beach movers with one goal in mind: to satisfy our customers with our top-notch moving services. By visiting our promotions page, you can take advantage of our current 50% any local move offer. At Good Greek Moving & Storage, we also offer 65% any long distance move as well. There's no project too big or too small for us at Good Greek Moving & Storage. Take advantage of our incredible deals today!