Join the Good Greek Moving & Storage Team
Thank you for your interest in joining Good Greek Moving & Storage as we continue to expand to new cities and service areas. We value each and every team member as a valuable contributor to our moving and storage company. Our team members can expect to receive thorough training from our Superhero Movers Academy, which we will discuss in more detail below.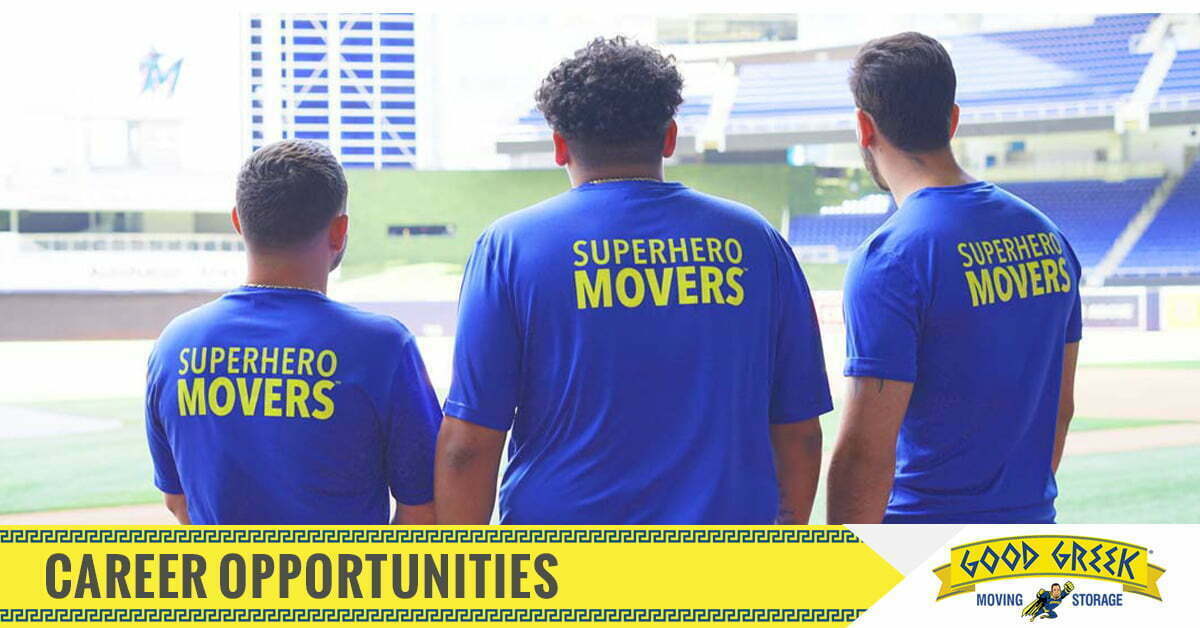 How to Apply for a Moving Job With Us
To become a part of "The Best Move Ever" team, please email your resume to us for the following moving company jobs and positions.
●      Drivers
●      Movers
●      Sales
●      Clerical
Email your resume to our human resources team today.
Our Superhero Moving Training Program
Good Greek Moving & Storage provides expert training for all employees as part of the company's commitment to providing customers the best moving experience available. Known as the Superhero Movers Academy, our special school produces the best movers out there!
Establishing the Superhero Movers Academy is another way that Good Greek Moving & Storage offers peace of mind to our customers. The academy provides training that goes above and beyond industry standards. The training our movers receive means that clients of Good Greek Moving & Storage will know they made the right choice when choosing a South Florida mover.


What Employees Learn at Superhero Movers Academy
All Good Greek Moving & Storage employees must graduate from the Superhero Movers Academy. Good Greek Moving & Storage experts train employees in the methods we use that have made our company known for the best movers in South Florida, and home to the Best Move Ever. Topics covered in the academy include:
Customer Service Standards – The standards and best practices for high-quality customer service adhered to by Good Greek Moving & Storage are critical for efficient home and business moves.
Methods Used to Wrap Furniture – This is one of the most important aspects of a moving job. Proper furniture wrapping greatly reduces the chances of damage to a customer's items.
How to Pack Boxes – This includes packing kitchenware, clothes, electronics and valuables.
Methods for Moving Large Items – This includes kitchen appliances, couches, chairs, beds and large, fragile items such as pianos.
Best Practices for Packing a Moving Truck – Years of experience have given Good Greek Moving & Storage the expertise to properly pack a wide variety of items.
How to Safely Drive a Moving Truck – All truck drivers are trained & licensed to drive a commercial vehicle, including how to deal with real-world situations such as navigating small streets and traffic jams.
How to Safely Park a Moving Truck – Parking a large moving truck can be complicated, and the academy gives Good Greek Moving & Storage drivers the training needed to park safely and properly.
Organizing a Move – When it comes to moving, planning is everything – and the Good Greek method outlines a proven method to plan moves the right way.
Why Mover Training Is Important for You & Customers
Academy training reduces the number of accidents, and that reduces possible breakage during a move. It also leads to fewer injuries during moves, and less need for customers to file insurance claims.
Knowing they hired a company that provides thorough training to their employees gives our customers confidence in their choice of working with Good Greek Moving and Storage.
Ready to Join Our Florida Moving Team?
The easiest way to join our team is to first email your resume to human resources. Though it may be tempting to pick up the phone and call, emailing HR is the most efficient way to contact us.