Professional Miami to Jacksonville Long-Distance Movers
If you are planning a move from Miami to Jacksonville, you are certainly not alone! Florida gets a lot of attention as a state that draws in people from other states and around the world. But because all the major cities in the state are constantly expanding the number of jobs they offer, many people within the state often find themselves moving from one city to another.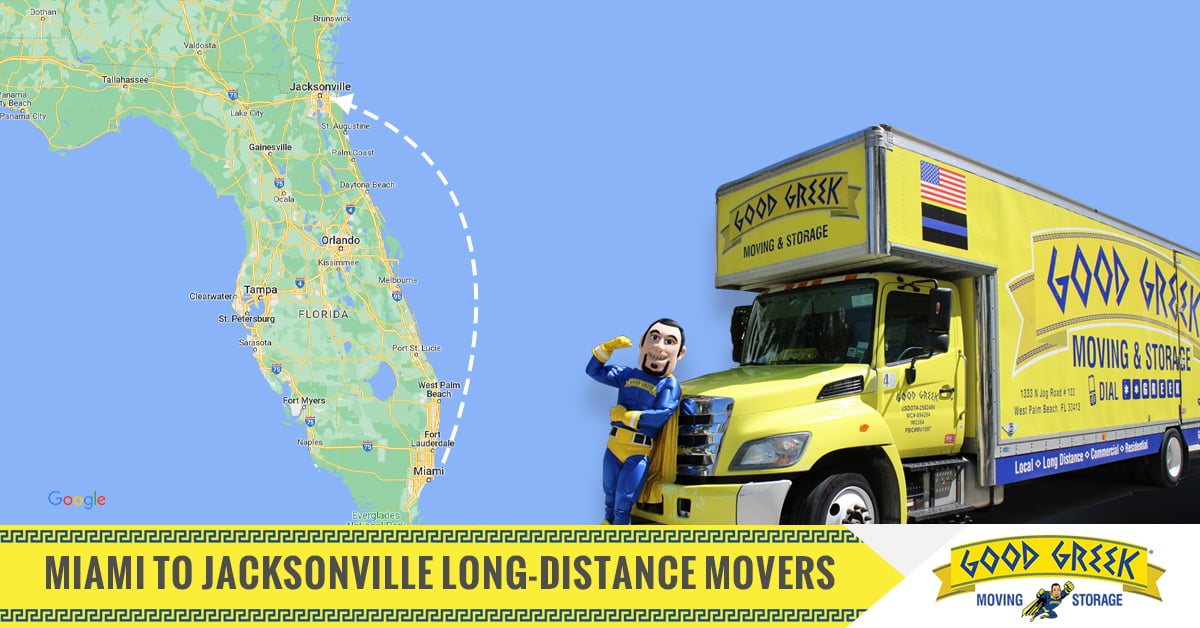 One of the frequent moves is up the Atlantic coast from Miami to Jacksonville. It's a move that Good Greek Moving & Storage has helped many people make during our years of experience as a licensed, professional mover in Florida.
Reasons to Move to Jacksonville
Jacksonville is one of the major cities in Florida, but it's far different than the others. More than any other major city in the Sunshine State, Jacksonville has a Southern charm and feeling – with great beaches!
The city of Jacksonville also is the most populous city in Florida and the biggest in the Southeast, with more than 892,000 people living within the city limits. If you consider the entire metropolitan area, it has 1.5 million and is the fourth biggest in the state (behind Miami, Tampa/St. Petersburg and Orlando).
Major Employers in Jacksonville
Jacksonville is home to many industries. Some of the major employers in the area include Baptist Health, Bank of America, Florida Blue, Southeastern Grocers, Citi, and Black Knight Financial.
Entertainment and Sports
The Jacksonville area includes many entertainment and sports options. The Jacksonville Jaguars of the National Football League play in the city. The area is also host to The Players Championship and the annual Florida-Georgia college football game. Fantastic beaches are strung along the Atlantic Ocean coast and the historic town of St. Augustine is not far down Interstate 95.
Museums and the Arts
The Cummer Museum of Art and Gardens is in Jacksonville and features two acres of English and Italian gardens. There is also a Museum of Contemporary Art Jacksonville and a Museum of Science and History. Jacksonville is also home to the annual Jacksonville Jazz Festival, the second-largest jazz festival in the nation. The Springing the Blues festival is also held annually in Jacksonville and is the biggest such festival on the entire East Coast. The city is also home to the second-largest collection of animals in the state of Florida at the Jacksonville Zoo and Gardens.
Tips For South Florida to Jacksonville Move
When you are moving from South Florida to Jacksonville, there are tips to keep in mind.
Beware of scam artists. Florida is a hotbed for movers who will increase prices when they have your items on a truck or simply drive off with all your belongings. Check out a movers' experience, licensing and reputation before hiring.
Select a mover that can connect you to third-party insurance
A good mover will offer a written price before the move
Make sure whoever you hire is a full-service company that can offer everything you need, such as packing, disassembly of light furniture, storage and packing supplies
Good Greek Moving & Storage has years of experience as professional movers. We've handled the moving needs of those moving from South Florida to other parts of Florida as well as around the country.
Why Pick Good Greek for Your South Florida to Jacksonville Move?
Good Greek Moving & Storage offers all the services you need to make your move run smoothly.
They include:
A free estimate.
A price estimate
Light disassembly and assembly of furniture at no extra cost
Packing and unpacking
Packing supplies if you want to pack yourself
Supplies to keep your fragile items safe
Secure storage space where you temporarily place your belongings. The units are monitored with CCTV security and use a computerized inventory tracking system
24 hours a day, 7 days a week customer service
We are licensed to handle moves across the state, nation and even around the world. Give us a call to see what we can do for your Miami to Jacksonville move.
Expert Miami to Jacksonville Long-Distance Movers
At Good Greek Moving & Storage, we help commercial and residential clients with first-class relocation services. For help with a Miami to Jacksonville long-distance move, call (561) 683-1313 or request a free moving quote today.