Moving & Packing Supplies
At Good Greek Moving & Storage, we provide high-quality, durable moving supplies for home and business relocations. Whether you are conducting an apartment move in Florida or a cross-country corporate relocation, our professional packing supplies offer maximum protection. Our range of high-grade packing materials is suitable for common household belongings, fragile items, even heavy-duty equipment.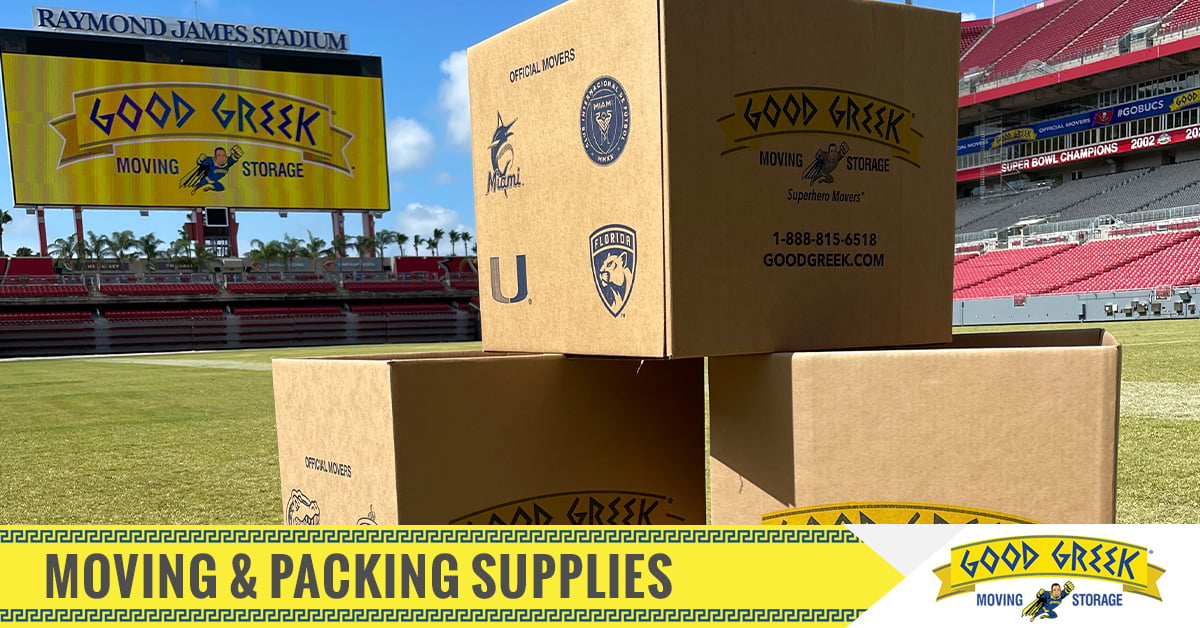 Strong, Durable Moving Boxes and Packing Supplies
When you move, it seems you can never have enough boxes. Also, you need them in a range of box sizes to handle all the different items in your home. Then, there are the packing supplies such as tape, blankets, and labels you need to track every box.
It's another way that stress can get added to your move. But there's no need to handle this part of your move on your own. Good Greek Moving & Storage offers a full range of moving services. That includes packing supplies.


Boxes and Packing Supplies for Every Type of Move
The proper tools make any move much easier. Good Greek Moving & Storage offers its customers boxes and packing supplies for their move. That includes local moves, statewide moves, a big move across the country or even an international move.
So what packing supplies do you need for your move? Usually, you will need boxes that are small, medium and large. This range is adaptable for every type of packing, including professional appliance moving and furniture transportation.
You also need:
Packing tape
Labels
Box cutters
Packing materials such as bubble wrap
A hand truck or dolly
Moving blankets or pads to protect fragile items
It's possible to go out and buy all of these yourself. But when you hire Good Greek Moving & Storage, we offer this as part of our packing and moving services.
Packing Supplies and Boxes for Fragile Items
In some cases, people have fragile items to move such as artwork or decorative items. In these cases, packing is more complex to ensure that the items arrive safely at their destination. The professionals at Good Greek Moving & Storage also have experience in packing and moving such items.
We pack and move all kinds of fragile items.
Artwork
Automobiles
Decorative items
Expensive business equipment
Motorcycles
Pianos
Professional Packing Services "Leave the packing to us!"
Whether you are moving into or out of South Florida, we can handle your move. We also handle moves from Weston to West Palm Beach and Boca Raton to Delray Beach.  We are fully licensed to move you across the state or the country. We also have international relocation services for those moving out of the country.
With every move, we offer the following services in addition to moving boxes and packing supplies. We are considered a full-service Florida moving company. Our services include:
A free estimate from our professional staff
A written price estimate so you don't have moving day surprises
Light disassembly and assembly of residential or office furniture
Storage space that is secured with CCTV and an inventory tracking system
A customer-first business model – we always have someone standing by to take your questions, 24 hours a day, 7 days a week
Fragile, intricate, or bulky items require a custom packing approach to ensure maximum protection during loading and transportation. The process starts by identifying the most appropriate boxes and padding, while also factoring in the specialized equipment needed for transport. With this proven approach to packing and moving, we prevent damage and protect your belongings over the course of a long journey.
Common Questions About Moving and Packing Supplies
We provide high-quality boxes, tape, padding and other supplies for self-packing. As an alternative, we can professionally pack everything for you as part of the moving service.
We understand the need to protect fragile and unique items, and use durable boxes of various sizes, padded materials, plus tough packing tape. Our team is also highly trained in the correct way to pack items to reduce the risk of damage.
To prevent damage to your belongings, always use high-quality packing supplies, tape boxes securely – and mark the stacking direction. It's easy to overload boxes, so carefully avoid overloading. For items like furniture or appliances, use protective materials for extra padding.
Quality Florida Packing Services and Moving Supplies
Good Greek Moving & Storage provides moving supplies and packing services for relocations in Fort Lauderdale, Orlando, Tampa, West Palm Beach and beyond. For high-quality packing supplies for home and office moves, call (561) 683-1313 or request a free moving quote now.