Full-Service Apartment Movers in Florida
Good Greek Moving & Storage is a dependable provider of apartment and condo moving services. As established local movers in Florida, we cover every aspect of a relocation from start to finish. Our customer-focused approach emphasizes a personalized experience, one that includes packing, transportation, storage, unloading and more. Trust the specialists at Good Greek Moving & Storage for a fast and affordable apartment or condo move throughout Florida.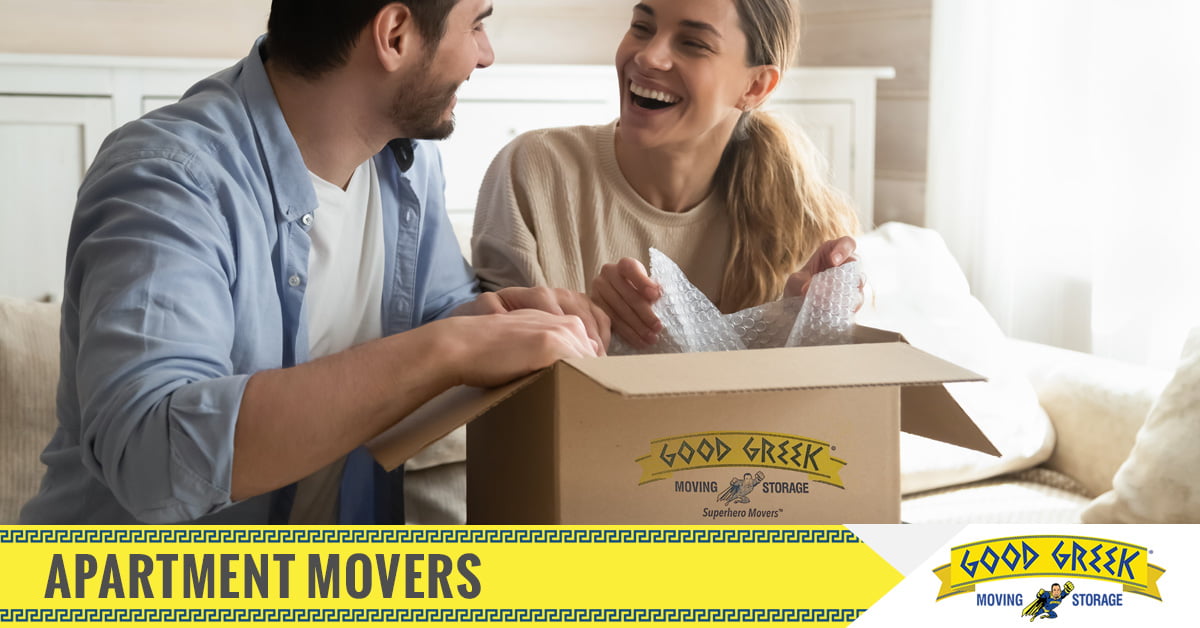 Expert Apartment Moving Services in Florida
With offices in Fort Lauderdale, Tampa and West Palm Beach, we provide same-day and next-day apartment moves for Florida residents. Our team is also equipped for cross-country moving in the U.S. as well as global relocations. Here is an overview of the apartment moving services you can expect from Good Greek Moving & Storage.
Free Consultation and Planning
An apartment moving coordinator will discuss your personal requirements and offer an upfront moving quote. Before moving day arrives we will have developed a customized moving plan for you, taking into account building regulations, parking restrictions, plus other logistical issues.
Packing and Loading
Our professional packing services ensure that your possessions are securely protected throughout the apartment moving process. We use high-quality packing boxes, padding and packing tape, and employ specialized procedures for large or fragile items.
Unloading and Unpacking
Navigating apartment buildings requires careful planning and coordination. Our team operates with a streamlined unloading and unpacking process so that your belongings are unloaded quickly, and with minimal disruption to other residents.
Storage Services
Our available storage services allow you to move into your new apartment or condo at your own pace. If you are waiting for a new rental property to become ready – or just require some temporary storage space – our affordable services simplify the moving experience.
Apartment Inspection
During the final apartment inspection we check that your possessions are unloaded and unpacked to your satisfaction. Our team is committed to delivering superior service, and we prioritize customer convenience throughout the process.
Why Choose Good Greek Moving & Storage for an Apartment Move?
Apartment and condo moves pose unique challenges for a relocation company. Here's why we deliver fast and convenient moves each and every time.
Experience – We have a full understanding of building restrictions, loading dock requirements and more.
Coordination – We maintain communication with building management for elevator reservations.
Adaptability – We're able to safely transport furniture through the tight corridors and narrow doorways found in many older apartment buildings.
Organization – Our precision planning allows us to operate within tight apartment building deadlines.
Common Questions About Apartment Moving Services
Contact an apartment moving company as soon as possible to schedule the relocation. Next, start decluttering – carefully consider the items you want to keep, donate or dispose of. Also, speak to your new property manager for information on building moving requirements.
Yes. We use specialized equipment and safe transportation techniques to move items such as pianos, bulky furniture and other large items. When you have any special packing and moving requirements, consult with your moving coordinator for answers.
Yes. Our comprehensive senior moving services cover every aspect of a relocation. We assist senior citizens with downsizing to smaller apartments, condos or retirement villages – and yes, this includes junk removal and disposal when needed.
Contact Us for Apartment Moving Services in Florida
Good Greek Moving & Storage is available for local and long-distance apartment moves throughout Florida and beyond. Contact our conveniently located offices in Fort Lauderdale, Tampa and West Palm Beach for more information on our moving services and storage options. Call (561) 683-1313 or request a free moving quote today.