Florida's Best Long-Distance Moving Company
At Good Greek Moving & Storage, we provide long-distance moving solutions for homeowners and businesses in Florida and beyond. With locations in Fort Lauderdale, Tampa and West Palm Beach, our expert relocation services are equipped for moves to and from the state, and across state lines. Whether your family is moving to a new home or your business is relocating its entire base of operations, we have the skills and experience to get you there.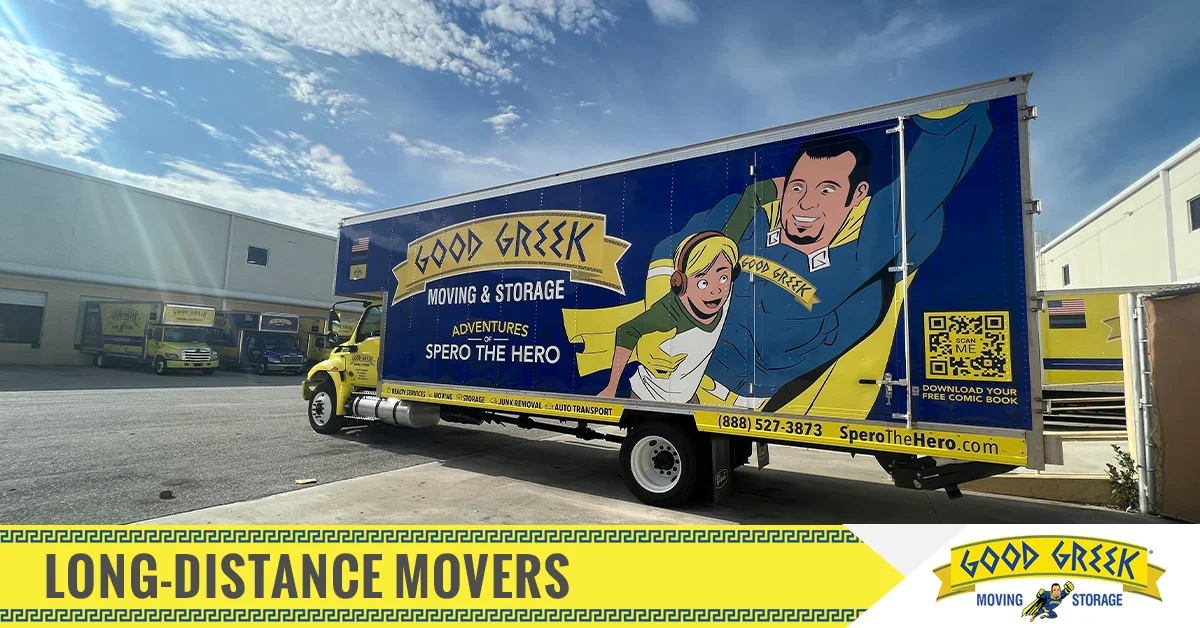 Our Personalized Long-Distance Moving Services
Good Greek Moving & Storage has helped countless commercial and residential clients with long-distance moves, both intrastate and interstate. Whether you are moving to Florida from Chicago, New York or beyond, we can help.
We understand that every move is different, and each customer has their own unique requirements. Consequently, our long-distance movers are committed to delivering a personalized experience that's built on a foundation of affordability, efficiency, along with accessible customer support.
From the first quote through to moving day, our long-distance moving process covers everything you could need. And with our up-front estimates, our home and business clients are never surprised by hidden charges or fees. Here are some of the long-distance moving services we provide.
Secure packing, unpacking and crating services using high-quality materials.
Fast and efficient loading by trained moving professionals.
Light assembling and disassembling of furniture.
Flexible home and business storage facilities at our secure units.
Specialty long-distance moves covering appliances, pianos and more.
Types of Long-Distance Moves
State-to-state moving can be an overwhelming experience, and at Good Greek Moving & Storage, we understand these complexities. When you choose us as your long-distance moving partner you can be assured of close attention to detail, a moving team that cares, plus 24/7 customer support. We cover a wide range of moving services, including the following.
Long-Distance Residential Moves – Stress-free nationwide moving for apartments, lofts, houses and college accommodations.
Interstate Commercial Relocations – Efficient moving covering offices, stores, industrial premises, hotels, sports teams, corporate headquarters and more.
Senior Moving – Compassionate relocations to assisted living communities and downsizing to smaller apartments.
Auto Transport – Long-distance car and motorcycle shipping using protected carriers and door-to-door delivery.
Junk Removal – Removal of junk and debris from residential downsizing, store closures, storage unit cleanouts and construction sites.
Secure Storage – Our comprehensive relocations feature detailed planning, dependable transportation and access to our secure storage services.
Common Questions About Long-Distance Moves
You can prepare for long-distance relocation by contacting a Florida moving company for an estimate as soon as possible. The earlier you begin planning with your moving team, the more time you have for decluttering, contacting utility providers and other requirements.
Yes. Everything from fragile artwork to larger items (such as a classic car or piano) is shipped securely. We use protective packing materials, flexible crating options and well-maintained moving vehicles to keep your belongings safe.
Costs for long-distance moving will vary – it depends on the size of the move. Smaller moves might be completed within a single day, whereas a substantial relocation may require extensive travel, larger moving teams, the use of storage units and so on. Our free moving estimates provide fair, transparent pricing to all clients.
Premier Long-Distance Moving Company in Florida
Good Greek Moving & Storage provides long-distance moving services for commercial and residential clients. Located in Fort Lauderdale, Tampa and West Palm Beach, we are the best choice for statewide, cross-country and worldwide relocations. For assistance, call (561) 683-1313 or request a free moving quote now.