Comprehensive Miami to Orlando Long-Distance Moving Services
Good Greek Moving Company. can help you with a move from Miami to Orlando or anywhere else in Florida.  Orlando has a booming tourist industry, major corporate employers and the University of Central Florida (UCF) (one of the fastest growing universities in the state), which makes it understandable why Orlando is one of the most popular destinations for relocation in the country.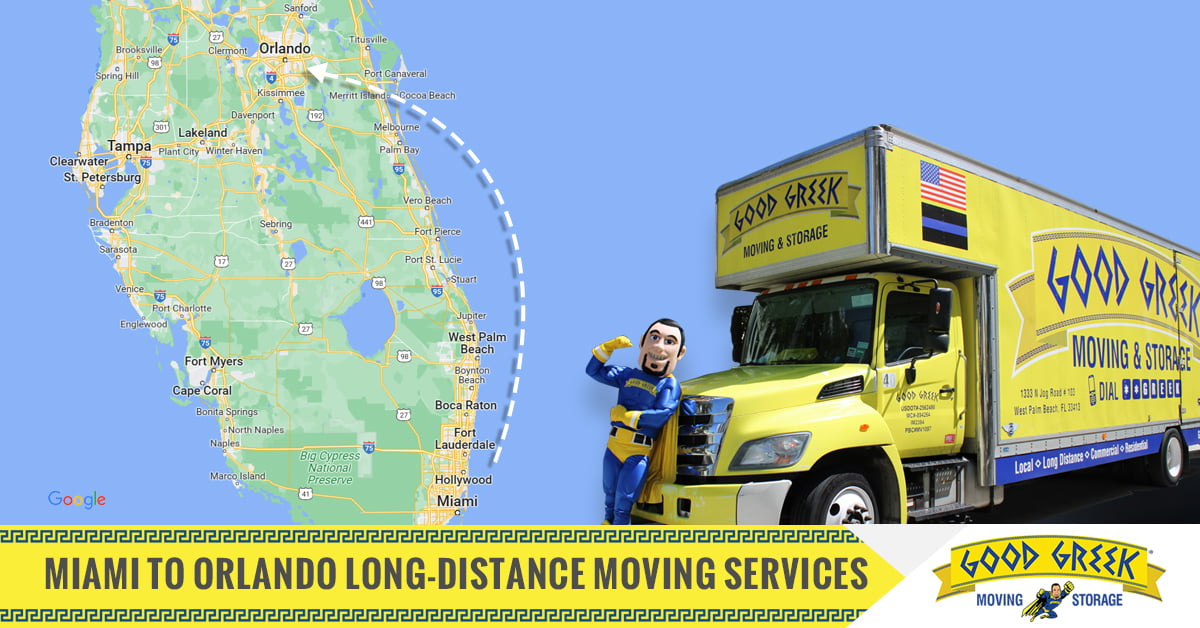 Miami to Orlando Moving Experts
When you hire Good Greek Moving and Storage you get experienced professionals who understand how to help you make a move from one major city to the next. We have a team of experienced relocation experts who can assist with your move from beginning to end and will make your move stress free and easy. If you've ever moved on your own or with friends, you can understand the value of having a moving company to help you with all aspects of an in-state move. When you hire us for a move from Miami to Orlando or anywhere else in Florida, we have one simple goal, to make your move as simple and straightforward as possible. If you are ready to move, contact us today to schedule an in-home estimate.
Why Good Greek for Florida Moves?
If you're moving from Miami to Orlando, there are many reasons to choose us the Good Greek:
Dedicated Relocation Specialist
FREE In-home Moving Estimates
Best Move Ever Price Estimates
Full-time Professional Moving Crews
Full-Service Packing & Supplies
Pad Wrapping of Furniture
Stretch Wrapping of Upholstered Furniture
Light Furniture Disassembly & Reassembly
Crating of Antiques & Fine Art
Short & Long-Term Storage
Apartment & Condo Moving Experts
Business & Commercial Moves
Military and First Responder Discount
Shipping of cars and motorcycles
Online tracking of your shipment
Video Security on Moving Trucks
As you can see, you have plenty of attractive reasons that you'd want to choose us over the competition. People moving to Orlando from Miami should keep these things in mind to get the best company for the job. Call (561) 683-1313 to get started.
Why move to Orlando?
You have plenty of convincing reasons to box up and head to Orlando, Florida. First, let's look at some of the best theme parks you can visit in Orlando. They include:
Universal Studios
Disney's Magic Kingdom
Sea World Orlando
Aquatica Park
Legoland Florida
Epcot Theme Park
You will relocate to the heart of the sunshine state, and you will never grow bored living in a place like Orlando. This is one of the most visited cities in all of Florida.
Before You Move to Orlando: Long Distance Moving Tips
Tip #1—Keep to a Schedule: After you have drawn up a plan, you should do your best to stick with the plan. You want to handle the time-sensitive tasks as quickly as possible. Some of these tasks include school enrollment and utility installation. Scrambling to finish everything at the last second will create unruly chaos that can make it easy to make mistakes and stress out.
Tip #2—Only Hire a Reputable Company: You have to go through a few in-home estimates, and you should also check to make sure that you only hire a trustworthy company with a good reputation. Good Greek Moving Company has that sturdy reputation.
Tip #3—Buy Moving Insurance: Especially for a long distance move, you want to have moving insurance on hand to cover you if an item gets broken or lost. You should, however, remain aware of what the insurance will and will not cover. In addition, you might be covered under your current home or auto insurance, which eliminates the need for moving insurance. It depends on your circumstances.
After You Move from Miami to Orlando
Moving from Miami to Orlando, you will feel exhausted mentally and emotionally, but you shouldn't give up. You still have a couple of things that you will want to do. First, you will need to pack the essentials so that you have it on hand. You will also want to locate the fusebox and the propane or oil shutoff. In addition, locate the water shutoff. This will come in handy for safety concerns because you will know how to shut it off. Next, you will want to update your address with the United States Postal Service. You can choose to do this online or at a local branch.
Contact Us for Miami to Orlando Long-Distance Moving Solutions
Good Greek Moving & Storage is available for packing, storage and moving services from Miami to Orlando. Contact our team today for expert long-distance moving. Call (561) 683-1313 or request a free moving quote now.