First-Class Moving Tips and Resources for Florida Relocations
Whether you're moving locally within Florida or relocating to a new state, there is much to consider. At Good Greek Moving & Storage, we have completed countless moves over the years and understand how to deliver a hassle-free experience. Read on to discover our best moving tips and resources, ensuring a straightforward commercial or residential move anywhere in the country.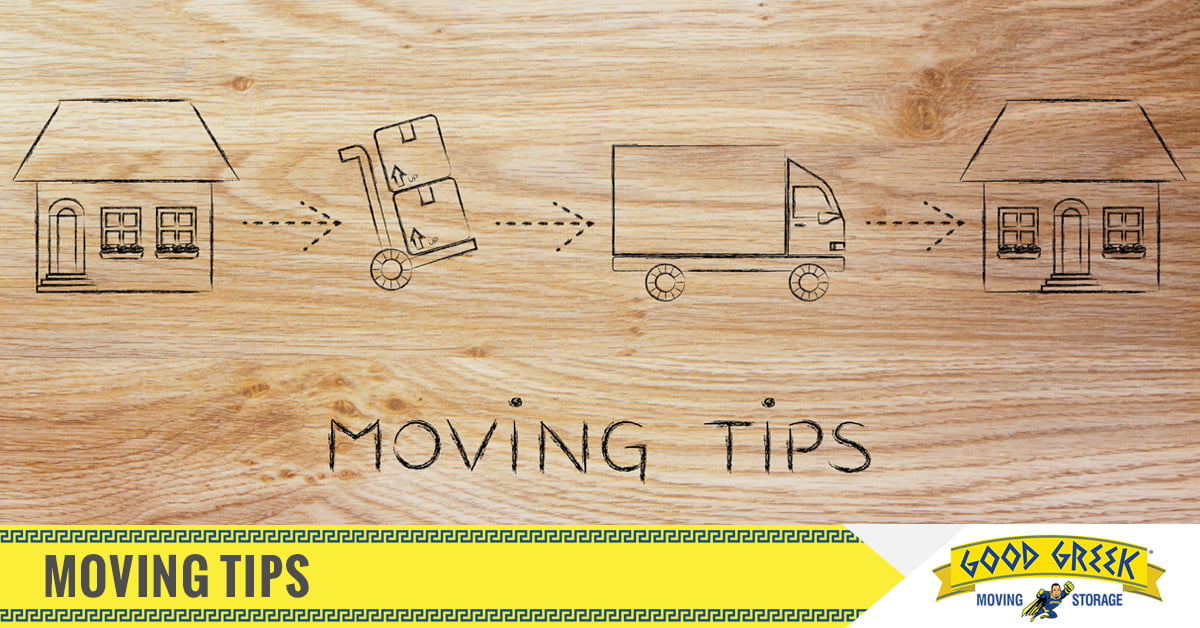 Superhero Moving Tips From the Good Greek
No matter the size of your home or how far you're moving, as moving day gets closer just about everyone will start to worry a bit. At Good Greek Moving & Storage we've seen it all – and we have many moving tips to help your move go smoothly.
Get a Cost Estimate
Knowing what you will pay before the move helps you budget effectively and manage expenses. A professional moving company should offer a free estimate on the cost for your move. Good Greek Moving & Storage offers a free in-home estimate price well before moving day takes place. This practice removes the possibility of last-minute price surprises. And getting a pre-move cost estimate can also help you avoid an unreputable company.
Start to Declutter Early
For the move to go well, you'll essentially have to sort through everything you own. Scary, right? Not at all – if you take it a little bit at a time. In the months before the move try to do one room a week, and get rid of those items you do not need. You can hold a garage sale, give items to friends, donate to charities and so on. Whatever you do, don't put anything on the moving truck unless you know you will need it.
Get Organized for Packing
Once you've gotten rid of what you don't need, then it's time to organize the packing. If you hire a full-service, professional moving company like Good Greek, you will have the option of letting the pros pack for you. If you pack on your own, they will give you all the boxes, tape and other moving tools and materials you need.
Mark Every Box Clearly
Make sure each box is clearly marked to indicate where it goes (kitchen, bedroom, den, home office, etc.). Use small boxes for heavier items and do not overload boxes. Make sure you have a staging area in your home where you can stack the boxes for easy removal from the home. And at your destination, know where you want boxes and furniture to be placed in your new home. Properly labeling and storing boxes in a central location will help you keep track of your belongings, and ultimately make your life easier once they reach your new home.
Get Moving Insurance 
Moving companies are required to offer liability insurance, but liability covers damaged or lost items by repaying you so much per pound. Professional movers will offer third-party moving insurance that provides a higher level of coverage for your belongings. Moving companies are not insurance companies, so don't buy insurance of a higher level from the mover. Instead, a reputable mover should have a third party you can contact.
Check a Mover's Licenses
All movers are required to have a license with the state. They also need special licenses to handle intrastate moves. For example, all movers in Florida must register with the Florida Department of Agriculture and Consumer Services (FDACS). Making sure the moving company is fully licensed is a critical step to avoid being scammed.
Change of Address 
Plan to stop at your local post office (or go to the official USPS site online) to have your address changed. Contact your utilities providers – phone, cable, internet, gas, electric, etc. – and inform them of the move. Review subscriptions to newspapers or magazines to decide whether to cancel or submit a change of address. In addition, consider your bank accounts, medical prescriptions and so on, ensuring their transfer to a branch near your new home.
Get the Moving Services You Need
Going with a professional moving service is a sound expenditure. It will save you many hours of work and help avoid move-related injuries, but you must make sure to get the specialty moving services you need. Plan to ask about the following services with your moving company.
An in-home, free moving estimate
Packing materials
Packing services
Information on third-party moving insurance
Light furniture disassembly and reassembly (such as beds)
Secure storage if needed
The ability to handle local, statewide, national and international moves
Good Greek Moving & Storage offers all of the above moving services, plus much more.
Contact Us for Local and Long-Distance Moving Services
Good Greek Moving & Storage is a trusted provider of relocation services with locations in Fort Lauderdale, Orlando, Tampa and West Palm Beach. When you need assistance with commercial, residential, senior moving or white glove moving, contact us today. Call (561) 683-1313 or request a free moving quote now.