Florida to New York Expert Long-Distance & Relocation Mover
Good Greek Moving and Storage has handled many moves over the years from New York state and New York City to sunny South Florida. It's always been a popular move over the years. And why not? South Florida is now a major metropolitan area that provides some of the best cultural amenities in the country. It also has the beautiful beaches and sunshine that attracted people to make the NYC to South Florida move in the first place.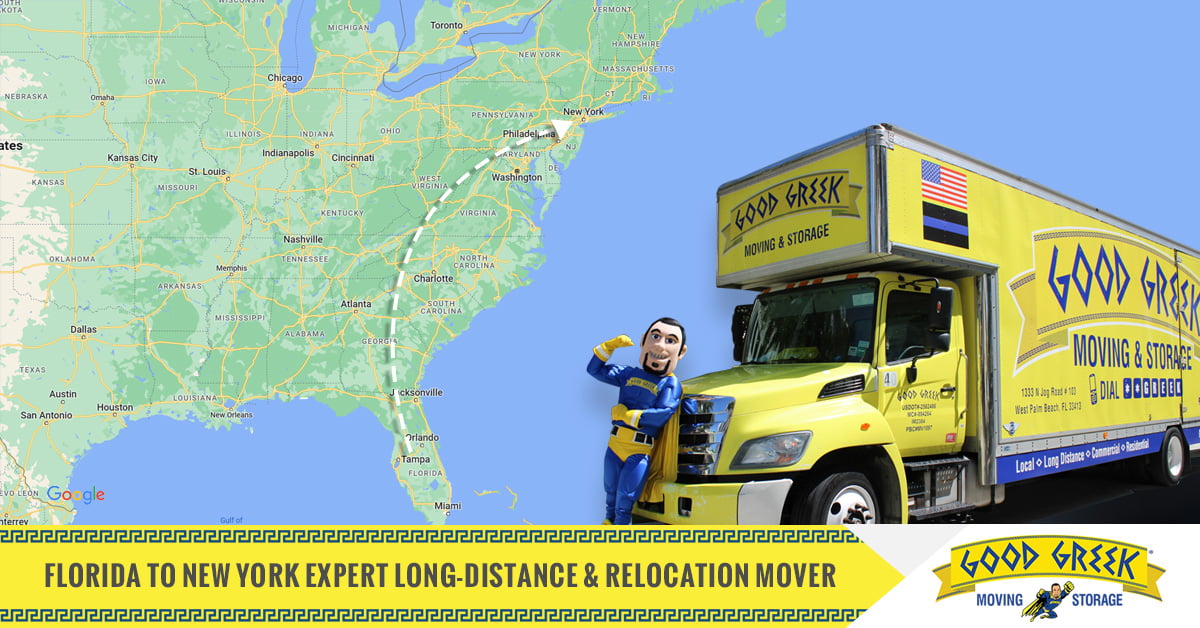 South Florida to New York City Area Moving Experts
Good Greek Moving & Storage offers many advantages for those want to make a South Florida to New York City or Tri-state area move. We have years of experience. We offer a full range of long distance moving services, including packing and unpacking and storage services. We are fully licensed to move people from New York to South Florida, or anywhere around the country. When you're making a big move like the one from Florida to New York, you want movers with a great reputation and all the services you need. Contact us and we can give you a rundown of what we can go to make your Miami area to New York City your Best Move Ever.
Why Pick Good Greek for Your Florida to New York or New Jersey Move?
Good Greek Moving & Storage is one of the best-known moving companies in South Florida because of our years of experience in helping people move both into and out of Florida. That includes many new Floridians moving to Miami and other South Florida cities from NYC and throughout the Northeast.
We offer everything to make your move as smooth and stress-free as possible. Our services include:
A free estimate for your long distance move.
A price estimate. We don't do last-minute charges or moving-day surprises
Light disassembly and assembly of furniture at no extra cost (such as bed frames)
Packing and unpacking services
Packing supplies if you want to pack yourself
Supplies to keep your fragile items safe (such as blankets and/or pads)
Secure storage space where you temporarily place your belongings, if needed. The units are monitored with CCTV security and use a computerized inventory tracking system
24 hours a day, 7 days a week customer service
We also handle any kind of move. That includes residential moves from and into apartments, townhomes, condos or single-family homes. We also handle business and office moves if you are relocating your business from NYC to South Florida.
Tips For South Florida to New York, NY   Moves
When you are moving from NYC to South Florida, there are some important tips to keep in mind.
This is a very popular move and you have to watch out for scam artists. Make sure you choose a company that has proper licensing to handle a nationwide move and a good reputation
Only work with companies that offer you extra insurance through a third-party provider
Only work with companies that offer you a written contract for the NYC to South Florida moving costs
Plan ahead so that you can request the services that you need, such as packing and unpacking
Make sure to thoroughly research moving companies, including reading online reviews
Your NYC to South Florida move will go well if you hire the right professionals to be your moving partners. Give Good Greek Moving & Storage a call and find out the services we offer and how we can make this your Best Move Ever!
Reasons to Move to South Florida
South Florida has grown in the 21st century. There are now an estimated 6.69 million in the area. The area now offers great museums and fine arts. That includes the beautiful Vizcaya Museum and Gardens and the Perez Art Museum. South Florida is also home to the annual Art Basil, considered the premiere art show of the Americas.
South Florida also has teams in all five major sports in the United States: Miami Dolphins (football), Miami Heat (NBA), Miami Marlins (baseball), Florida Panthers (hockey) and Inter Miami CF (soccer).
Other attractions include:
The Everglades National Park
South Beach
The Florida Keys
Miami Seaquarium
Zoo Miami
Flamingo Gardens
Museum of Discovery and Science
That's just a sample. South Florida is filled with great attractions, restaurants, and entertainment. Not to mention you are never, ever far from the beach!
Premier Florida to New York Long-Distance Movers
At Good Greek Moving & Storage, we are local and long-distance movers delivering dependable relocation services. For Florida to New York movers you can trust, contact our team today. Call (561) 683-1313 or request a free moving quote now.
Good Greek in the Media
Visit our media section to watch more videos.