South Floridas Best Residential Movers
If you are planning a residential move in Miami, Fort Lauderdale or West Palm Beach, trust Good Greek Moving & Storage to move your belongings safely and successfully! We understand that moving requires a lot of planning, and that can be a frustrating process. When you use Good Greek Moving & Storage, we will work with you to take that stress off your shoulders and make your Florida move as easy as possible!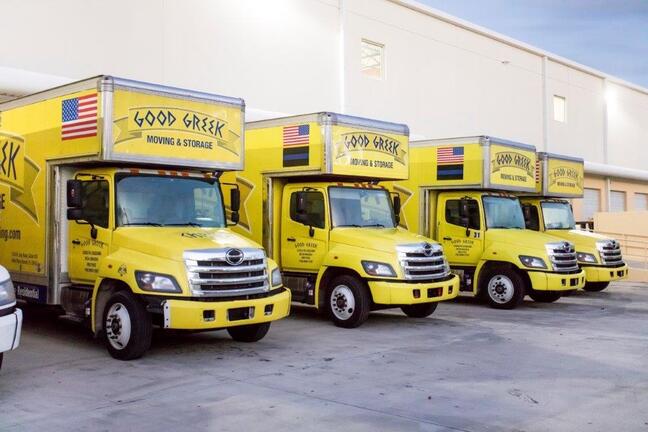 Choose The Right Residential Mover
We're happy to provide you with a FREE, in-house moving estimate at no cost. This will ensure you receive accurate pricing for the moving services you need with no hidden charges or unexpected cost.
Read our reviews to learn more about the people throughout South Florida we've helped move. Whether you're moving across the street, out of South Florida or across the country, Good Greek Moving & Storage is the residential moving company for you! Please call us today to learn more.
Residential Moving Services
At Good Greek Moving & Storage, years of experience have taught us the most professional way to handle residential moves. We want to make the "hiring a moving company" part of your move as stress-free as possible.
Here are some of the services we provide as residential movers in South Florida.
We come to your house to do a FREE written estimate for your move. That way, we can provide an accurate price for the moving services your specific move requires.
That price is good! No last-minute charges or surprises
We provide light disassembly and assembly of your furniture at no extra cost
We always use blankets and/or pads to wrap your items so they remain safe during transport
At the destination end, we work with you to place the items in the rooms where you want them to go
We offer storage space if needed
We are available 24 hours a day, 7 days a week
All Types Of Residential Moves
At Good Greek Moving & Storage, we handle all kind of moving jobs. We have moved expensive items for people just across town. We've also handled moves across the country. As for the size of the residence, we can handle moves for:
Downtown lofts and studios
One-bedroom apartments
Two and three-bedroom apartments
Condominiums and townhouses
Every kind of single-family home
We are residential movers based in South Florida and we handle all types of local and long-distance residential moves across South Florida, anywhere in the state of Florida, and anywhere across the country! If you're moving from Miami to Tampa or from Ft. Lauderdale to Los Angeles, we can handle the job.
Hiring A Residential Mover
Here are some tips to keep in mind for both selecting a residential moving company in South Florida and working with them.
Make sure the company you choose has all the proper licensing to handle local, statewide and cross-country moves.
Only work with companies that offer you insurance through a third-party provider (moving companies aren't insurers, but should provide you information for getting insurance for your move).
Make sure to get a written contract for the cost of your move
Let the movers know in advance what services you will need, such as packing or temporary storage
At the destination, have a plan for where you want the items placed, which saves you and the movers time
Make sure to thoroughly research moving companies, including reading online reviews
Moving shouldn't be stressful. Keep these tips in mind when choosing a moving company. You want a company that makes the business of moving go smoothly, not make it more complicated.
Why Good Greek Moving & Storage?
Here at Good Greek Moving & Storage, we have years of experience handling moves in South Florida. We've earned a good reputation because we treat each client with respect. No matter how small or how big the job, we treat our clients with professionalism. We ensure that your items are protected, safe, and arrive at the destination in good condition.
If you have a residential move in South Florida, give us a call and let us show you the difference Good Greek Moving & Storage can make.
Call For a Free Moving Estimate: South Florida (888) 459-0892 – Tampa (813) 438-2700