Miami Lakes Commercial and Residential Local Movers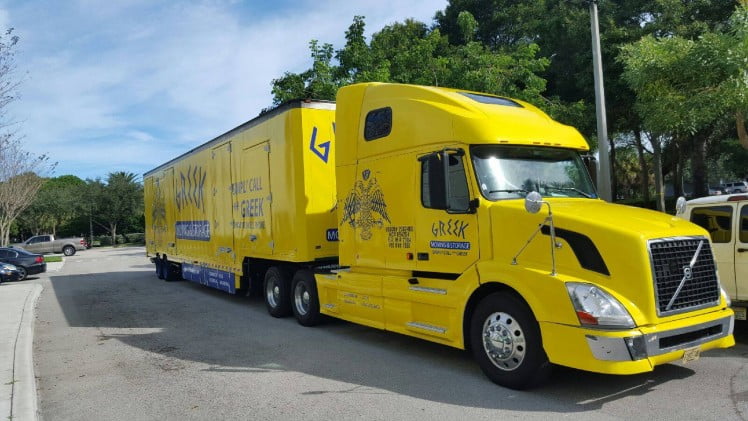 You found the perfect home, the perfect location, now it's time to find the perfect moving company serving Miami Lakes for your next big move.
Don't put your move into the hands of an experienced professional. Let our top-rated moving service help you get from point A to point B with less stress and at a competitive price.
At Good Greek Moving and Storage, we have a strong commitment to giving our customers the best experience possible with their move. Our 5-star ratings on Google from verified customers says a lot about our work as professional movers.
Our top-notch customer service has made us one of the highest rated local South Florida moving services in the Miami-Dade County. Where the official mover of the Miami Marlins. We're sure we can help you, too!
Start right now and get a free quote online or directly in your home. All of our written estimates are good. We stand by our word and we stand by our quotes.
HOW TO FIND A MIAMI LAKES MOVER
Moving can be a stressful time, but it doesn't have to be confusing. Here are some tips on selecting mover for your next local move.
Is your mover registered with the FMCSA? Check to see that your mover or company that is moving you is registered with the proper entity. If you can't find the mover in the FMCSA, it's time to move on. Only use a company that is registered within the FMCSA database.
Did you get, "The Booklet?" Movers in South Florida are required to give all customers the Your Rights and Responsibilities When You Move booklet. This handy piece of information helps to clarify what you need and can do when you're preparing for a move and are going to use a local company.
Don't find anything that's blank or that is not complete. A professional mover, when giving your documents, will give you information that is complete and doesn't have any blank parts in it that are not self-explanatory. If your mover does this, it's time to politely let them know you'll be looking elsewhere.
Ask questions and clarify any information that you do not understand. When your mover gives you your estimate or other documents, be sure that you understand the information that's contained in them. Feel free to ask questions because this is your move. You should understand the process and make sure that it's clear to you from the beginning.
These are just some of the things that you want to make sure you look for when you're selecting a moving company, especially one that's in the local area.
GET A FREE MIAMI LAKES MOVING QUOTE
Think you're ready to take the next step? Then it's time to get your quote! Get a free price quote estimate by completing an inquiry form or calling us today.
We offer free price quotes in writing! Remember: we stand by our quotes. You won't get one price from us today and a new one next week for the same request.
TOP MIAMI LAKES MOVING SERVICES
Complete moving service (boxes, packing, assembly moves, and storage).
Residence and business moving services for the Miami area.
Moving to and from apartments and condos.
Relocation moves with door-to-door delivery.
SAVE ON MOVING COST
Keep the cost down on your next move. Good Greek Moving and Storage promotional offers provide money-saving discounts to help lower the cost of your local or long-distance move. We also offer special discounts for our military and First Responders.
Ask about the latest offers when you email or call us!
CALL NOW FOR A FREE MOVING ESTIMATE (561) 683-1313