Good Greek Moving & Storage is a leading international moving company with locations in Palm Beach, Fort Lauderdale and Tampa. As full-service long-distance movers, we complete every aspect of a relocation abroad – planning, packing, transportation, storage, unpacking, auto transport and more. For a competitively-priced, efficient international move, speak with our moving team today.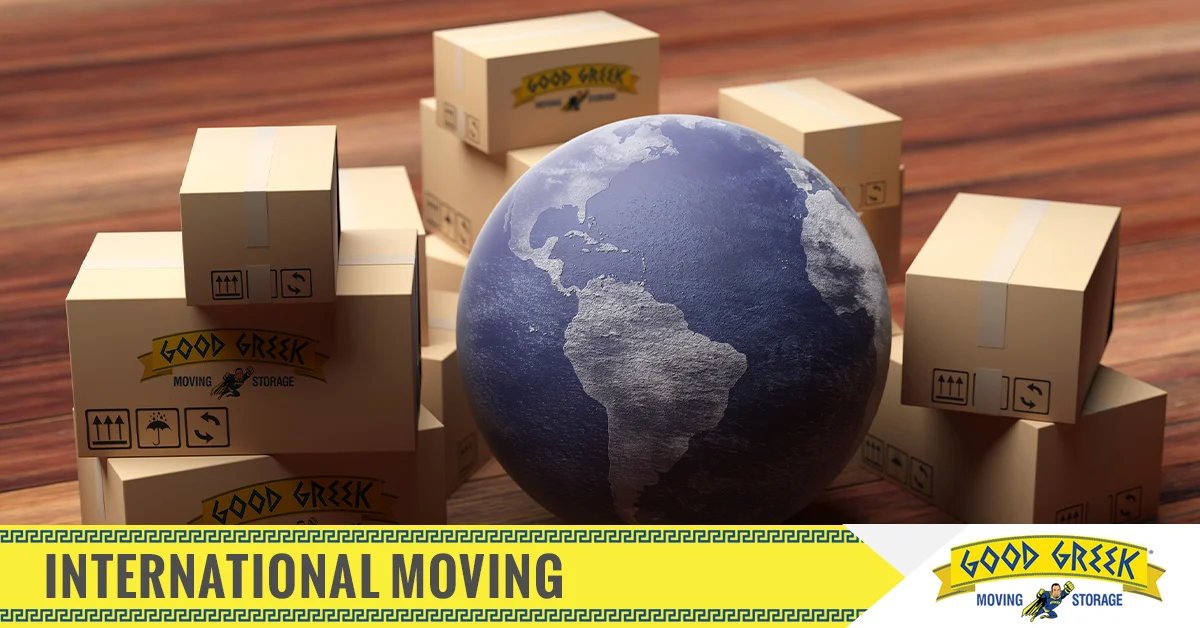 We bring years of international mover experience in transporting your home or business contents to South America, the Caribbean, Canada, Europe and just about anywhere in the world. We are a fully licensed international move company and can handle any type of move, from small apartments to large homes and businesses.
Premiere Moving Services to Anywhere in the World
Few companies can handle international moves. Good Greek Moving & Storage has years of experience as an international moving company with the knowledge and expertise to move people from South America, Canada, and Europe to South Florida, or from South Florida to points all around the world.
Florida to Caribbean Moves
We offer international moving services to the Bahamas and most ports throughout the Caribbean. We offer door-to-door delivery for your items no matter where you are moving or coming from. Customs clearing services are included. Call or contact us about your international moving needs today!


Why Trust The Good Greek With Your International Move?
At Good Greek Moving & Storage, we've earned a reputation for being a trustworthy party for your Florida move. In addition to the services we provide for international relocations, we offer the following services that will make your move go smoothly.
We do a free in-house, in-person visit to estimate your moving costs before you hire us.
Our moving estimates are good. We don't surprise you on moving day with more charges.
We're fully licensed to handle international moves, as well as in-state and cross country moves.
We offer packing and unpacking services for those who don't want to do it themselves.
We use professional-grade moving and packing supplies for all relocations.
If you do choose to pack yourself, we offer a full line of packing supplies.
When your moving day arrives, our supervised, uniformed movers are prompt, polite and careful to make sure your items are packed and transported safely.
We handle light disassembly and reassembly of your furniture (such as beds).
If you need to temporarily store some items, we can safely store them in our storage facilities that are monitored by CCTV and have a computerized inventory tracking system.
We have a customer-first approach to our business – we mean it when we say we want to make this your Best Move Ever.
International Move Tips and Advice
Moving to another country requires planning. Keep the following tips in mind when preparing for your international move.
Research to find out what items can be moved into a new country and the rules around transporting goods via airline or shipping (we can help with this).
Get rid of items you don't need. While this applies to every move, it's especially important when moving to another part of the world.
If possible, "scout ahead" on your new location and determine what can fit and what you don't want to bring.
An international move is a great chance to donate or give away items you don't need.
Make sure your cell phone provider offers service in the new country where you will live – otherwise, you will need to switch to another carrier.
Check to make sure you will get banking services from your current bank in a new country – this may require you doing much of your banking online.
Make use of storage for items you will not need in your new country.
Hire experienced international movers who are experts in the rules and regulations around international relocations.
When choosing an international mover in Florida, it's important to do your research. We at Good Greek Moving & Storage invite you to check out our online reviews and the many services we offer. Give us a call and let us tell you what we can do to serve you during your international relocation.
Common Questions About International Moving
International moving times vary – it depends on the destination, method of shipment, number of belongings and other factors. For complex relocations, international moving could take from a few weeks to a few months.
International moving is usually more expensive than local or interstate moving within the United States. However, the total cost will depend on the distance and complexity of the moving process.
To make a move abroad as simple as possible, only take the things you absolutely need, prepare all documents in advance, keep essential items close by and so on. Also, make sure to hire professional movers with as much advance notice as possible.
Trusted International Moving and Storage Company Based in Florida
Count on Good Greek Moving & Storage for safe, efficient moves around the world. Our moving specialists can plan and execute first-class international relocations wherever you need to go. To find out more, call (561) 683-1313 or request a free moving quote today.