Apartment Moving Checklist
At Good Greek Moving & Storage, we provide comprehensive apartment moving services for Florida residents. From packing and storage to our white glove moving service, we cover it all. While preparing for an apartment move is certainly a challenge, by staying organized you can be assured of a smooth relocation.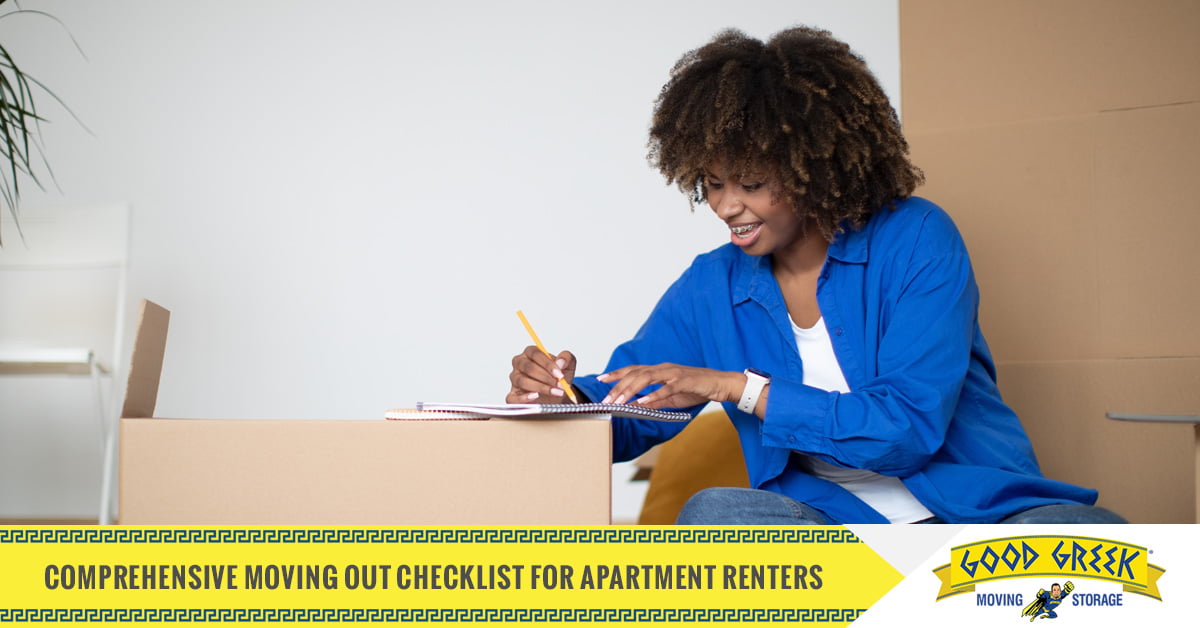 It's easy to overlook all the details involved with a move. That's why we've provided this handy checklist. At Good Greek Moving & Storage, we've worked on thousands of moves. We make it our job to ensure our clients are prepared for moving day when it arrives.
Three Months Before Move
Notify the landlord. Check your rental agreement to find out how much advance notice you must give for your move. Typically, it is at least 60 days, but can be as long as 90.
Hire a mover. To make sure you have a professional moving service on the day you need them, book them in advance. Good Greek Moving & Storage will send a professional mover to your home for a free estimate of your move's costs. We are licensed to handle in-state, intrastate and international moves.
Look for damage. Now is the time to assess whether any areas of your rental have been damaged. You will want several months to make repairs so you can get your deposit back.
Remove clutter. This might take some time, so it's best to start several months early and try to do about a room a week. That way, you will have your belongings down to a manageable amount when it comes time to pack. Our junk removal services can help remove unwanted items.
Two Months Before Move
Inventory items. Now that you have removed the clutter, you can inventory everything you have so you will know what is being moved. You can also estimate the total value of your belongings, which helps when deciding how much moving insurance to get.
Change of address. File a change of address with the U.S. Post Office so they know when you plan to leave. Also, prepare an email that you can send to all your friends, family and business associates to let them know where you will be living.
Utilities. It's likely the new renter will move in just a few days after you leave. Now is the time to notify electric, gas and water providers on the date you plan to move so you don't get charged for utilities used by someone else. Also, contact the utilities in your new location to set up service for the day before you arrive – that way they are on when you get there.
Check local laws. Research the area where you are moving to and find out issues such as how to register as a voter, how long you have until getting a new driver's license, and the rules around how to register and get plates for your car.
Schools. If you have children in school, let the schools know when you plan on withdrawing your child from class. On the other end, let the new school know when you will arrive. You also should research your school options in the new location.
One Month Before Move
Packing. Set up a staging area where you can place boxes out of the way of foot traffic. Keep boxes from the same rooms together. Also, mark each box clearly by room and contents. Use small boxes for heavier items.
Work. If you are changing jobs, it's usually appropriate to notify them of your decision to leave employment with two weeks to four weeks of notice.
Storage space. If you need to store some of your belongings while you get settled in your new location, now is the time to make those arrangements. Good Greek Moving & Storage offers secure, CCTV-monitored storage units.
Hire cleaners. Another move that can help you get your security deposit back from the landlord is to have your rental professionally cleaned.
Last Two Weeks Before Move
Return items. If you have books from the local library, make sure they are returned. Also, return everything to friends and neighbors that you borrowed.
Car check up. If you are moving a long distance, take your car into a trusted auto shop and get a basic checkup done. This can reduce the chance of a breakdown on the way.
Refill prescriptions. It might take you awhile to find a new doctor and pharmacy wherever you are moving. Take the time to get all prescriptions filled before you go.
Moving Day
Clean. The last couple days before moving day are your last chance to clean, if you didn't hire cleaners. Also, clean off all the furniture you are moving so you don't bring dust from the old place into the new one. Strip down the beds so movers can easily disassemble and move them.
Pack a travel bag. Put just what you will need for the first 24 to 48 hours at your new place in a travel bag. You also want a box that you will unpack first that contains toiletries and other items you will need right away at your new place, such as cookware and utensils.
Arrive ahead of movers. Get to your new place first so you can direct movers on where to place all your items, which reduces the time you will spend moving things around yourself.
Inspect your rental. Before turning in the keys, inspect the rental with your landlord so you can agree on damages. If you cannot do it together, then take detailed pictures of each room. That way, you will not be held responsible for any damages you didn't do.
If you hire Good Greek Moving & Storage, many of these issues will be handled for you. Give us a call to see how we can make this your Best Move Ever!
Experienced Apartment Moving Services in Florida
For dependable apartment and condo moving in Florida and beyond, trust the team at Good Greek Moving & Storage. We provide a full-service moving experience that covers planning, packing, transportation, unpacking and more. For assistance, call (561) 683-1313 or request a free moving quote today.