Miami to Atlanta Long-Distance Moving Company
Moving from Miami to Atlanta is a popular choice for many people living in South Florida. Atlanta has become a major hub of industry in the Southeast. Job growth there is strong. That's why single professionals and families alike are making the move.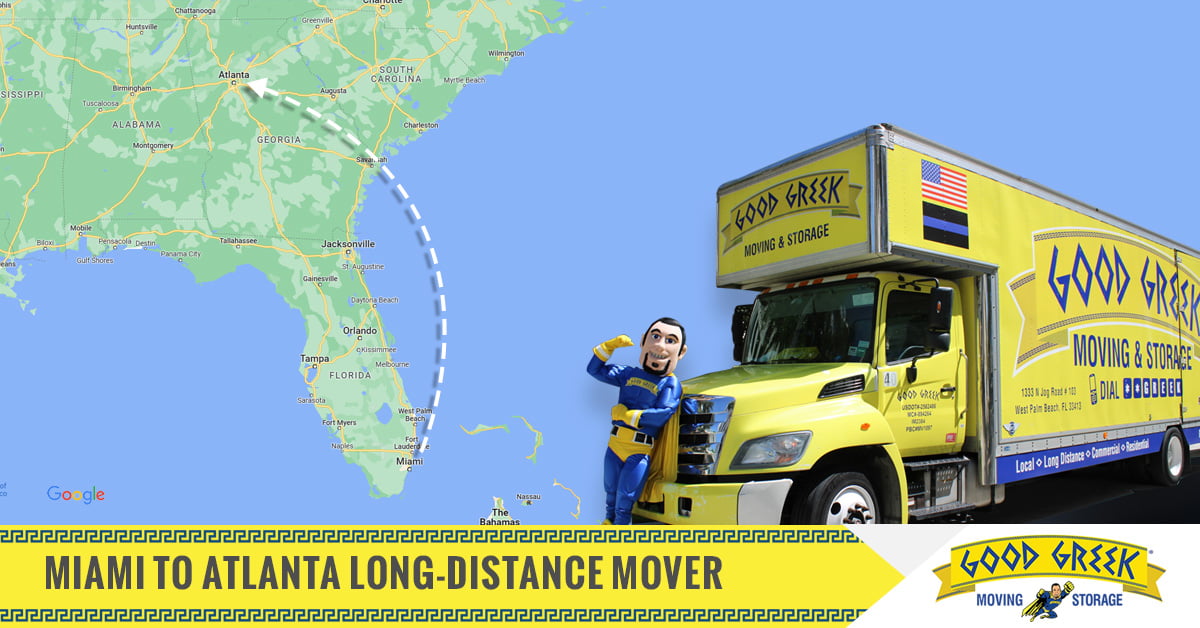 As a Miami to Atlanta moving company, Good Greek Moving & Storage handles the Miami to Atlanta move often. The company is fully licensed to handle moves out-of-state. As professionals in the field, we bring the equipment and manpower needed to make your move go easy.
Why Move to Atlanta?
Atlanta is among the top 10 fastest growing cities in the country. But these days, it's smart for those moving to an area to look at the entire metro area. In the case of Atlanta, the metro area includes places like Sandy Springs and Roswell. It's 9th largest metro area in the country with almost 6 million people.
Major Employers in Atlanta
Many Fortune 500 companies make their home in Atlanta. They include Home Depot, Coca-Cola, United Parcel Service (UPS), Delta Airlines and First Data Corporation.
Education in Atlanta
The Atlanta metro area is home to more universities and colleges than any metro area in the Southeast. They include the Georgia Institute of Technology (Georgia Tech), Emory University, Georgia State University, Morris Brown College, Mercer University, University of North Georgia and the University of West Georgia.
Cost of Living
The exact costs of living in the Atlanta metro area can vary depending on exactly where you plan to move. However, most cost calculators put the cost of living in Atlanta below that of most other major metropolitan areas, which is one of the big attractions of cities in the South.
Entertainment and Sports
The Atlanta area includes Six Flags Over Georgia, Six Flags White Water, Georgia Aquarium and the College Football Hall of Fame. The area is home to many major sports teams, including the Atlanta Falcons (NFL), Atlanta Hawks (NBA), Atlanta Braves (MLB) and Atlanta United FC (MLS).
Museums and the Arts
The Atlanta area boosts many performing arts centers and museums. They include the Atlanta Symphony Hall, Fox Theatre, Cobb Energy Performing Arts Center, the High Museum of Art, Fernbank Museum of Natural History and the Jimmy Carter Library and Museum.
Tips For Moving to Atlanta
Keep these in mind as you prepare for your Atlanta move.
Shop around. Rental prices have increased around the metro area, but they remain lower than most metro areas in the country. With so many distinct locations to choose from, take the time to find exactly what you want.
High traffic. The Atlanta area is crisscrossed with freeways, and it has some bad traffic congestion during peak hours. You want to live as close to work as possible
Great climate. Pick a place to live based on the idea that you can get outdoors. The area has many parks and is becoming more bike friendly with each passing year.
In Town. Costs are typically higher for renting and real estate inside Loop 285, which many locals refer to as "in town." Outside the loop is OTP – outside the perimeter. It's less expensive out there!
Lots of transplants. You can be forgiven for thinking of deep Southern accents when you think of Atlanta. But the truth is there are so many transplants for other places, you'll fit right in even if you don't have one.
Pros and Cons of Moving to Atlanta
The above shows many of the pros and cons of moving from Miami to Atlanta. Here's a quick recap.
Pros
Lots of job growth
Great weather, lots of parks to enjoy it in
Southern hospitality
A growing arts scene
Tons of entertainment options
Low costs compared to other major metro areas in the U.S.
It's not far from Miami, so you can easily fly back and visit (flight costs can get as low as the $200 range)
Cons
Traffic, and lots of it
Expensive rentals inside Interstate 285
Lack of mass transportation
It's hot (although not compared to Miami!)
Selecting a Long-Distance Mover
Good Greek Moving & Storage is licensed to handle moves across the state and anywhere in the nation. That's the first step in selecting a long-distance mover – ensuring they have the proper licensing to handle your move.
Other services to look for include:
A free moving estimate.
A price estimate so there are no moving day cost surprises
Light disassembly and assembly of furniture
Packing and unpacking services
Packing supplies
Moving supplies such as blankets and/or pads
Secure storage space to temporarily house your belongings
24 hours a day, 7 days a week customer service
Experienced and Trusted Long-Distance Movers
If you are considering a move from Miami to Atlanta, Good Greek Moving & Storage has the experience and knowledge that you need. We are trusted movers, which you can see from our many positive online reviews. We handle any size move and treat every client with professionalism. If you want to know what we can do for your planned move to Atlanta, please contact us and we can talk about what we can do for you.
Contact Us for Miami to Atlanta Long-Distance Moving
At Good Greek Moving & Storage, we provide stress-free long-distance relocations throughout the United States and worldwide. When you need expert packing, transportation and storage services for a Miami to Atlanta move, contact us today. Call (561) 683-1313 or request a free moving quote now.