Premier Short-Distance Movers in Florida
Good Greek Moving & Storage is the best short-distance moving company in Florida. With over two decades of experience, we have helped countless local homeowners and businesses relocate within the state.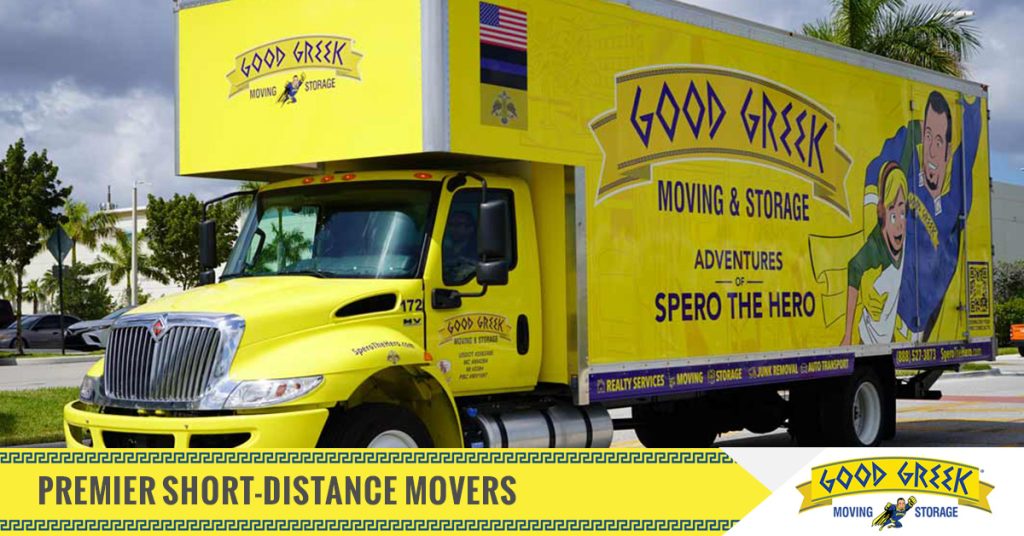 Our dedication to punctuality and efficiency is ideal for short-distance moves with tight deadlines. And no matter the challenge, our local Florida movers will complete your relocation on-time and on-budget.
Some of Our Short-Distance Moving Services
Moving down the street or across town might seem straightforward, but if you have ever tried to pack and transport a substantial number of items, you already know that much can go wrong. That's why at Good Greek Moving & Storage, we take the stress out of a short-distance move with our comprehensive range of services.
Local Residential Moving
Whether you're moving to a new apartment, condo, house, or senior living community, our local movers plan and execute a flawless relocation.
Short-Distance Commercial Moving
Our business clients include restaurants, stores, offices, hotels and industrial facilities. Our streamlined moving process will have your business operations up and running in no time.
Packing and Unpacking Services
Let our trained moving team pack and unpack your belongings for an organized, secure experience. With quality packing supplies and reliable inventory management, your possessions are safe with us.
Specialty Item Moving
Moving items like pianos, antiques, artwork, heavy appliances and classic cars can be challenging regardless of the distance involved. Our clients find our specialty moving services to be a great addition to their short-distance moves in Florida.
Storage Solutions
Do you want to refurbish a new property or need extra time to find a home? In that case, our monitored local storage units provide an ideal short-term solution.
Why Choose Our Short-Distance Moving Services?
As well-established local Florida movers, we have the planning and operational skills to deliver stress-free relocations. We bring our clients the following benefits.
Transparent quotes with affordable pricing.
Extensive local knowledge of Florida roads, parking and regulations.
Flexible services customized for commercial and residential clients.
Fully licensed and insured for moves in Florida and beyond.
From streamlined residential relocations to comprehensive white glove moving, the specialists at Good Greek Moving & Storage take the stress out of short-distance moves.


Common Questions About Short-Distance Movers
Most short-distance moves are usually completed in a single day, though more complex commercial or residential relocations could require an additional day.
Short-distance moves typically refer to journeys within 50 miles. Let us know your requirements and we can advise further.
Yes. If you want extra protection and convenience during a local move, we can transport cars, motorcycles, boats and other vehicles using professional trailers.
Florida Short-Distance Movers for Commercial and Residential Relocations
Good Greek Moving & Storage is a leading Florida short-distance moving company with locations in Palm Beach, Fort Lauderdale and Tampa. To discuss our moving and storage services, call (561) 683-1313 or request a free moving quote now.