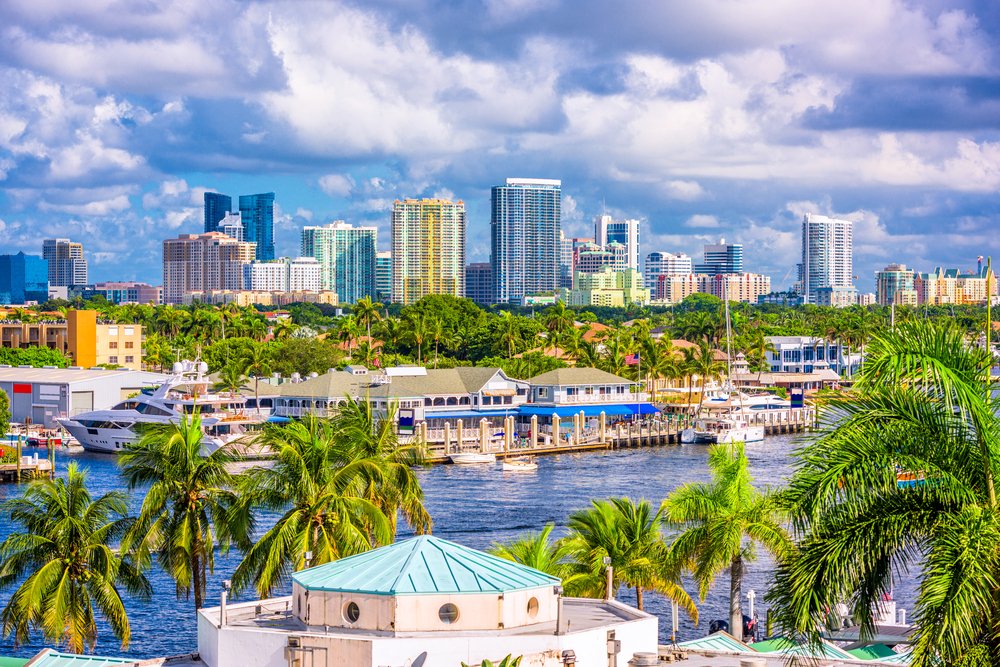 Are you thinking about making a move to Fort Lauderdale? You're not alone. Once the little brother city to Miami, Fort Lauderdale has stepped out of the shadows to attract thousands of new residents and stake its claim as one of the best cities in Florida to live.
It's not hard to find a lot of reasons to move to Fort Lauderdale. While images of beaches, palm trees, and ocean waves spring to mind just hearing the city's name, Fort Lauderdale is about far more.
Why People Move to Fort Lauderdale
But keep in mind these are far from all the reasons. Some people move to Fort Lauderdale because of family, spouses, significant others, or a new job – and then congratulate themselves on how lucky they got. But if you're looking for reasons to choose Fort Lauderdale as your new hometown as opposed to somewhere else, the following will give you a good place to get started.
Fantastic Fort Lauderdale Neighborhoods
Fort Lauderdale offers neighborhoods for whatever kind of living you prefer. There are urban lofts and townhouses, tree-lined streets that wind through neighborhoods of single-family homes in Fort Lauderdale, large apartment buildings, quaint bungalows in historic districts, and condos at the beach. The city offers above-average schools near safe neighborhoods for families, and retirement communities for seniors. It's difficult to think of a city that does a better job on mixing housing options for people at whatever phase of life they find themselves in.
So Many Restaurant Options
As part of culturally diverse South Florida, Fort Lauderdale attracts chefs from around the world. Residents enjoy many options, from gourmet restaurants and gastro pubs to tapas rooms. In terms of cuisine, Fort Lauderdale offers excellent spots to enjoy Chinese, Vietnamese, Spanish, Thai, Cuban, Mexican, and American, including many options for vegans and vegetarians. The city also has a big craft beer scene, including Fat Tap Beer Bar & Eatery, Craft Beer Cellar, Tap 42, and the Funky Buddha Brewery.
Fort Lauderdale Has A Vibrant Art Scene
South Florida attracts artists and Fort Lauderdale is one of the main magnets in the area. The FATVillage art district – once a warehouse district – now sports murals on its border and an extremely popular and long-running art walk (FAT stands for Flagler Arts & Technology). The new Mass District offers another attractive option for live music, art and local breweries. The city also hosts Art & Design week in January, during which homes along the city's many intercoastal canals host open art exhibits.
The Venice of North America
No one is going to mistake Florida for Italy. But Fort Lauderdale has 500 miles of meandering canals throughout the city, so it's not a nickname lightly given. Yes, you can even take a gondola ride and do some sightseeing. One of the best known, Las Olas Gondola Rides, offers tours of the city seven days a week with professional gondoliers. It's an aspect of Fort Lauderdale that many outside the area may not know about it, but it's part of the fabric of the city.
Fort Lauderdale is an Outdoor Playground
One of the nicest things about Fort Lauderdale is that residents there understand the importance of relaxing. It's a sunny, laid-back vibe. Two reasons for that are the average temperature year around – 75.5 degrees – and the 246 days of sunshine each year. Places such as Hugh Taylor Birch State Park and Riverwalk Linear Park give residents the chance to enjoy the lush tropical landscape. You won't find a place with more water sport options, including kayaking, stand-up paddleboarding, and canoeing. You can also parasail at the beach. Love golf? Welcome to paradise. There are four golf courses within Fort Lauderdale (including a municipal course) and 90 courses within 20 miles of the city. 90!
Love the Nightlife
Miami is legendary for its nightlife, but Fort Lauderdale has plenty to offer, too. Most of it is on and around Las Olas Boulevard. Once the haven of spring breakers looking for cheap booze, this area is moving toward a more sophisticated vibe. This is probably a good place to note that while Fort Lauderdale certainly offers plenty of fun, city residents and leaders long ago stopped it from being the "wild" spring break destination many made it, although plenty of spring breakers still come. In fact, even Miami now looks to Fort Lauderdale for advice on how to create a safer, saner spring break.
A Strong Jobs Market
Many people come to Fort Lauderdale for employment. The city and surrounding area offer many jobs in healthcare, professional services, education, retail, manufacturing, and technology. The 20 biggest employers in the area, other than K-12 schools and government, include SFN Group, AutoNation, MEDNAX, Citrix Systems, Extended Stay America, Spirit Airlines, Broward Health, Kaplan educational services, and Nova Southeastern University.
Fort Lauderdale Has Some of the Best Beaches in the World
This easily could be No. 1. But it's interesting to consider that on top of everything else on this list, Fort Lauderdale also has stellar, world-class beaches with crystal clear water. That's not a combination you find in many places.
No State Income Tax
No state income tax means more money in your pocket. It's that simple. Now you may better understand all the headlines you see about people fleeing New York and other high-tax cities for the sunny climes of Florida.
Those are nine reasons to move to Fort Lauderdale, but they are far from the only reasons to move to Fort Lauderdale. For example, we haven't even mentioned the museums (like the collection of post-World War II avant-garde artists at the NSU Art Museum) or Butterfly World. But you get the idea. Fort Lauderdale provides its residents a unique, gorgeous place to live. No wonder so many people want to join them. Like you.
Are You Considering A Move To Fort Lauderdale? Call A Relocation Specialist Today (561) 683-1313