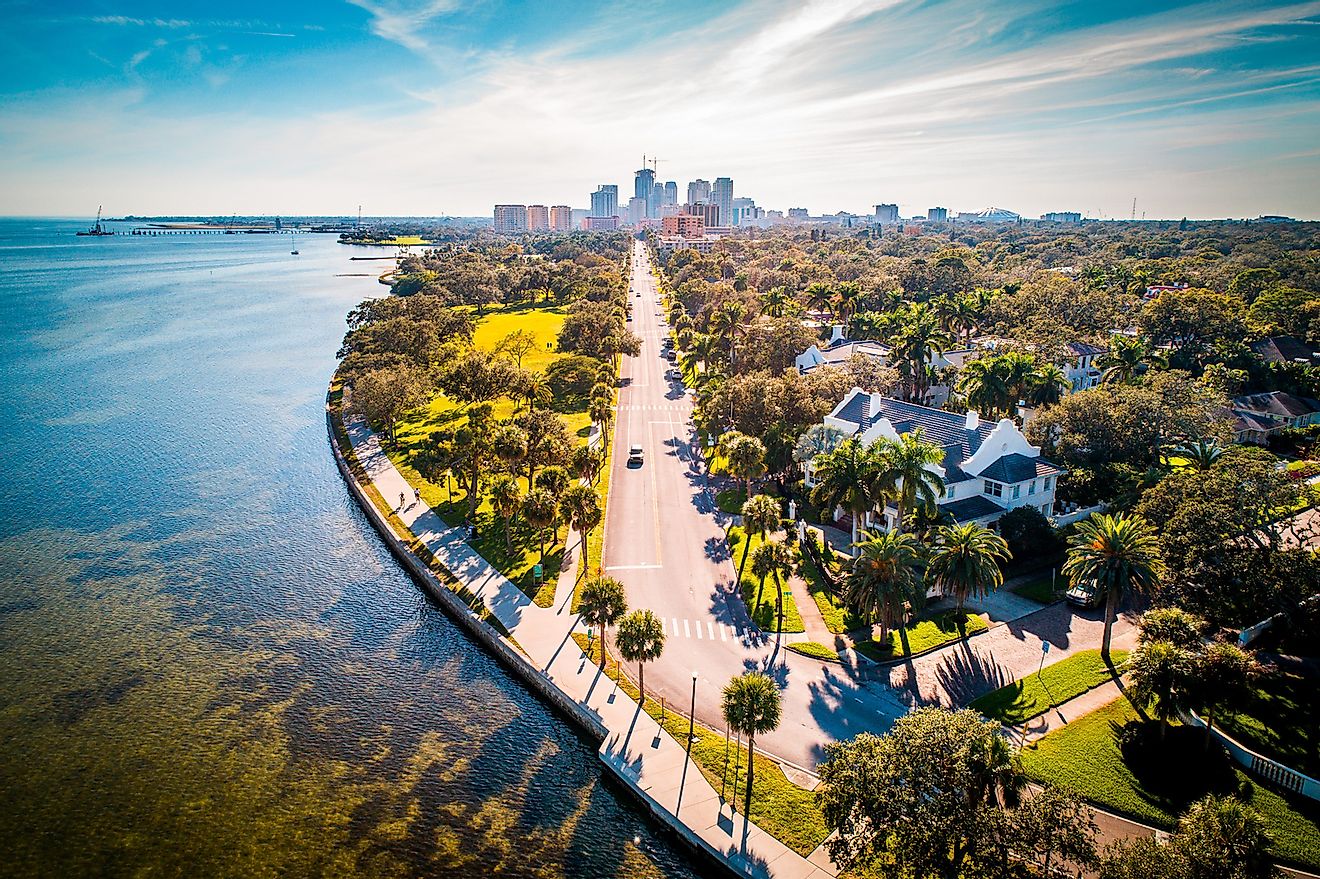 If you still think of St. Petersburg as a retirement community on Florida's Gulf Coast, you're quite a few years behind the times. While it experienced its first boom after World War II as a haven for seniors, the current boom is for entirely different reasons.
St. Petersburg has become one of the most dynamic cities in Florida, offering a cosmopolitan culture, a strong arts scene, and a gorgeous subtropical locale. People move to the city because it has a vibe unlike most places in the U.S., and even in Florida itself. Laid-back, beautiful and charming, it's also quietly become a destination for businesses, tech workers, and creatives.
The city shares many of the attractions of other cities in Florida such as West Palm Beach and Jacksonville. They include great weather, easy access to beautiful beaches, a short drive to the most famous amusement parks in the world, a low cost of living compared to other large metro areas, and no state income tax.
But St. Petersburg also stands out for its own unique combination of characteristics, and not just it's average 361 days of sunshine each year. The city still almost feels like a secret, a great place to live that many have not yet discovered. That is changing rapidly. Here are some reasons why.
St. Petersburg Is Part of a Thriving Tampa Bay Area
People outside of Florida understandably get confused about Tampa Bay and the cities it contains. While the area is often referred to as Tampa Bay, it actually consists of three major cities: Tampa, St. Petersburg, and Clearwater. Rather than one giant urban core surrounded by suburbs, Tampa Bay is spread out across a large region.
St. Petersburg and Clearwater are in Pinellas County, a peninsula between Tampa Bay and the Gulf of Mexico. Tampa is on the other side of the bay. The area also features many smaller communities with their own distinctive environments. In Pinellas County alone, other notable towns include Dunedin, Pinellas Park, Tarpon Springs, Safety Harbor, Seminole, Belleair, Gulfport, and many beach communities.
St. Petersburg is part of this dynamic area, including a growing downtown, great neighborhoods, and good schools. People who live there have easy access to all areas in the region. As a whole, 3.1 million people live in the Tampa Bay region. It's become one of the most popular areas of the country, with an estimated 150 people moving to Tampa Bay every day.
The Beach Life
Of all the cities in the Tampa Bay region, St. Petersburg has the biggest collection of the best beaches. St. Petersburg and Clearwater join together to promote the 35 miles of beaches in the area, which is why you will see "St. Petersburg/Clearwater" on commercials and advertisements. You're not going to notice much when you cross from one municipality into another, including the small beach town of St. Pete Beach. Beaches in the area include:
Clearwater Beach
St. Pete Beach
Madeira Beach
Indian Rocks Beach
Sunset Beach
Honeymoon Island
Redington Shores
Treasure Island
Pass-a-Grille Beach
Fort De Soto Park
Caladesi Island State Park
Each has its own look and feel, as well as interesting shops, restaurants, bars, and attractions. Newcomers to the area can spend a lot of time just enjoying different beaches every weekend.
It's Becoming a Hub For Creatives
St. Petersburg has always drawn writers. Jack Kerouac lived in St. Petersburg and John D. MacDonald was just down the road in Sarasota. More recently, author Dennis Lehane called St. Petersburg home and Tim Dorsey lives just across the bay in Tampa.
But it's also become a haven for visual artists, performers, actors, and those associated with the film industry. MovieMaker Magazine named St. Petersburg as one of the top places in the country for moviemakers in 2022.
John Collins, founding executive director of the St. Petersburg Arts Alliance, told Atlanta magazine that those in creative industries have moved in large numbers to St. Petersburg. "It's been a sea change," he said. "The number of performers, writers, and visual artists who have moved to this area has increased by more than fifty percent in ten years. We've found ourselves with one of the largest concentrations of artists in the Southeast."
St. Petersburg Has a Growing Tech Business Scene
Every city wants to claim that it is the next Silicon Valley or a hot spot for tech companies. St. Petersburg has one of the better claims to those boosts, although the city accomplished this in a relatively quiet way when compared to marketing campaigns in other cities. Here are a few examples.
Dynasty Financial Services moved its headquarters from New York City to St. Petersburg in 2019. The company's CEO said it wasn't just about the business advantages, including a great tech workforce in the area, but also the fact that company employees loved the quality of life in Florida. The company now plans to build a new, 36-story building in downtown St. Petersburg for its new headquarters.
CrossBorder Solutions, a $1 billion firm and global leader in tech-driven tax solutions, also has announced it will move its headquarters from New York City to St. Petersburg. According to the Tampa Bay Business Journal, the new company CEO said, "We speak all the time to our venture capital and institutional backers. And they said right away that St. Pete, the Tampa Bay area, is where a lot of software companies seem to be heading, especially from the Midwest and the West Coast."
San Francisco-based CodeBoxx recently moved to St. Petersburg. The company CEO called St. Petersburg the "new Austin," according to the business journal, adding, "That's how I see it, so I want to be ahead of the curve."
A Great Arts and Cultural Scene
St. Petersburg has built strong art and cultural scene over the years. The city has seven different arts districts, numerous arts festivals, live entertainment, and plenty of arts-related events. Museums in the city include the following:
The Dalí Museum
The building, located downtown near the Duke Energy Center for the Arts – Mahaffey Theater, is a masterpiece of surrealist architecture. Inside you'll find thousands of paintings, sculptures, sketches, and other works that make up the largest collection of Dali's work in the world.
The Chihuly Collection
In another interesting architectural feature of downtown St. Petersburg, the Morean Center's Chihuly Collection features a 20-foot pink crystal sculpture at the entrance. The space is the first to offer Chihuly's unique art in a building designed specifically to showcase his work. Standouts at the museum include the Ruby Red Icicle Chandelier, designed for the museum, as well as popular series, works such as Macchia, Ikebana, Niijima Floats, Persians, and Tumbleweeds.
St. Petersburg Museum of Fine Arts
Located on Beach Drive in the heart of downtown, the St Petersburg MFA offers a large collection of artistic works. Highlights include workers from Claude Monet, Georgia O'Keeffe, and Willem De Kooning, as well as a large photography collection.
Taken together, these factors have helped make St. Petersburg an increasingly popular destination for young professionals, relocating families, tech industry workers, and those in creative fields. It's a growing, dynamic city that showcases the best of what Florida offers new residents.
Relocating to St. Petersburg? Contact A Relocation Specialist At

(561) 683-1313

Today