Pembroke Pines Commercial and Residential Moving Services
Good Greek Moving & Storage is a local South Florida mover that helps people and businesses relocate locally as well as throughout the United States. We're a top-rated mover and the official mover of the Miami Marlins. Our company has built its success on a mission to provide each and every customer an extraordinary moving experience. In addition to top-notch customer service, you can expect competitive prices, as well as free price quotes, provided by phone, online or on-site.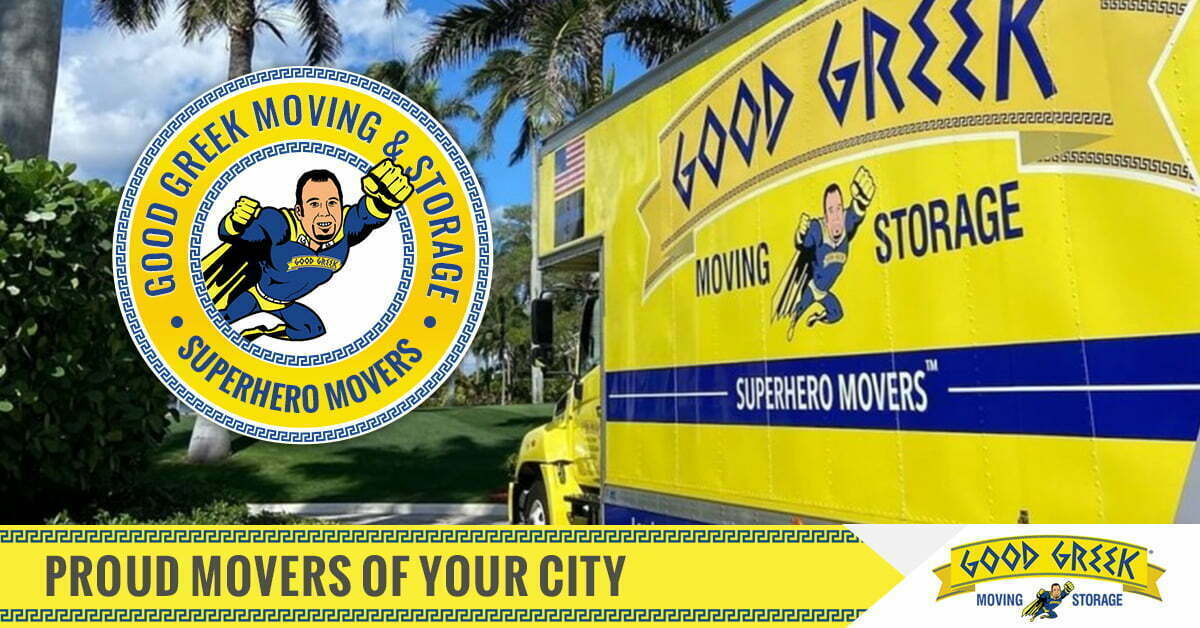 Good Greek Moving & Storage is one of the most highly-rated professional movers serving Pembroke Pines, Miramar, Weston and all Broward County with over 70 five star Google reviews. Our knowledgeable and experienced relocation experts specialize in all aspects of local and long-distance moving services and are ready to help with your Pembroke Pines, Florida move today.
BEST MOVE EVER
When moving across town or across the country, the moving process doesn't have to be stressful. Good Greek Moving & Storage is the only company to offer "The Best Move Ever" ensuring a stress-free move on time and on budget. Their service is unmatched which is why they offer their estimates to prove it. Serving Palm Beach, Miami-Dade, and Broward County has been an honor for The Good Greek as they love providing the best possible moving experience.
MOVING SERVICES INCLUDE
Local South Florida Moves
Residential Moving
Commercial Moving
Out of Area/Out of State Moves
International Relocation
Short and Long Term Storage
Packing and Unpacking
Vehicle Transportation
Large Items
RESIDENTIAL MOVING SERVICES PEMBROKE PINES
Whether you're moving across town or to another state, Good Greek Moving & Storage can help. It doesn't matter if you're moving a small apartment or a sprawling family home. We've got the expertise, manpower, and resources to make it happen. It's never too early to involve us. Our specialists can help you plan your move. Our packing experts can pack and crate your belongings in advance, and on moving day, we'll ensure that it all goes off without a hitch. We offer free price quotes over the phone or in-home estimates, and we're happy to provide an in-home visit at no charge and without obligation.
PEMBROKE PINES BUSINESS MOVERS
As the official movers of the Miami Marlins as well as other area sports teams, Good Greek Moving & Storage is well-equipped to move your business whatever unique challenges that present. We can move an office down the street or a corporate headquarters to another state. Our commercial experts work closely with our business clients to manage logistics from beginning to end. We'll provide a detailed estimate as well as an estimated price. Our team members can work on your schedule—including nights—and can ensure proper crating, unpacking and placement of your assets.
PEMBROKE PINES LONG DISTANCE MOVING
Our experts who specialize in long-distance moves can assist you in relocating to any point in Florida and throughout the United States. We offer pick-up and delivery, and our services can include any storage required to cover gaps between moving out and moving in. Good Greek Moving & Storage offers direct and exclusive services as well, and you can receive up to 65 percent off. We can oversee everything from keeping your move organized to ensure that items get to their intended destination.
PRICE QUOTES FOR PEMBROKE PINES MOVES
Good Greek Moving & Storage provides detailed moving quotes at no charge and without obligation. Our prices are competitive, and if you schedule a free in-home consultation, we can provide you with a price quote in writing. All of our estimates and the services we provide are covered by our "Best Mover Ever." Whether you're moving across town or across the country, it doesn't have to be stressful. Our estimates ensure that your experience is stress- and hassle-free and that your relocation is completed on time and on budget.
RESEARCHING MOVING COMPANIES FOR PEMBROKE PINES FLORIDA?
Good Greek Moving & Storage caters to individuals and organizations throughout the entire South Florida area. We offer services specifically for Pembroke Pines and its neighboring communities. Our team can move you locally within this area, throughout the state of Florida, to another state and even to an international destination. Our experts are quite familiar with the Greater Pembroke Pines and South Florida and they are ready to answer your questions about Pembroke Pines moves.
OUR SERVICE AREAS INCLUDE:
SAVE ON PEMBROKE PINES MOVING COSTS
Our competitive prices are made even better by the specials, discounts, and promotions that we offer. All of our current opportunities are listed on our promotions page. One offer we're particularly excited about is $50 off of any local move no matter how small or large. Good Greek Moving & Storage also offers regular discounts for active military, military veterans, and first responders. We encourage you to ask us about our latest offers because we're always adding new ways for our valued customers to save.
WHY PEOPLE MOVE TO PEMBROKE PINES
Pembroke Pines is a city in Broward County that boasts a population greater than 163,000, which is second only to Fort Lauderdale. It's an important city within the Miami metropolitan area, and many people choose it because it's a suburban area that provides convenient access to the Greater Miami area and all of the opportunities that come with that. The job market, average commute, weather, nightlife, and low crime levels are all reasons that Pembroke Pines continues to attract new residents from throughout Florida and beyond. Good Greek Moving & Storage is an established company in this region and the right mover to handle all of your relocation needs whatever they may be.
PEMBROKE PINES MOVING RESOURCES
PEMBROKE PINES MOVERS SERVING
Trusted Pembroke Pines Local Moving Company
At Good Greek Moving & Storage, we deliver efficient, high-quality moving solutions for local and long-distance moving. Our local mover specialists are available for relocations to Pembroke Pines. For assistance, call (561) 683-1313 or request a free moving quote today.