Miramar, Florida Local Moving and Storage Services
Are you, your business or family considering a move to Miramar, Florida? When you are ready to pack up your home or business, call Good Greek Moving and Storage. In addition to serving the Miramar area, we are a highly-reviewed South Florida mover. We are also proud to say we are the official moving company of the Miami Marlins.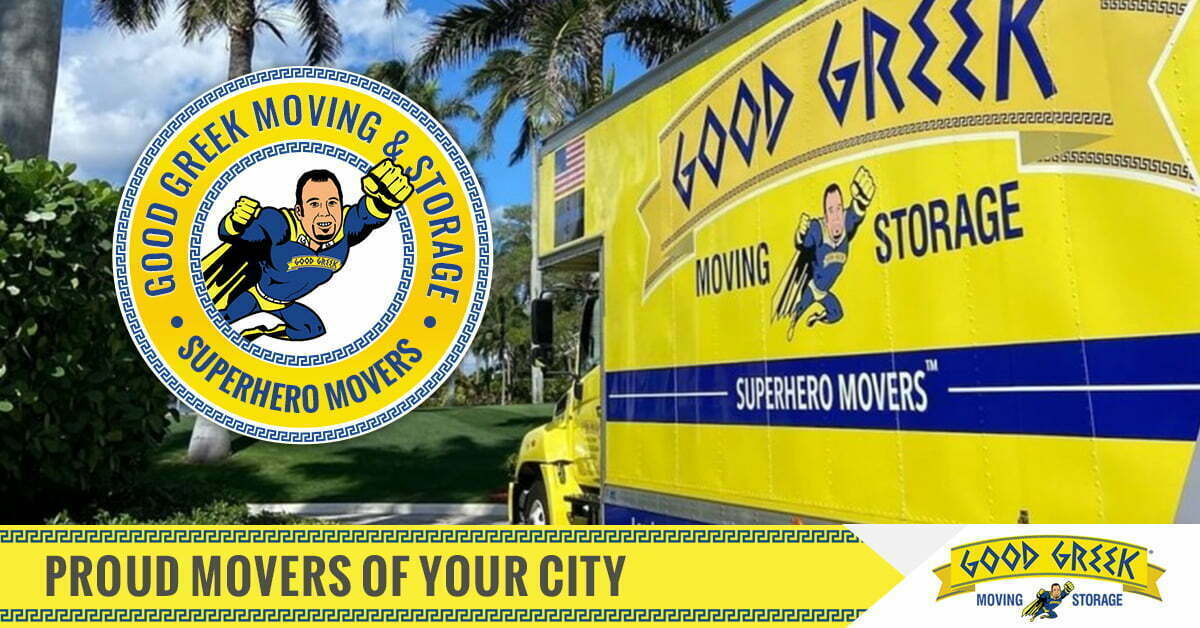 Good Greek's competitive prices and professional staff are a winning combination for your next move. We offer free quotes in person and also online with transparent pricing. Our written estimates are meant to help you make the right decision and feel in control of what to expect.
GET A FREE MIRAMAR MOVING QUOTE
Are you feeling overwhelmed by the lack of information about how much money you will be spending on your next move? You can get a free quote from us when you fill out the form above or give us a call. Although many other moving services will not put a quote in writing, we are happy to provide one after we complete a free, onsite moving estimate.
WHAT TO EXPECT FROM US
When you hire us, we have all of the extras that you will need. This includes the right number of movers to do the job, the proper boxes to pack your home, professional grade equipment to move your belongings and the right size truck to do the job as professionally and efficiently as possible.
SAVE ON MIRAMAR, FLORIDA MOVING COSTS
We like to help our customers get the lowest prices we can afford to offer. This means that we often add new offers to our promotions page. At Greek Moving, we are happy to help our customers in Miramar and throughout the South Florida area. We have exclusive deals such as $50 off in-town or local moves in Miramar. We also offer 65% off for cross-country moves. In addition to listing these offers on our website, you can also call us to see if we have any specials for our loyal customers. We are also happy to take referrals.
WE ARE YOUR TRUSTED MIRAMAR MOVING TEAM
It can be difficult to know who to trust with your prized possessions, and no one understands that better than us. We have a commitment to customer service, and we expect each of our team members to put forth a professional image for our company. Along with valuing employees who have a positive attitude, we also look for team members who will be professional in other ways. For example, being neat, detail-oriented and always showing up on time. When we put your items into storage, we find the best storage materials and techniques to preserve them. For this reason, we are proud to find we have many five-star reviews from satisfied customers on Google, Yelp and Facebook.
BEST MOVE EVER
Put worries out of your mind when you move with us because we have a "Best Move Ever" that we stand by with each move. It does not matter whether you are moving next door or across the country. We aim to make your move stress-free, and we are currently serving the Miami-Dade County, Palm Beach County, Martin County and Broward County areas. To find out the details, contact us online or by phone.
WHY DOES BEING LOCAL MATTER?
Since we are local to the area, we are the perfect company to help make your next move a success. For instance, we know when local weather conditions will cause you and your family to get worn out during a move due to the heat. We understand that high heat can damage many household items during a move. We also know what types of traffic patterns can occur, and how they can hold you up during your move. Adding to this, there are times of the day when being minutes away from two international airports can affect traffic, and slow down your local move.
WHY MOVE TO MIRAMAR, FL?
Now that you know about the best moving company in the business, are you wondering why so many people are needing movers to relocate to Miramar, Florida? Good Greek Moving is proud to be part of the Greater Fort Lauderdale area, and Miramar was recently voted as one of the top 100 places to live in America. Along with being great for families, it is also commonly known that Miramar's population has doubled in the past ten years making it a hotspot for business opportunities. With this in mind, we are happy to help businesses move to Miramar without all the hassle.
MIRAMAR MOVING RESOURCES
MIRAMAR MOVERS SERVING
Local Moving and Storage Services in Miramar, FL
Trust Good Greek Moving & Storage with your home or business relocation in Miramar and throughout Florida. We are experienced local movers providing local and cross-country relocation services. Call (561) 683-1313 or request a free moving quote now.