Hollywood, FL Fast and Reliable Local Movers
Good Greek Moving & Storage is one of the most highly-rated Hollywood moving companies serving Broward County and all of South Florida. We are proud to have thousands of satisfied customers and 70 plus 5-star moving company reviews on Google. The Good Greek provides knowledgeable and experienced moving crews that specialize in a full range of professional moving services so you can be assured of a stress-free move. We offer free moving estimates and take the time to provide accurate moving price quotes, unlike other moving companies in Hollywood.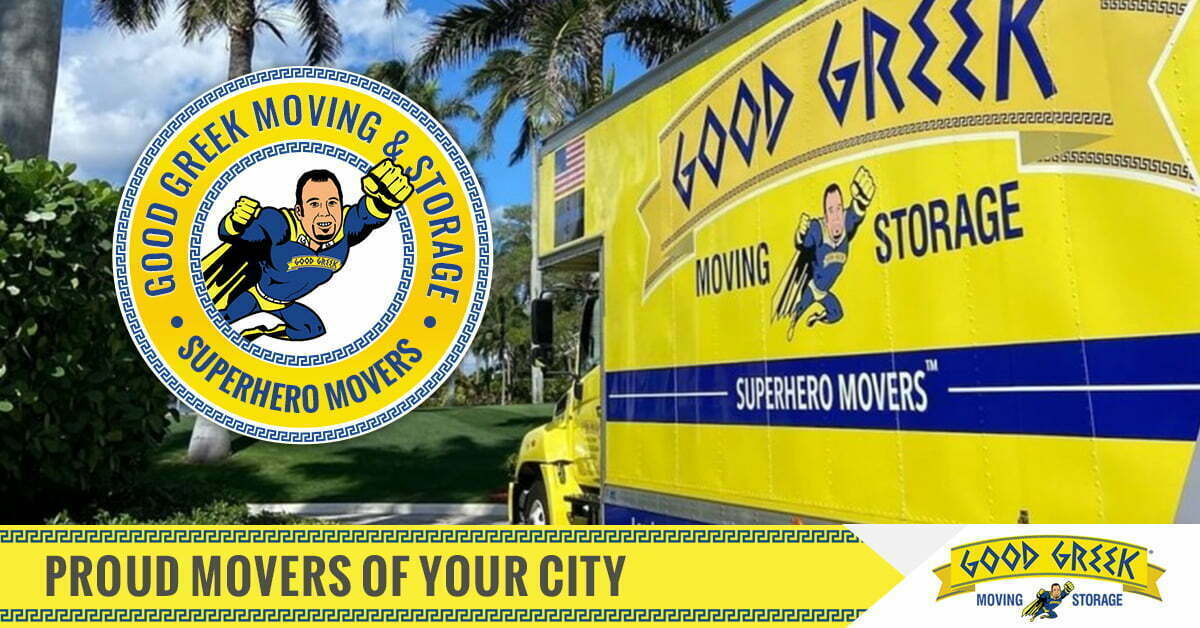 If you are planning to move into a new home or apartment, chances are that you are researching full-service moving and storage companies. Good Greek Moving and Storage is a leading commercial and residential moving company that can help you plan your packing and relocation. Our professional team ensures that your personal belongings make their way to your new home or condo in a safe and timely manner.
If you are preparing to move to Hollywood Florida, call Good Greek Moving and Storage. We are a reliable local South Florida mover that provides high-quality moving services. We also offer competitive prices.
FREE HOLLYWOOD MOVING COMPANY PRICE QUOTES
When you call Good Greek Moving and Storage, you receive a free price quote estimate. Once you review the estimate and want to hire us, we will give you a free price quote in writing. Unlike other moving companies we will honor our quoted price for your Hollywood move.
MOVING COMPANY SERVICES
Irrespective of the moving services you need, the team at Good Greek Moving and Storage understands that moving can be stressful. We use our expertise and experience to provide you with a stress-free moving experience.
RESIDENTIAL MOVERS
If you are preparing to move to a new home or apartment, Good Greek Moving and Storage has the expertise and resources to make your move simple. Regardless of your moving needs, we have you covered. We handle small moves, long distance moves, and corporate relocations.
SHORT DISTANCE AND LOCAL MOVES
At Good Greek Moving and Storage, we understand that no move is too small. However, we define small moves as any move involving stuff that falls under 2,000 lbs. If you plan to move to a single room home, a studio apartment, or just want to move a piano or a single piece of furniture, we are here for you. We make sure to handle your small moves just as we would the large moves: with precision and professionalism.
LONG DISTANCE MOVERS
We can ease the pain of saying goodbye to your old neighborhood by moving you safely and comfortably to your new city. We do this by taking over all the tasks and giving you the peace of mind that you desire. As such, you will leave your belongings to our team of committed technicians who will wrap, pack, and safely move them to your new home.
PROFESSIONAL PACKING & UNPACKING SERVICES
Our skilled team can offload the hassle of packing off your hands. Using high-quality materials, we can assure you that your valued belongings will make it to your new home or apartment safely.
TOP-NOTCH SECURE STORAGE FACILITY
Do you need a place to store your items for either a short while or permanently? If you are, you can rest assured that your possessions will be safe from damage and theft at our warehouses. We provide rental plans for storing your belongings in a secure and temperature-controlled safe warehouse.
COMMERCIAL MOVING SERVICES
If you need to relocate your business or office, Good Greek Moving and Storage can help. We are a competent and professional Hollywood moving company that will work around the clock to move all your heavy office equipment or business possessions to your new location efficiently.
SAVE MONEY ON YOUR MOVE
Contracting a moving company is a task that most people find challenging. However, most of the people who use our services later agree that it is a step up since they no longer worry about moving their belongings. What's more, you will get to enjoy specials, discounts, and promotions at Good Greek Moving and Storage.
WHY MOVE TO HOLLYWOOD FLORIDA?
Moving to Hollywood is the best choice to make. You could do many exciting things with most of them revolving around the surf and sand. You will also get the chance to hang out at the Hollywood boardwalk. Here, you get to mingle with cyclists, skaters, and other snowbirds, tourists, and locals enjoying the sea breezes and ocean vistas.
Hollywood has the biggest and best Yellow Green Farmer's Market. This means that you can try fresh organic raw juice or a slice of cheese at any time.
RELOCATION TIPS & RESOURCES
HOLLYWOOD MOVERS SERVING
Full-Service Local Movers Serving Hollywood, FL
Good Greek Moving & Storage is the leading name for home and office moving in Florida. If you want to discuss a Hollywood, FL relocation, don't hesitate to contact us. For assistance, call (561) 683-1313 or request a free moving quote today.