Port St. Lucie, Florida Home and Office Moving Services
Are you planning to move to or from Port St. Lucie, Florida? If you are, you aren't alone! Port St. Lucie is an outstanding community that enjoys tropical weather all year long. Centrally located, Port St. Lucie is within a couple of hours drive to Miami or Orlando, two of the largest vacation destinations in Florida.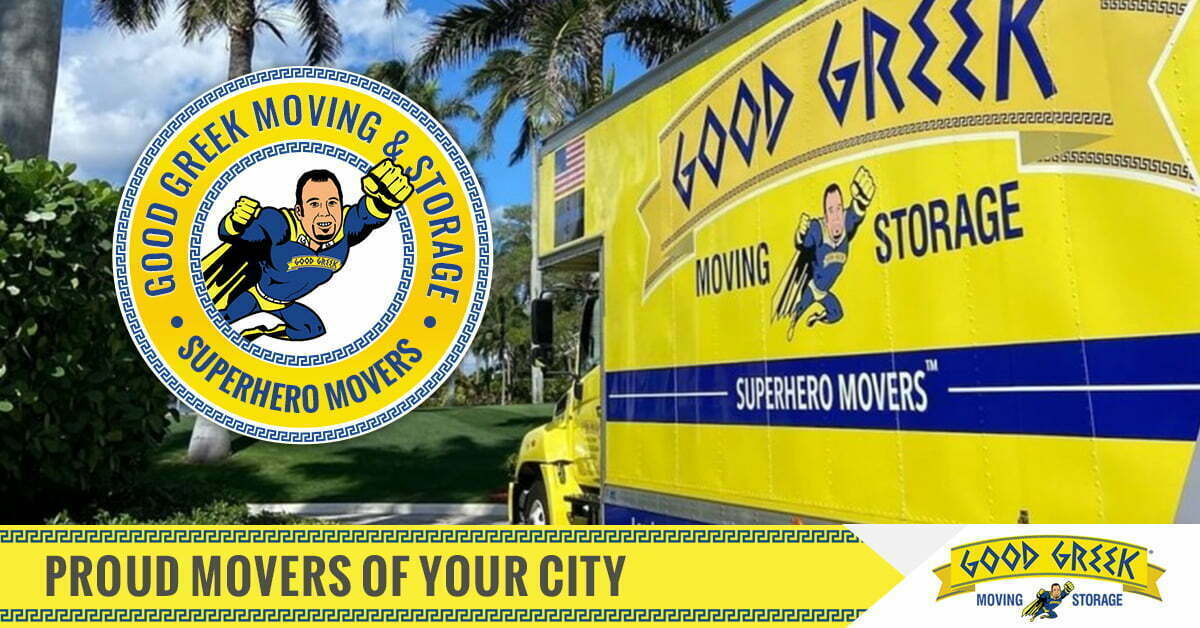 Good Greek Moving & Storage is one of the most highly-rated professional movers serving Port St. Lucie and all of South Florida. Our knowledgeable and experienced crew specialize in local & long distance moving, storage, packing & unpacking. We offer free moving quotes to ensure we provide you with an accurate moving cost estimate.
BEST MOVE EVER
When moving across town or across the country, the moving process doesn't have to be stressful. Good Greek Moving & Storage is the only company to offer "The Best Move Ever" ensuring a stress-free move on time and on budget. Their service is unmatched which is why they offer their estimates to prove it. Serving Palm Beach, Miami-Dade, and Broward County has been an honor for The Good Greek as they love providing the best possible moving experience.
PORT ST. LUCIE MOVING COMPANY FOR HOME AND OFFICE RELOCATION
Is it time to upsize or downsize your home or business offices in Port St. Lucie? If so, Good Greek is standing by to do all the heavy lifting, so you don't have to.
If downsizing, our storage solutions provide a place to keep extra items. Safely store office furniture, spare furniture, electronics, appliances, collectibles, and other merchandise that isn't making a move with you.
If your company is making a move to a new office location, Good Greek streamlines the moving process by doing all of the work skillfully. Experienced in office moving, we work swiftly and professionally to safely transport desks, chairs, electronics, and other furnishings out of your old office to your new location.
Our Moving Services Include:
RESIDENTIAL MOVING SERVICES PORT ST. LUCIE
Good Greek is your residential moving specialist in southern Florida. Regardless if your move is big or small, we take great care to ensure your residential move goes as smoothly as possible. We always offer free price quotes and estimates over the phone, online, and in person. Unlike other companies, The price estimate we provide – there are never surprises or unexpected charges with Good Greek.
PORT ST. LUCIE BUSINESS MOVER
Good Greek is the official moving partner of the Miami Marlins and other sports teams. When names this big trust us for their commercial moving needs, you know you can, too! We have mad skills, and we're well-equipped to move your Pt. St. Lucie business across town or the country.
PORT ST. LUCIE LONG DISTANCE MOVING
Good Greek is a trusted and responsible long-distance mover. Our services empower clients to move anything from Port St. Lucie to anywhere in Florida or beyond! Our storage solutions are ideal for moves that require extra time for whatever reason.
MOVING PRICE QUOTES FOR PORT ST. LUCIE
When doing a price check with different companies, you'll find out that expenses can vary wildly. Never forget to read the fine print! At Good Greek Moving and Storage, we give complimentary detail-free price quotes that are estimated. No surprise charges or upsell fees ever! All quotes and moves qualify for our "Best Move Ever."
LICENSED AND INSURED PORT ST. LUCIE MOVER
Good Greek Moving and Storage is a fully licensed moving company. When we are in your home or office space, we treat your belongings as if they are our own. All of our employees work for our company and undergo extensive background checks and drug testing before getting hired.
While we take every precaution to avoid accidents, sometimes they do happen. In the event property is damaged during the moving process, we carry insurance to cover unexpected damages.
SAVE ON PORT ST. LUCIE MOVING COSTS
Good Greek is always happy to work with new and returning customers for all of their moving needs in Florida. If you're searching for reliable transport for your next home transition, be sure to check out our current special offers and promotions!
It's just one of the ways to say 'thanks' for choosing Good Greek Moving and Storage for your local or national move.
WHY PEOPLE MOVE TO PORT ST. LUCIE
Port St. Lucie is on the shores of the Atlantic Ocean and is served by the Florida Turnpike, Interstate 95, and US1. The community is within driving distance of major airports and seaports.
With proximity to beaches, entertainment, amusements, and dining, Port St. Lucie has much to offer residents in the community, whether it is in their hometown or a relatively short drive down the highway.
Families with school-aged children have access to multiple area elementary, K-8, and high schools. Additionally, three post-secondary schools serve those seeking higher education.
Port St. Lucie Commercial and Residential Moving Services
Good Greek Moving & Storage is Florida's preferred choice for local and long-distance moves. When you need help with a Port St. Lucie relocation, don't hesitate to contact us. For more information call us at (561) 683-1313, or request your free moving quote today.