Pompano Beach Professional Local Movers & Relocation Company
Are you planning a move soon, and you're looking for dependable Pompano Beach movers who will exercise care when moving your prized valuables? Good Greek Moving & Storage is a full service moving company who can help you move to or from Pompano Beach for a great price and outstanding service.  If you choose the Good Greek you will have the comfort of knowing that you have hired one of the most reputable, dependable and honest movers in the business.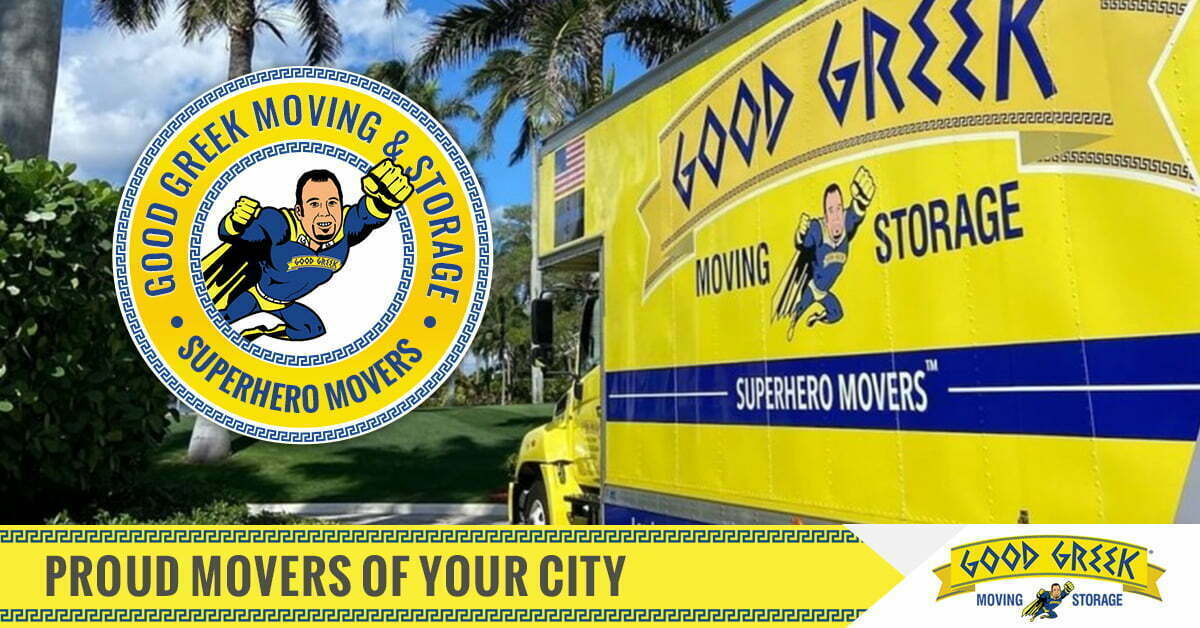 Good Greek Moving & Storage is one of the most highly-rated professional movers serving Pompano Beach, Boca Raton and all of South Florida with 70 plus 5 star Google reviews. Our knowledgeable and experienced moving company specializes in local and long distance moves, storage, packing and unpacking. Take the first step in your move to beautiful Pompano Beach, Florida today.
BEST MOVE EVER
When moving across town or across the country, the moving process doesn't have to be stressful. Good Greek Moving & Storage is the only company to offer "The Best Move Ever" ensuring a stress-free move on time and on budget. Their service is unmatched which is why they offer their estimates to prove it. Serving Palm Beach, Miami-Dade, and Broward County has been an honor for The Good Greek as they love providing the best possible moving experience.
POMPANO BEACH MOVING COMPANY FOR HOME AND OFFICE RELOCATION
We're a local mover that proudly serves the South Florida community with some of the best residential moving services around. We specialize in home, apartment and condo moves, and we don't care if it's a small job or a big one, we can handle it. Receive a free price quote over the phone, and we also give estimates for free in-home visits. You can trust in the services that you receive from Good Greek Moving and Storage.
POMPANO BEACH BUSINESS MOVERS
As the official movers for the Miami Marlins, you can trust that we're above and beyond the average moving company. Good Greek Moving and Storage comes well-equipped with the right moving gear to help make your next business move much easier than ever before.  Let the Good Greek do the work and relieve yourself of the stress that comes with moving. You can focus on the more important aspects of relocating your business.
RESEARCHING MOVING COMPANIES FOR POMPANO BEACH, FLORIDA
We offer a full range of professional moving services to our local community in South Florida serving the area south of Miami to north of Palm Beach.
When you're looking for a dependable company that can help you with a big move, we will be there in a minute's notice.
POMPANO BEACH LONG DISTANCE MOVING
The driving factor of a long-distance move comes down to how trustworthy your moving services are.  Good Greek Moving and Storage has experience, a state-of-the-art storage facility, and we can move anyone from Pompano Beach to anywhere in Florida or the United States. No matter what your relocation needs, we will be there packing the boxes and helping you prepare for the long haul to or from Pompano Beach, Florida.
FREE MOVING PRICE QUOTES
You don't have to be afraid to ask us for quotes because we don't charge you to find out how much it costs to move. In addition, we estimate our price quotes through writing, which ensures that we're not going to flip the price on you later—what you see is what you get charged. With some companies, you have to worry about the hidden costs that add up. We also offer the "Best Move Ever" which you can learn more of the details on our website.
SAVE ON POMPANO BEACH MOVING COST
Good Greek Moving & Storage offers $50 off on local moves, and up to 65 percent off long-distance moves when you go through our moving specials page. If you call for an estimate be sure to inquire about our latest promotions and see if we have even better offers available so you get the best price possible on Pompano Beach moves.
TIPS FOR SELECTING A MOVER
Choosing a moving company should be done with care. Here are several tips should you keep in mind when hiring a professional moving company.
Always ask for the prices in writing
Beware of hidden costs
Never pay a large deposit upfront
Avoid blank moving contracts
Protecting yourself is always the best consumer advice, ask questions and only do business with established, reputable movers like Good Greek Moving & Storage.
WHY DO PEOPLE MOVE TO POMPANO BEACH, FLORIDA?
People have moved here because of the beaches, Butterfly World, the Hillsboro Inlet, and the Fern Forest Nature Center. You have plenty of cool reasons to move to the Pompano area. This area is famous for its beaches, marinas and offshore coral reef. If you are moving to Pompano Beach it can be an exciting new chapter in your life and Good Greek Moving and Storage is available to help you make the move. Just call or complete the short form above.
POMPANO BEACH MOVING RESOURCES
POMPANO BEACH MOVERS SERVING
Pompano Beach, Florida Home and Business Movers
Trust Good Greek Moving & Storage with commercial and residential moving solutions in Florida. We provide expert packing, storage and moving services in Pompano Beach. To discuss your next move, call us at (561) 683-1313 or request a free moving quote today.