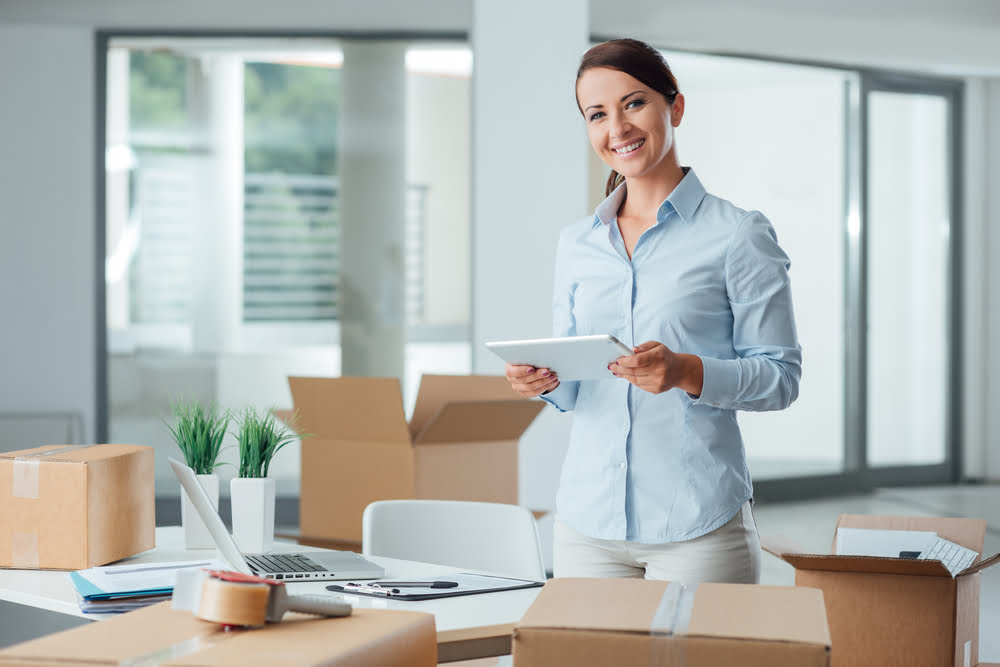 Starting a moving company is a great way to become a business owner without a huge amount of capital investment. However, the business is highly competitive, leading many people to choose to run a moving franchise as part of an existing company rather than start their own.
If running your own moving company sounds appealing, the following lists important factors to consider. They apply to anyone who is seriously considering what they will need to do to successfully launch. The final item looks at starting a moving franchise, an option that offers many advantages for business owners.
Starting a Moving Company or Moving Franchise
Not all moving companies need the ability to handle an interstate move. When starting your own moving company, you might want to start small. Plenty of people need local moving services. In some cases, people just want help with in-home moves, transferring furniture from one room to another.
Whether you decide to go big or go small, these general steps will help you create a framework for starting a moving company.
Choosing Your Moving Service
Some movers are general movers that handle basic apartment and house moves. Others are specialized. For example, some movers focus on specific areas such as junk removal, in-home moves, small moves (two-bedroom apartments or smaller), auto transport (which requires a great deal of specialty equipment), or moving high-value items (such as pianos, art, expensive decorative pieces). This decision impacts everything that follows.
Writing a Business Plan
The first step trips up many people. The desire to rush into buying equipment, hiring people, and getting started can overtake the more reasonable approach of writing a plan. A business plan sets down on paper the expected costs, projected income, the markets you plan to target, where to allocate money, and opportunities for growth. It's key not only to guide your actions but also to raise capital to start your business.
Getting Business Permits and Licenses
Every state requires that a moving company pay for the permits and licenses that apply to the types of moves the business plans to do. Each state has different rules, so it's key to contact your state's regulatory authority. The Federal Motor Carrier Safety Administration also has information on registration needed to become a commercial carrier.
Pricing Out Equipment
Once you've decided on the type of moving company you want to launch, you can then start pricing out the equipment you will need. All movers need at least one truck that is reliable and large enough to handle the types of moves you plan to offer customers. The other equipment you need depends on the types of moves you want to do. Options include hand dolly, appliance dolly, ratchet straps, bungee cords, moving blankets, and stretch wrap to protect furniture. Open trucks will need a tarp and red flags. If offering packing services, you will need to price out those materials and supplies so you will know what to charge.
Purchasing Insurance
Some states set a minimum requirement that movers must-have for liability and cargo insurance. Movers also need to find reasonably priced insurance coverage for damages and liability. You'll also need a solid insurance policy on all vehicles and workplace insurance to cover any potential injury to employees.
Hiring Employees
The number of employees you need will correspond to how big the business gets. Many moving companies can start with just two or three people doing a few moves each week. Depending on the number of moves you do, you might need full-time, part-time, or seasonable employees.
Creating a Contract and Pricing Structure
To create an enforceable contract, it's important to consult with an attorney to help you draft one. The contract should protect both you and your client while setting out clear guidelines on issues such as payment and what is included in the move. On pricing, you should target a range that makes you competitive with the local market. Most movers charge hourly.
Advertising and Marketing
When you start your own moving company, you have to let people know it's available. Word-of-mouth remains a great way to drum up business. However, you may also want to start your own website, advertise on social media and find traditional advertising outlets in local media.
Choosing a Business Structure
Every business needs to pick a name and a business structure. This impacts everything from regulations and required reports to how you pay taxes. Business structure options include sole proprietorship, Limited Liability Company (LLC), S Corp, and C Corp. Each has a variety of tax implications, so it's best to consult with an accountant. The IRS also mandates that businesses obtain an Employer Identification Number (EIN).
Start a Moving Franchise
For many of those getting into the business, owning a moving franchise from an established company is the best choice. A franchise means that most of the issues above are already handled, including business structure, types of services, pricing, vehicles, insurance, permits and licensing and even hiring employees in some cases.
Obstacles a moving company franchise helps people overcome include:
Building trust in your brand – it's already there
A pricing structure and payment system
Buying insurance
Finding the right vehicles
Setting up the proper tax structure for the business
Starting your own moving company is a great way to get into a business with low overhead and high revenue potential. It also provides a service that is always in demand. For many, starting with a moving franchise and associating with a proven brand is the right way to go.
Are You Interested In Starting A Moving Company?  Learn More About Good Greek Moving & Storage Franchise Opportunities