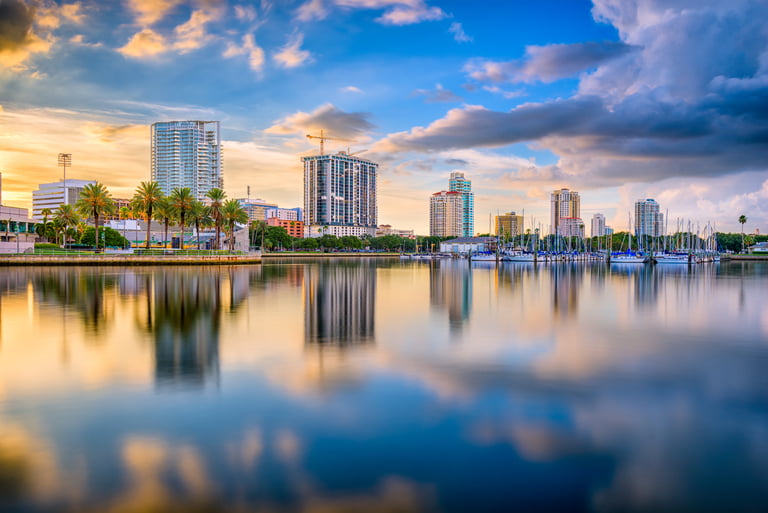 Tampa Bay continues to grow rapidly. From the bustling downtowns of Tampa and St. Petersburg to the quiet, leafy avenues of neighborhoods such as Westchase, Carrollwood, Hyde Park, Old Northeast, and Palma Ceia, the area has become a magnet for retirees and young professionals alike.
If you're reading this because you want to know about moving to Tampa Bay, you are far from alone. Even with the rapid growth in the past two decades, Tampa and the surrounding area still have the feeling of getting in on something relatively early. That's why businesses and individuals continue to make Tampa Bay their home.
A Popular Destination
More people than ever are moving to Tampa Bay because of the weather, job opportunities, lifestyle, and proximity to a unique mix of fantastic beaches, amusement parks, and restaurants.
But people also want to know about moving to Tampa Bay in terms of what it's actually like living there. Here's some insight into five key areas.
Tampa Bay Growth
Signs of growth are everywhere. If you have not visited Tampa in a few years, you might not recognize the place. Downtown has especially undergone a transformation, with the addition of more residential living, including the Water Street Tampa project. In areas such as Seminole Heights north of downtown Tampa, you'll see construction cranes everywhere. Downtown St. Petersburg also is undergoing a transformation, with new residential and commercial projects planned for the area around Tropicana Field.
That is not likely to end anytime soon. Zillow ranked the Tampa Bay housing market the hottest in the country for 2022, passing Austin, Texas, as well as big growth cities in the southeast, including Jacksonville, Charlotte, and Raleigh. The trend is clear, people are moving to Tampa every day for a variety of reasons.
Tampa Bay Neighborhoods
All the growth has not impacted one of the Tampa Bay area's biggest strengths: great neighborhoods. Because Tampa Bay is so big, you can find an area that suits your tastes and needs. It just will take a bit of searching because there's a lot to consider.
The downtown areas of Tampa, St. Petersburg, and Clearwater are all worth looking into for urban living (although all three are much greener and smaller than what someone from Chicago or any big city in the Northeast is used to seeing). Old Northeast and Roser Park near downtown St. Petersburg and Hyde Park, Palma Ceia, and Davis Islands near downtown Tampa also provide the charm of older homes and (in some cases) brick streets.
For more affordable homes in the suburban areas, Tampa Bay offers a wide variety of choices, each with good schools, safe streets, great parks, and plenty of shady trees. They include:
Carrollwood
Forest Hills
Westchase
Tampa Heights
Northdale
Tampa Palms
Kenwood
Euclid St. Paul's
That's just scratching the surface. There are also satellite communities that are still close to the city centers, especially by big-city standards. They include Land O'Lakes, Brandon, Wesley Chapel, Pinellas Park, and Seminole.
Tampa Bay Restaurants
You're going to eat well when you eat out. With the influx of so many new people from around the country and the world, the food scene in Tampa Bay has greatly expanded in recent years. And it was already good. You'll find a mix of old and new favorites, including Columbia Restaurant (where you can still catch a flamenco dancers show), Wright's Gourmet House, Bern's Steakhouse, Bella's Italian Cafe, Oystercatchers, Datz Tampa, Frenchy's Rockaway Grille on the beach in Clearwater, Udele, On Swann, La Segunda Bakery (for breakfast or a Cuban sandwich), West Tampa Sandwich Shop, Byblos and Bayshore Mediterranean Grille.
Again, consider this a "scratching the surface" list for those new to the area. There are hundreds of restaurants and food trucks to check out in Tampa Bay.
Tampa Bay Diversity
Tampa Bay also has grown remarkably diverse in the 21st century. For example, Florida has one of the highest populations of Arab Americans, and Tampa Bay is home for many of them. There are also many immigrants from the Caribbean islands, Europe and South America – almost 18 percent of Tampa's population is from another country. There are also large populations of American-born residents who are Black, Hispanic, and Asian.
This wonderful mix of people leads to a great diversity of restaurants, cultural attractions, and music in Tampa Bay. It's a true melting pot of people from everywhere.
Tampa Bay Taxes
There are no state income taxes in Florida. That's always something worth learning when you want to know about moving to Tampa Bay or anywhere in the Sunshine State. Also, if you buy a home in Tampa Bay, you qualify for the Homestead Exemption which allows you to apply a $25,000 exemption to your home's first $50,000 in assessed value. This applies to all taxes.
These are just some of the many things you will experience when you move to Tampa Bay. if you want to learn about Tampa and the surrounding areas, check out more information on moving to the Bay area.
IF YOU ARE MOVING TO TAMPA GIVE US A CALL NOW AT (561) 683-1313.