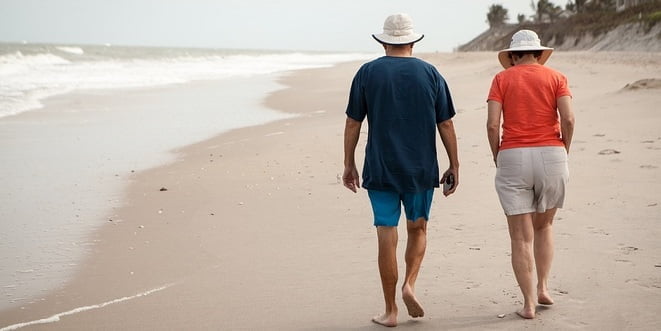 South Carolina now ranks as the fifth most popular state in the country for seniors moving to a new home for retirement. People are retiring to South Carolina for many good reasons, including low taxes, an alternative to Florida, free college education, both beaches and mountains to enjoy, and plenty of great cities to find a new home.
The latest research from SmartAsset shows South Carolina is closing in on long-time favorite Texas as a popular place to retire. People from across the country are discovering that the Palmetto State offers all they need to have a comfortable retirement in a part of the country with less traffic congestion and plenty of natural beauty.
The following looks at some of the reasons people are retiring to South Carolina.
South Carolina Is Tax-Friendly
South Carolina officials have structured state law to shield seniors from paying high taxes. This is one of the main draws for seniors looking to maximize their retirement investments and savings.
Kiplinger rates the Palmetto State in its Most Tax-Friendly category among states to retire in. Tax breaks offered by South Carolina include:
All Social Security benefits are exempt from taxation
Those 65 and older can exclude up to $10,000 of retirement income from their taxes (those under 65 can deduct $3,000)
Seniors can deduct $15,000 from other taxable income (married filing jointly can exclude $30,000)
Those 65 and older can deduct up to $30,000 of income from a military retirement plan (those under 65 can deduct up to $17,500)
Railroad retirement benefits are fully exempt
South Carolina also offers the sixth-lowest property tax rate in the country. Seniors can deduct $50,000 of their home's fair market value from their taxes.
It's An Alternative to Florida
Florida still ranks as the No. 1 destination for retirees. But the number of people who go to the Carolinas has steadily increased over the past two decades. Many of those people are what real estate agents call "halfbacks,"
Halfbacks are seniors who first retired to Florida from places in the Northeast or states such as Ohio and Illinois. But they decided to move halfway back by locating to the Carolinas. It's closer to their original home (and perhaps their kids and grandkids) and also offers beaches with somewhat less heat than what you see in the Sunshine State.
South Carolina also offers the allure of four seasons, with mild winters. That's attractive to those who don't like weather in the southern subtropics.
South Carolina College Is Free For Seniors
That might seem like not much of a benefit to seniors. However, South Carolina offers a deal that most other states can't match. All state residents over 60 can attend any state-funded school tuition-free as long as there is space available. So, seniors who have always had an interest in a subject can learn about it at no cost. Seniors can apply to either audit a class or take it to earn college credit.
Beaches and Mountains
On the north end of South Carolina – – in a region called The Upstate – visitors can enjoy the Blue Ridge Mountains. Parks include the Mountain Ridge Wilderness area on the border with North Carolina, Caesar's Head State Park, Table Rock State Park, and Devil's Fork State Park. They feature all the camping, canoeing, hiking, swimming and amazing scenery the mountains have to offer.
On the other side of the state, South Carolina offers some of the most beautiful beaches on the Atlantic Ocean coast. They include the beaches at Myrtle Beach State Park and Huntington Beach State Park. There's also Folly Beach near Charleston, which itself is one of the most interesting historic cities in the country.
A Wealth of Great Cities to Retire In
There are plenty of places to choose when it comes to finding a city that fits a retiree's lifestyle. In the popular Upstate area of South Carolina, several cities have emerged as great spots to buy a retirement home.
Gaffney. Just northeast of Spartanburg, the beautiful town of Gaffney offers quick access to many outdoor activities, including the beautiful Cherokee Falls area. Almost 18 percent of Gaffney's population is over the age of 65.
Spartanburg. This is a thriving metro area in the Upstate region, with a historic district, numerous parks, museums, restaurants, and other amenities for residents to enjoy. More than 16 percent of the population is over 65.
Anderson. About 25 miles southwest of the heart of Greenville, Anderson offers that combination that is perfect for retirees: peaceful neighbors and plenty of amenities, as well as easy access to all the benefits of a metro area such as Greenville.
Outside of the Upstate area, popular cities for retirees include Newberry, Greenwood, West Columbia, Sumter, Irmo, and Orangeburg.
These are some of the factors that explain why so many people are retiring to South Carolina. It's a trend expected to continue as more people discover the charms of the Palmetto State.
Planning A Move To South Carolina?  Good Greek Greenville is Your Total Relocation Solution, Learn More Now!