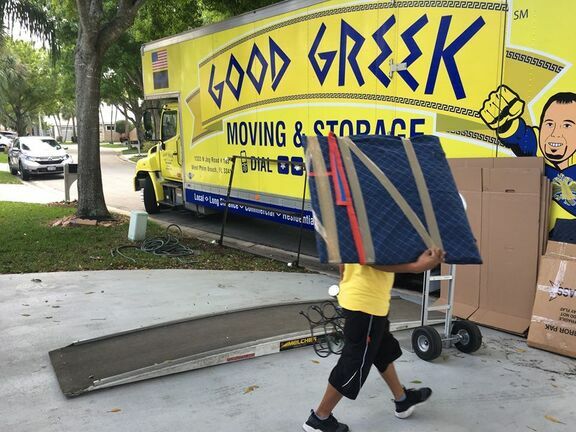 What makes a good move? Simple. Planning and organization make for a good move.  With the help of the pro tips below the Good Greek will help you plan your move, and organize your goods.
Prepare for Your Move
If you're moving, you'll need moving supplies. Boxes, plenty of tape, markers, and maybe some stuffing (washcloths? socks?) for delicate packages.
Do you need temporary storage before your new home is ready? How about junk removal services for your old home? Are you driving your car to your new home or do you need auto transport help? Let Good Greek take care of it all.
Here are three things you can do during the early stages of your move to make things run smoothly later on:
Create a Moving Checklist. Lots of things to do before you even begin packing. Make a moving checklist and start checking off your tasks. Do you need moving insurance? Do you have an inventory of your possessions?
Make a Moving Folder. Label your folder. Place your moving checklist inside your moving folder. Now you're ready to go. Notes, lists, correspondence, business cards, receipts – it all goes in your folder. Find a safe place for it.
Hold a Moving Sale. Try your best to answer this question honestly: Do we need that? No reason to pay to ship stuff you don't want or won't use. Defray your moving costs by holding a moving sale.
Get Packing!
Some people pack gradually, some do it all at once in a rush. Either way, here are a few tips for making your packing experience less frustrating:
Use properly sized boxes. Small boxes for the heavy stuff. Save larger boxes for linens and the like. Wardrobe boxes are nice. They protect your clothes.
Pack one room at a time. Begin in the rooms you occupy the least. Don't forget the outside shed. Make sure you label the box with the room name.
Leave everyday items for last. You hate unpacking things you need. Save the kitchen until the end. If you might need the item, leave the box open.
Schedule Your Move
Determine your needs. Then call the movers. They'll ask how many rooms of furniture you have, and want you to describe the big pieces. Give the effort. Take out your tape measure, and make a list. The knowledgeable customer gets the best deal.
Here are three tasks to accomplish as part of scheduling your successful move:
Choose Your Moving Schedule. Whether long-distance or local, figure out when you want to be in your new home. Give some leeway at the outset. Figure out your schedule needs before shopping for your mover.
Choose Your Moving Company. Price, availability, reputation – those are your three shopping keys. You might have to give a little on price or adjust your schedule, but don't skimp on your reputation requirements.
Prepare for departure. Choose a carrier, then make your personal travel plans. Double-check your hotel reservations. Does the family car need servicing? Schedule your disconnections. Arrange your new connections.
Making Your Move
If you've done things right, moving day should be filled with relief. You're packed, your overnight gear is stalled, and you're ready for the movers. Identify the driver – they're in charge. Then learn who's the lead mover. They're your chief contacts for the day.
Grab your clipboard. It shows them you mean business. Here are three tips for making your moving day go smooth like butter:
Isolate overnight bags. Start your moving day by preparing for the end of the day. Upon waking, gather all your overnight needs and stash them outside the house. It's a bummer when movers take your overnight bags.
Supervise movers. Once your overnight bags are secured, turn your attention to the moving crew. How important are your possessions? Make notes on your clipboard. Deal with issues as they occur. Take photos!
Depart your old home. One last look around. Look above your head and at your feet. Did you empty the attic? Are the utilities scheduled for the disconnect? Say goodbye, then don't look back. Your future lies ahead of you.
If planning, packing, and moving all your stuff sounds is more than you want to do, we can help. The relocation specialist and professional movers at Good Greek have been helping people move for years and are ready to assist with planning your move now.
Need Help? Contact A Relocation Specialist at (561) 683-1313.