Whenever a natural disaster strikes South Florida or anywhere nearby, one of the silver linings is how people come together to help their neighbors. Residents of South Florida are demonstrating that once again with the donation drive to help victims of Hurricane Dorian in the Bahamas.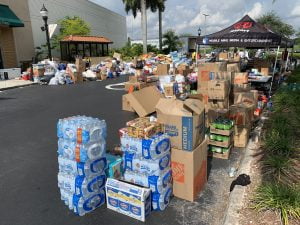 Good Greek Moving & Storage is proud to be a part of that donation drive, supporting an effort led by iHeartRadio and local law enforcement by storing and transport donated goods to victims of the hurricane in the Bahamas.
It's help that is desperately needed. Hurricane Dorian devastated parts of the Bahamas. Homes and businesses in some areas were completely destroyed. Dorian is the strongest hurricane to ever hit the Grand Bahama Island or Great Abaco Island
Good Greek Helping With Donations
Good Greek Moving & Storage had trucks on hand over Labor Day Weekend as South Floridians brought donated items for victims of Hurricane Dorian in the Bahamas to drop off locations at Dolphin Mall in Miami and The Shops at Pembroke Gardens in Pembroke Pines.
Area residents came through in a big way. They left boxes of diapers and baby wipes. They brought boxes filled with canned pet food. They brought blankets and sleeping bags. They also brought canned food and case after case of bottled water.
Many of those cases of water were bought by South Floridians as Dorian approached, but were thankfully not needed. Now, they are being put to good use.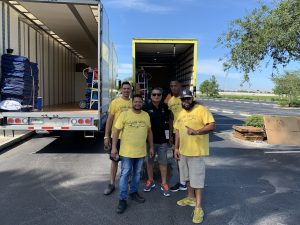 South Florida residents also brought plywood, construction materials (such as hammers, nails, plumbing and roofing supplies), pop up tents and gas cans.
Good Greek Moving & Storage workers loaded the goods onto trucks over the weekend, taking them to a secure storage facility until infrastructure is in place to transport the goods to the Bahamas.
iHeartMedia Miami and the Mobile Mike marketing company of South Florida plan to travel to the Bahamas along with members of local law enforcement agencies and volunteers to deliver the donations as soon as it's possible to reach the islands safely. Good Greek Moving & Storage will keep the goods stored until then and also help with transport as needed.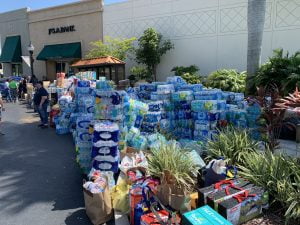 iHeartRadio has established the hashtag #iHeartBahamas for more information and updates on the donation drive. Many law enforcement agencies are part of the donation campaign, including the Florida Highway Patrol, City of Sweetwater police department, City of Miami police department, the Broward County Sheriff's Department and the Pembroke Pines police department.