Sunrise, Florida Comprehensive Local Mover Services
Good Greek Moving is a top-rated local Florida mover known for top-notch customer service. We offer competitive moving prices and the ability to handle all types of moves. Simply put, if you're moving your home or business from one South Florida location, like Sunrise, to another you can trust us for moving services that are heads and shoulders above other local moving companies. We can provide written in-home estimates and can even offer free price quotes for a home or business completely online or over the phone. We are proud that we have been designated as the official mover for the Miami Marlins, so our reputation definitely speaks for itself.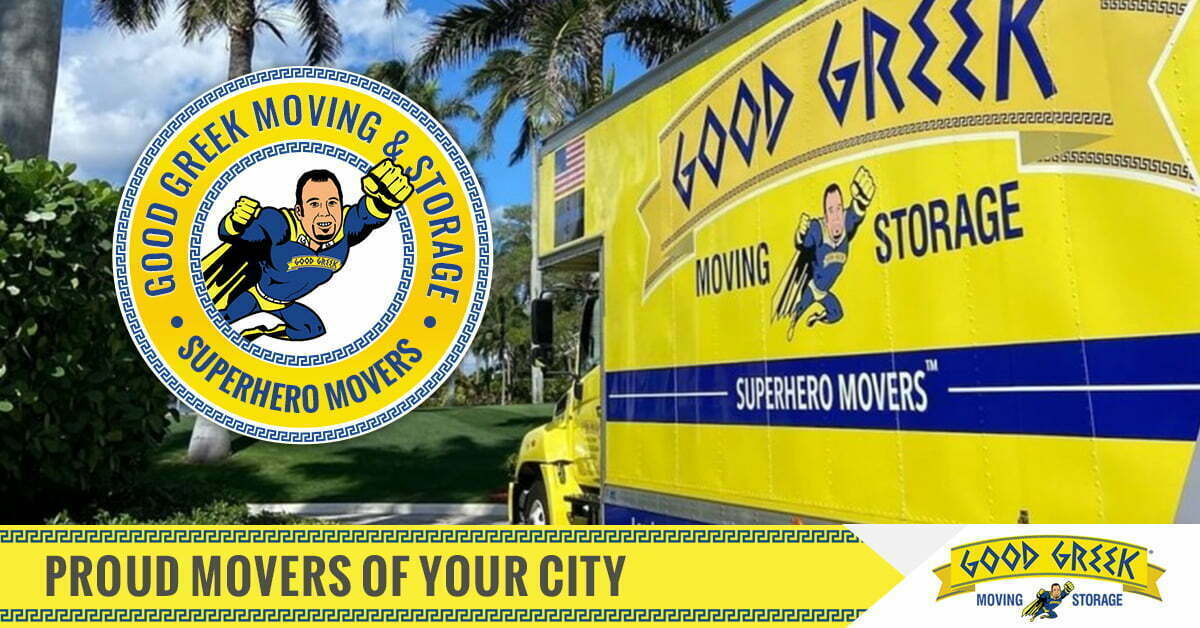 Good Greek Moving & Storage is one of the most highly-rated professional movers serving Sunrise, Fort Lauderdale and all Broward County with 70 plus 5-star Google reviews. Our knowledgeable and experienced moving experts specialize in local, in-state and out-of-state moves and storage.
GOOD GREEK MOVING COMPANY
Located in West Palm Beach, Florida, Good Greek Moving and Storage always seeks to be the standard by which a moving business should live up to. From our free quotes to our excellent customer service, we can help you whether it is just a move across the state of Florida or even across the country. Our team of professional movers consists of experienced professional movers who have undergone background checks and drug testing. Our founder and CEO had a background in law enforcement before he started this company, so he knows how to get the best people to help you with your move. Here is a summary of some of our moving solutions.
GOOD GREEK MOVING SERVICES
In-person visits and free in-home estimates for your home or business.
In-home price estimates in writing. No price changes last minute!
Light disassembly and assembly of furniture will be provided at no extra cost.
Blankets, pads and other materials are utilized to keep your materials safe during transport.
Temporary storage solutions are available.
Computerized inventory and security systems.
24-hour service available for any questions you might have.
RESIDENTIAL MOVES
Good Greek Moving offers a whole host of residential moving options within the Sunrise area. One of the main reasons we offer a free in-home visit is so we can give you the most detailed and accurate price possible. We are also experienced with a number of different types of residential moves. Do you have a lot of priceless antiques? No worries. You can rest assured that our team of professionals will make sure they are thoroughly protected. We can handle both large and small residential moves from and to all types of residencies. We specialize in loft and studio apartments, one or two-bedroom apartments, single-family houses, townhouses, and condominiums.
COMMERCIAL AND BUSINESS MOVES
When it comes to moving businesses and commercial moves, we don't cut corners. That is one of the main reasons why we are recognized as the official mover for the Miami Marlins. We also specialize in corporate office moves, relocations for family-owned businesses, converting home offices into commercial offices, statewide and nationwide business moving and international consultation on moving as well.
MOVING PRICE QUOTES AND FREE ESTIMATES
One of the best things about Good Greek Moving is that they offer a "Best Move Ever," for all of their moving services. As stated before, this company is comprised of honest and trustworthy moving professionals. When it comes to their "in writing" price, they realize that such a written quote is only as good as the promise behind it. Otherwise, it's just a scrap of paper and that is why they stand behind their claim.
LICENSED AND INSURED FLORIDA MOVERS
We are a moving company that is fully licensed and insured. Everyone who works for us is an employee of the company. We do not contract out our services to anyone and we make sure that all of our employees are background checked and drug tested.
SAVE ON SUNRISE MOVING COSTS
Good Greek has a lot of moving service promotions for its customers. These would include such offerings as 65% off any long-distance move, one month of free storage if the storage bill is paid a year in advance, discounts for veterans, discounts for first responders and four free wardrobe boxes if your move costs $700 or more.
TIPS FOR SELECTING A MOVER
Still want to shop around? That's fine. Here are some tips for selecting a moving company you can trust. First of all, always make sure you get their prices in writing. Secondly, be sure that you are aware of some of the hidden costs. Many companies will not include manpower and fuel in their bottom line. Finally, if they ask you to pay a large deposit up-front it might be a red flag. The Department of Transportation offers a number of tips on selecting a reputable and trustworthy mover that every consumer should review.
WHY PEOPLE MOVE TO SUNRISE, FL
One of the main reasons why Sunrise, Florida is an attractive place to move to would be because it is actually fairly affordable. There is a median income of just over $49,000 and a median house value of around $142,000. Sunrise is also a great place to get some exercise, as it sports a "walkability" score of just under 38 points. Sunrise also has Sawgrass Mills Mall, which is a great place to go shopping and enjoy a day out on the town.
RESEARCHING FLORIDA MOVING COMPANIES
If you are looking for a good Florida moving company, we believe you have found it with Good Greek Moving & Storage. Please realize that we offer services for all of Southern Florida. We can offer moving services in Boca Raton, Coral Springs, Aventura, Fort Lauderdale, Miami Beach, Jupiter, Wellington, Port St. Lucie and West Palm Beach. If your move is outside of these areas, we can still work with you. Our movers have even been known to facilitate moves to the Florida Keys, Tampa, Orlando, Jacksonville and beyond for our customers. Call us today to get started on the process.
Sunrise, Florida Comprehensive Moving and Storage Services
Good Greek Moving & Storage is the premier commercial and residential moving company in Florida. Contact us for fast, affordable relocations in Sunrise. To learn more about our moving services, call (561) 683-1313 or request a free moving quote now.