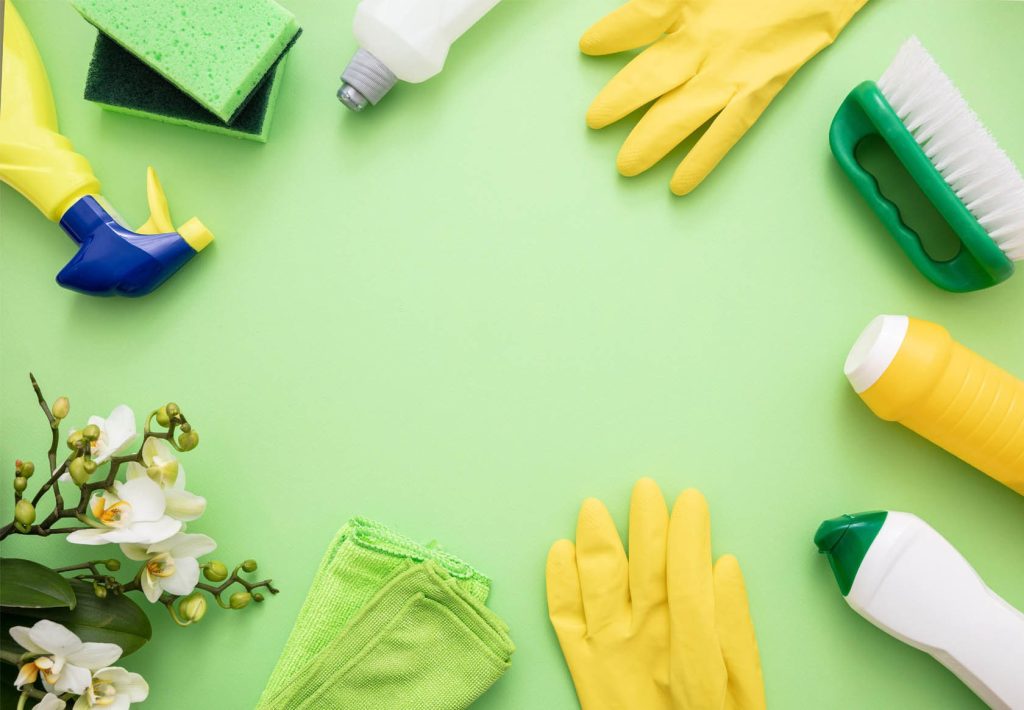 Spring cleaning is a time-honored custom that's still around because it provides an annual reason to give your house a thorough cleaning. Most trace back the ritual of spring cleaning to the days when people kept their houses warm in the winter using fire and kerosene that left soot and grime everywhere. Spring became the time to start fresh.
Spring provides warmer weather and longer days, making it the perfect time to tackle deep cleaning. It allows people to open windows and let in the fresh air. Even in a time when central heat and air have reached every corner of the country, spring still marks the best time to roll up your sleeves and do some cleaning.
But where to start? The following offers some ideas on how to plan for successful spring cleaning, as well as some tips that can help you out as you go. You can also check out our spring cleaning checklist where tasks are broken down by each room you clean.
Tips for Stress-Free Spring Cleaning
You can put the following tips to use as you plan for spring cleaning. While every house is different, these general tips work in most situations. It might seem like a lot of work, but keep in mind that the end goal is for you to enjoy a clean, fresh-looking home as well as the peace of mind that comes from having your home clean and in order.
When to Start Spring Cleaning
Winter lasts longer the farther north you go. That means spring cleaning might start much later in Maine than it does in North Carolina. Really, the only rule for spring cleaning is to do it when you can set aside most of a weekend to devote to cleaning.
How to Plan Spring Cleaning
There are doubtlessly many ways to approach spring cleaning, but two methods give you the opportunity to plan. The first is a room-by-room plan. The other is a day-by-day plan that lasts for a longer period of time. The second choice is better if you only have a little bit of time to do spring cleaning every day.
The Room by Room Plan
List every room in the house and set aside time to tackle each. Some will take only hours, others longer. By dividing your spring cleaning into a room-by-room list of tasks, it makes it easier to accomplish.
A Day-by-Day Plan
For those with limited time each day, it's smart to spread your spring cleaning out over several weeks (some follow a 30-day plan). Again, there's no "set in stone" way to do this. Make a schedule that works for you, otherwise, spring cleaning will never get done.
Things To Do Before Cleaning Starts
Before you begin the cleaning process, get together three boxes or storage bins. You will use these throughout the cleaning process. One is for donations. The second is to place items that need repairing. The third is for random items you find as you clean that you don't want to throw away but want to wait to deal with later (one sock or earring, for example).
It's also helpful to go through your clothing and store away the sweaters, coats, gloves, and other items you won't need in the warm months.
Tips to Make Spring Cleaning Easier
Once you've got your plan of what you will clean and when you will clean it, there are a few tips that will make it easier once the cleaning process starts.
Make It a Team Effort
If you live alone, you're on your own. But if others live in the household, then everyone should pitch in. By sharing the tasks with every household member, cleaning goes by much faster.
Attack the Clutter First
Before starting on a specific room – or on the first day of your day-by-day plan – focus on the clutter. It's an easy first step to take a garbage bag and simply go through each room of the house, tossing clutter that has accumulated during the winter. This will eliminate that first layer of the job quickly. What you can't throw away, organize as neatly as possible.
Work From Top to Bottom
In every room, you will want to start with the ceiling fan and clean cobwebs out of the corners, then work your way down to the furniture and then, finally, the floor. This will keep you from having to dust or clean an area twice.
Windows and Walls
Windows and walls get dirty, too. In the case of windows, they can become smudgy and make a room much less attractive. Make sure these areas get added to your spring cleaning plans. Sometimes all it takes is a damp towel to wipe down the walls and the window blinds. Cleaning the windows themselves is easier if you take out the screens and clean them.
Replace HVAC Filter
Really, you should replace filters regularly. But if you've been remiss in attending to this task, now's the time to take out the old, dusty filter and replace it with a clean one. This will improve the efficiency of your system and cut down on your energy bill.
Don't Forget the Outside
While it's not a room, the area outside your house also deserves some spring cleaning attention. Now's the time to clean the grill and the patio furniture in preparation for the warm spring and summer months to come.
Create a Maintenance Plan
If you struggle with cleaning regularly, spring cleaning also offers an opportunity to establish new cleaning habits for the coming year. As you do spring cleaning, figure out a plan to maintain the cleanliness going forward, even if you just spend 10-15 minutes a day cleaning.
These spring cleaning tips for planning and cleaning can help spring cleaning go a bit easier in your home. While it's a chore, it's a time-honored one that you'll be glad you did once you are enjoying your clean home.