Florida Residential & Commercial Movers
Good Greek Moving & Storage provides South Florida residents with a comprehensive suite of professional moving services. From residential to commercial moves, we ensure that every job is in safe, experienced hands.
It will be your "Best Move Ever.".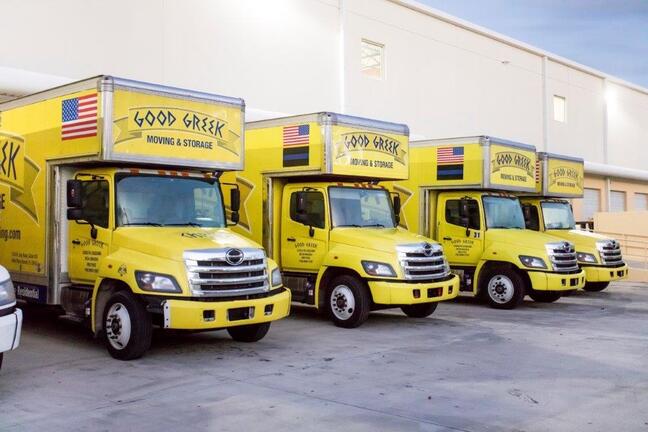 Moving Services in Florida
Good Greek Moving & Storage is headquartered in South Florida. We are state- and federally- licensed to handle moves anywhere in "The Sunshine State" and throughout the United States.
Here's an overview of our moving services:
Residential moving services. We handle moves for large homes, townhouses, condos and apartments of all sizes. We are licensed to handle your move whether it's across South Florida or to any location in the United States.
Commercial moving services. We relocate large companies and small businesses throughout Broward, Dade and Palm Beach counties – and beyond – with minimum business interruption.
Florida statewide movers. Whether your move is from Orlando to Tampa or from the Panhandle to the Keys, we are fully licensed and experienced to handle your move.
Long-distance moving services. We offer pick-up and delivery services to all points throughout the United States.
International moving services. We are relocation experts who service all continents and every international port on Earth (door-to-door delivery and all customs clearing services included).
Storage services. We offer secure storage units that are monitored by closed-caption surveillance video (CCTV), integrating a computerized inventory tracking system for all items stored.
Specialty services. We specialize in securely moving important items such as pianos and artwork, among other delicate items.
Moving Services in South Florida
At Good Greek Moving & Storage, we handle every kind of move and have experience in efficiently and safely helping businesses and individuals relocate. Some of the ways we help your move go smooth include, but are not limited to:
FREE in-house estimates – no last-minute price hike surprises
Prompt, polite and strong uniformed movers who ensure your items are packed carefully and correctly
Complete packing/unpacking services (and supplies)
24/7, 365 client support
Careful disassembly/reassembly of your furniture
Storage-related bullet?
Why Good Greek Moving & Storage?
Good Greek Moving & Storage is dedicated to making moves affordable, safe and efficient. We've earned an industry-leading reputation because we act as professionals and treat our customers with respect and kindness. Give us a call today and let us show you the difference Good Greek Moving & Storage can make for your move.
Call For a Free Moving Estimate: (561) 683-1313