Many people take a DIY approach to their move. They typically regret that decision. Certain services are best handled by professionals! Moving is definitely one of those.
About the only exception is for those who have a very small amount to move. But the truth is, most people don't have a small amount. Even those who live in a one-bedroom apartment will find themselves better off hiring a mover rather than renting a truck.
In fact, for most people, it will likely be some of the best money they ever spent because of what they get by spending it.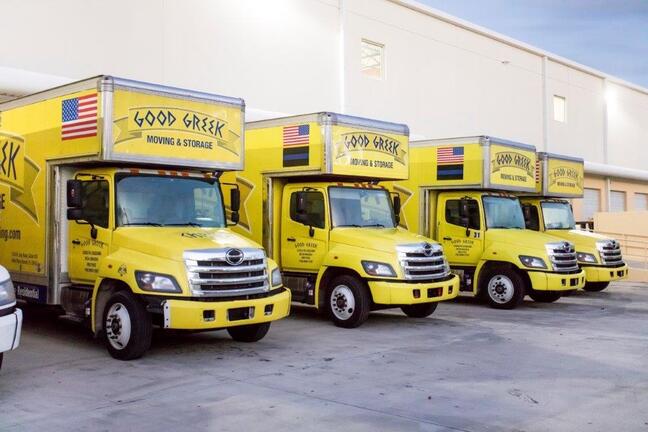 Why It's Better To Hire a Mover
We here are Good Greek Moving & Storage have been serving South Florida for many years. We've handled moves across the region, across the state and all over the country. We have a great deal of experience in what it takes to do a move right.
You've likely reading this because you are trying to decide whether to handle your move yourself or hire a professional mover. If you decide to hire a mover, we hope you will contact us to see what we can do for you.
Here are some advantages to consider if you do your move with a professional mover like Good Greek Moving & Storage.
A professional mover handles the transport of all your items – no need for you to do any heavy lifting
You get a free estimate before the move even happens so you know exactly what you will pay
We are efficient. Your move will happen in one day and maybe just a few hours depending on how far you are going. It won't spread across many days as you wait for your friends and family to show and help you
We can handle all your packing for you if you'd prefer not to do it. If you decide you want to pack yourself, we provide a one-stop shop for all the packing supplies
We handle all the disassembling and assembling of light furniture, such as beds
We have insurance for our work and offer customers a chance to get third party insurance if they wish
It's less stressful. Not having to handle it all yourself is a huge stress relief during a time of change
Despite these clear advantages, some people still decide to move on their own to avoid the cost of hiring movers. So, let's look at that issue next.
...We used Good Greek for our long distance move from South Florida to Metro Atlanta and they were awesome!
What a DIY Move Costs You
A move costs you no matter how you do it. If you hire a professional moving service like Good Greek Moving & Storage, you get a fair price that is estimated before the move begins. And we handle all the packing, unpacking, disassembling and assembling of furniture, plus all the heavy lifting.
But if you do it yourself, you also pay a price. You must pay for a rental truck. You must buy packing supplies. You must put in the physical effort to carry all your items. And mostly you pay with your time – usually, far more time than people expect.
You pay in other ways, too. These are some of the typical things that happen with DIY moves.
Packing takes much longer than people expect
Injuries occur from heavy lifting
Value is lost if something is broken or damaged (no insurance)
Problems arise because you do not have the right tools (such as something getting stuck in the door)
Not packing items properly in the truck, leading to broken items
In the end, hiring a moving company can save you money and certainly will save you save spent planning, packing and carrying boxes. Everyone must weigh their options and decide what works best in their situation. But it's hard to imagine a situation where putting the cost of hiring a professional mover into your budget isn't the right move.
Call For a Free Moving Estimate: South Florida (561) 683-1313 – Tampa (813) 438-2700