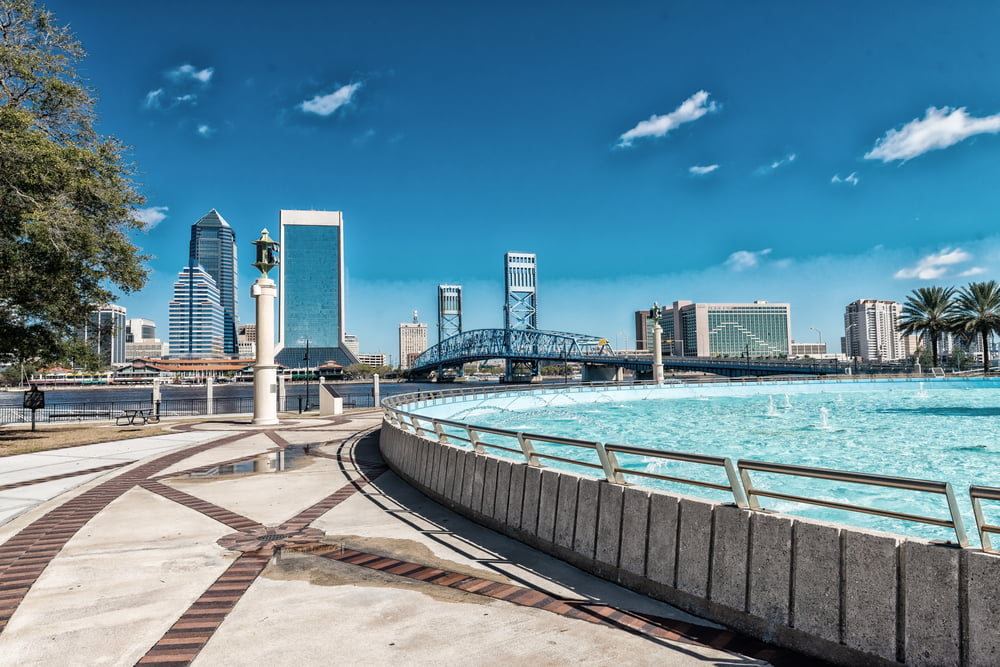 People choose to move to Florida for the sunshine, beaches and relaxed lifestyle. Jacksonville offers all that, but also less heat and humidity than other places in Florida, a low cost of living, great neighborhoods for families and singles alike, and a young (and growing) population.
Ranked as the largest city in the south, Jacksonville attracts both young professionals, entrepreneurs and retirees. There are plenty of pros for making the move to Jacksonville, as well as a few cons. Here's a look at both.
Pros of Living in Jacksonville
These rank among some of the best reasons to have Jacksonville on your radar if you are looking to relocate. This is especially true if you've already decided that Florida is your destination.
Lower Cost of Living
Jacksonville offers its residents all the amenities of a big city, but with a much lower cost of living. In some places in Florida, people might feel like they have exchanged a lower cost of living for better weather and beaches. But that's not the case in Jacksonville, where housing prices are lower than much of Florida. The sheer size of the city and surrounding suburbs offer residents plenty of options in terms of price and size of their home, as well.
Great Beaches
Miami Beach and Clearwater Beach might get most of the headlines, but there are great beaches in Jacksonville, too. One of the major pros of Jacksonville is that no matter where you live in the city, you're not far from the beach. Jacksonville has grown along the Atlantic Ocean coastline. No matter where you choose to live, you'll enjoy a short drive to beaches such as Jacksonville Beach, Neptune Beach, Atlantic Beach and Mayport Beach.
The Weather
Along with the great beaches comes great weather. And unlike cities farther to the south, Jacksonville doesn't have the subtropical or tropical climate. It gets hot, but the humidity and heat are less intense than other Florida cities. Even in July, the average temperature is about 90 degrees, rather than reaching the 100 degrees "enjoyed" by other cities in Florida. It's basically got the climate of a southern city, but right on the ocean. That's a popular combination.
Great Neighborhoods
Jacksonville offers diverse options when it comes to choosing the right neighborhood that matches your needs. There are many fantastic neighborhoods perfect for families, including great schools, in the city and the surrounding suburbs.
In and around Jacksonville, some of the most popular neighborhoods include:
Nocatee. A master-planned community with some of the lowest crime rates in the state. It's located south of the city in Ponte Vedra Beach.
Palm Valley. Also located in Ponte Vedra, Palm Valley features amazing Mediterranean-style homes near the Atlantic Ocean. Both Nocatee and Palm Valley are popular with retirees as well as families.
Fruit Cove. Located south of the city along the St. John's River, Fruit Cove offers a small town feel and highly rated schools.
Atlantic Beach. Located due east of downtown Jacksonville, Atlantic Beach offers a great mix of renovated historic homes, bungalows and modern townhouses and condos. It's a big draw for single professionals and families.
Oceanway. Along with adjacent neighborhoods New Berlin and Yellow Bluffs, Oceanway is one of the fastest growing areas of Jacksonville
It's Young
Of all the major cities in Florida, Jacksonville is the youngest. It's also the biggest, with an estimated 911,511 residents. The city boasts the largest area of any city in the contiguous United States. The city also is developing a reputation for being a cool place to move. It recently has made some "best places to live" lists, including one from Livability that called Jacksonville "a melting pot — people, culture, interests and food. Between the beach, river and the largest park system in the nation, there's something for everyone to love here."
Cons of Living in Jacksonville, Florida
The list of cons for living in Jacksonville includes the following:
Not walkable. Like most cities in the South, you'll need a car to get around in Jacksonville.
Developing job market. The job market in Jacksonville is still developing when compared to Miami, Orlando and Tampa Bay. But it's growing quickly.
Lower income. You'll make less in Jacksonville then you will in other large U.S. cities.
No direct international flights. Other than Toronto, there are no direct international flights into or out of Jacksonville.
Those include some of the major pros and cons for living in Jacksonville, Florida. It's a young city that is beginning to gain popularity for those who want to relocate to Florida. It also offers families a safe, fun and beautiful place to raise a family or retire.