Let Our Professional Movers Pack For You!
Of all the tasks involved with moving, packing is far and away the one people dread the most. The idea of having to put all your belongings in boxes is intimidating. We've handled thousands of moves at Good Greek Moving & Storage and we understand that feeling. That's why we offer all our customers the option of using our professional packing services.
It's another way to make your next move the Best Move Ever. That's whether you are moving in Florida, or across the country.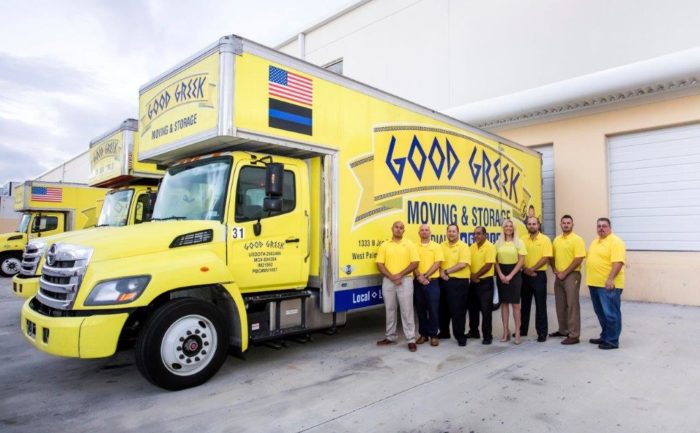 Packing Services
Good Greek Moving & Storage offers moving and packing services for people living anywhere in Florida. We are fully licensed to provide moving services across the state of Florida and nationwide.
Packing is part of our relocation services that will take care of all your moving needs from start to finish. Our professional packers can both pack and unpack your items. And we can do it faster than you would on your own – one less thing for you to stress about during your move.
Not only will we pack and unpack your items, we also will take away all debris and boxes once it's over.
If you decide you want to pack yourself, we provide free boxes. Call (561) 683-1313 to discuss your moving and packing needs today.
What Kind of Items and Objects Do You Pack?
Good Greek Moving & Storage can pack and move all kinds of items. That covers a lot, some of the most common include.
Household items
Fine china dishes and glassware
Pianos (including baby grands, consoles, grand pianos, and uprights)
Art Work
Decorative items
Expensive equipment for businesses and government officials
Contact us for a free estimate
We Pack Fragile Items
Yes, Good Greek Moving and Storage professional movers have the training and experience to move fragile, delicate, expensive and valuable objects. Give us a call if you would like to discuss packing and moving your belongings.
Full-Service Florida Movers
In addition to "white glove" packing services, Good Greek Moving & Storage offers a full range of moving and packing services to efficiently handle your move from beginning to end.
Those services include:
An in-person, FREE estimate from our professional staff
A written price estimate – no surprise, last-minute charges
Light disassembly and assembly of furniture at no extra cost, such as beds
Blankets and pads to carefully wrap your items to ensure safety during transportation
Storage space with CCTV security and inventory tracking system
We always have someone available for your questions, 24 hours a day, 7 days a week
Full-Service Movers in Florida
Good Greek Moving & Storage can handle any kind of move. We've worked for many years in South Florida. We're even the official movers of the Miami Marlins!
If you are looking for packing services and moving services, we can handle townhome, apartment, single-family home, and business moves of all sizes. We are fully licensed to do local, in-state, nationwide, and even international moves.
We're proud of our good reputation here in South Florida. Please check out our online reviews. We treat all our clients professionally, and we believe that shows in the reviews we receive. Once you're ready to hire a reputable mover that offers packing services as well as so much more, we ask that you contact us and let us show you what we can do for your move.
Call For a Free Pack and Move Estimate: South Florida (888) 459-0892 – Tampa (813) 438-2700