When it comes to moving your business in Florida, the top priority is safety, both for employees and valuable office equipment. You need to do your due diligence and find a professional, licensed moving company that can handle everything your move requires.
Good Greek Moving & Storage has decades of experience in handling business moves, both small and large. We specialize in making a move go as quickly as possible to minimize business disruption while also keeping your office furniture, computers and other valuable items safe and secure during transportation.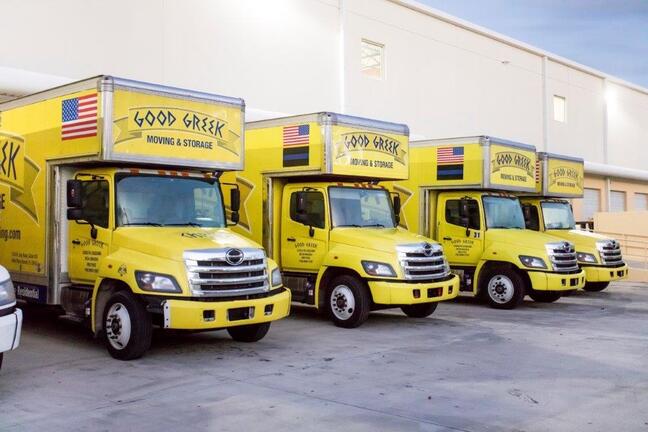 Why You Want Professional Movers
The first step for a successful business move is finding a professional moving service. This takes the job of moving office furniture – and the risks associated – out of the hands of your employees. Moving companies should offer:
Estimated pricing
Free Estimates
Third-party insurance contacts
A license to handle local, statewide and national moves
All the packing materials and packing services you need to complete the move
Meeting these marks ensures that the moving company is professional and experienced enough to safely handle your move. Movers also should have experience handling all types of business moves, including:
Branch offices of large corporations
Small businesses
Computer and IT equipment
Appliances
Unique office furniture
Tips For Moving Your Business in Florida
Even the most experienced businesspeople may have no experience in moving an office. Here are some considerations to keep in mind as you prepare to move your business.
Planning. Assign someone to do an inventory on everything that needs to be moved. That can help both you and your professional movers better assess exactly what services you will need for the move. Also, make sure to identify any special issues (such as large furniture that needs to be moved) or any storage needs.
Send Out an Office Moving Notice Letter. It's important to let all your business partners and clients know that you will soon have a new address. We've provided a template you can use right here.
Prepare Your Staff. You'll want to develop a plan to coordinate your office move and prepare staff, especially with detailed safety information. You will want them to avoid issues such as heavy lifting, overreaching, deep bending, twisting their bodies and tripping and falling. The key here is to work with a professional mover to coordinate all the lifting duties, leaving employees to only pack up items from their desks.
Do the Research. Research business movers in Florida to find the ones that best match what your business needs.
Why Choose Good Greek Moving & Storage
Good Greek Moving & Storage has years of experience handling moves of all kinds – including moving businesses in Florida. The company has a well-earned reputation for consistency, safety and efficiency.
Good Greek Moving & Storage also offers a host of professional services for those who are moving a business. They include:
An in-person visit and FREE estimate
A written price estimate for your move
Light disassembly and assembly of furniture at no extra cost
Safety measures to ensure business items remain secure during transport
Secure storage space that uses computerized inventory and is monitored by CCTV
Customer service that is available 24/7
Contact Good Greek Moving & Storage to find out how they can help make moving your business in Florida go as smoothly as possible with the least amount of disruption for your business operation.
Call For a Free Moving Estimate: South Florida (561) 683-1313 – Tampa (813) 438-2700