Pinecrest Local Movers for Home & Commercial Relocations
Good Greek Moving & Storage is one of the most highly-rated professional movers serving Pinecrest and all of South Florida. Our knowledgeable and experienced crew specialize in local & long distance moving, storage, packing & unpacking. We offer free moving quotes to ensure we provide you with an accurate moving cost estimate.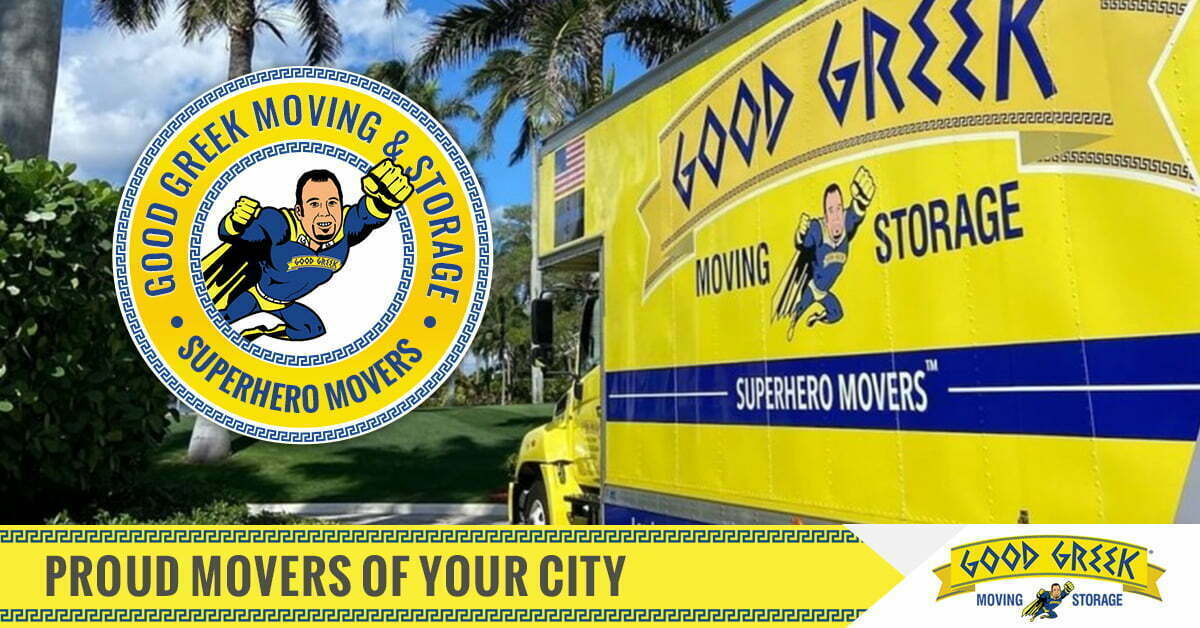 Good Greek Moving Company has become one of the top-rated companies in the region. Some of the reasons that people have chosen us over the competition include:
Competitive pricing
Outstanding reputation
Best Move Ever
Professional, full-time movers that work directly for the company
BEST MOVE EVER
When moving across town or across the country, the moving process doesn't have to be stressful. Good Greek Moving & Storage is the only company to offer "The Best Move Ever" ensuring a stress-free move on time and on budget. Their service is unmatched which is why they offer their estimates to prove it. Serving Palm Beach, Miami-Dade, and Broward County has been an honor for The Good Greek as they love providing the best possible moving experience.
HOME AND OFFICE MOVING SERVICES
We have a great team who understands how to help customers move from the home or office. Maybe your business has grown at exponential levels, and you need someone to help you move into a bigger office. Here at Good Greek, we will help you make that move. When it comes to moving into an office or new residence, you can feel a lot of stress on your shoulders, and we will be there to eliminate much of the burden.
PINECREST BUSINESS MOVERS
Working as the official company that helps the Miami Marlins to move, you can trust that you have hired someone with tons of experience. Helping such a team could hardly be possible if we didn't have the right level of experience, trust, and know-how. We have a team of experienced workers who understand how to get you from one location over to the next. We will be there for you to help you get the most from our services. Our company believes in providing good and honest moving services.
LONG DISTANCE MOVING
Along with helping some of the local moves, Good Greek also has experience with long-distance moves.  We have a team of relocation specialists and long-distance movers who understand how to plan and move you from one location to the next. Whether you want to move somewhere in the state of Florida, or you want to move to another state within the United States. We can also put your possessions in storage for those moves that may require a little more time.
MOVING COST AND PRICE QUOTES
We will write up a free price quote that will give you a better idea of what to expect in terms of cost. A moving estimate will help you calculate costs so you can compare quotes and make a more informed choice (remember price should never be the only factor you consider).  We follow the best industry practices so that customers can trust that the moving estimates and price quotes we give them will be ones that they can trust when calculating the cost of moving.
LICENSED AND INSURED MOVERS
Understandably, most people have some level of apprehension when hiring a moving company. We understand this type of apprehension, which is why we conduct a thorough background check, and we also require that our employees pass through a drug test before becoming an employee of Good Greek Moving & Storage. This ensures that we have the highest caliber of employees working for our company. We have put together an all-star team that you can depend on to complete your move.
SAVE ON MOVING COST
One of the reasons that people have chosen us over the competition comes down to how we offer occasional promotions that can help you save on your move.  To learn more about some of our offers, you can visit our promotions page to see what we currently have available to make your move a little more affordable.
TIPS FOR SELECTING A MOVING COMPANY
When looking at moving companies, you have a couple of things that you may want to consider before choosing your mover. First, think of what type of moving services you will need because this can help you to determine the type of mover you require. In some cases, you may even want to hire them to pack your items because it saves you time. The second tip is that you should ask the moving company if they will take an inventory of everything that you have. A good company will take a careful inventory of all the items in your home or office. A large portion of the mover's price will depend on how much stuff you have, the total weight of the goods and the distance of your move.
Get a thorough walk-through.
Get an in-home written estimate.
Do not pay a large deposit.
Avoid moving companies with a name switch.
Beware of extra fees.
Avoid a blank moving contract.
WHY PEOPLE MOVE TO PINECREST, FLORIDA
People have started to pick up and move to Pinecrest because you have beautiful homes and a beautiful neighborhood. Some people believe that you only have mansions here, but you have a wide selection of homes and apartments in this area. One of the biggest reasons that families have chosen to move to Pinecrest comes down to what a family-friendly environment they find south of Miami. You have safe parks here and quiet streets. Organized recreation and family activities have become one of the biggest things that you can trust in these areas.
Trusted Home and Office Movers Serving Pinecrest, FL
For local and long-distance moves in Pinecrest and throughout Florida, contact Good Greek Moving & Storage. Our moving specialists provide a safe, affordable and hassle-free moving experience. For more information, call (561) 683-1313 or request a free moving quote now.