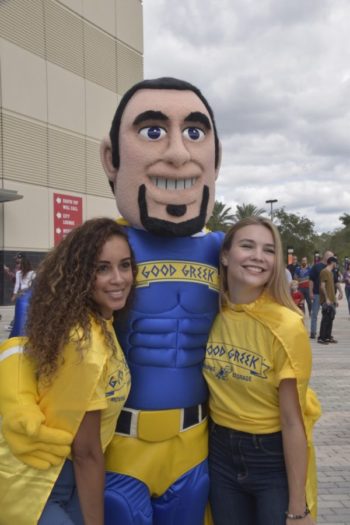 Good Greek Moving & Storage had a great time helping get the crowd ready before a recent match-up between the Florida Panthers and the St Louis Blues.
December 4th was Kid's Day at the FLA Live Arena and the atmosphere was festive as anticipation for the matinee match-up grew throughout the early afternoon.
Spero The Hero and members of the Good Greek team were on hand to give away some cool Good Greek swag, meet with fans, take lots of pictures, and have an all-around great time before the game!
Be sure to look for Good Greek Moving & Storage when you are out and about in Florida. Good Greek is your Total Relocation Solution offering full-service moving, storage, auto transport, and junk removal services throughout the state.
Thank you to Spero The  Hero, the Good Greek team members, and all the fans that stopped by and made this a SUPER fun event!
#floridapanthers #moving #superheroes #hero #movers #packing #movingcompany #movingday #relocation #autotransport #home #newhome #sperothehero