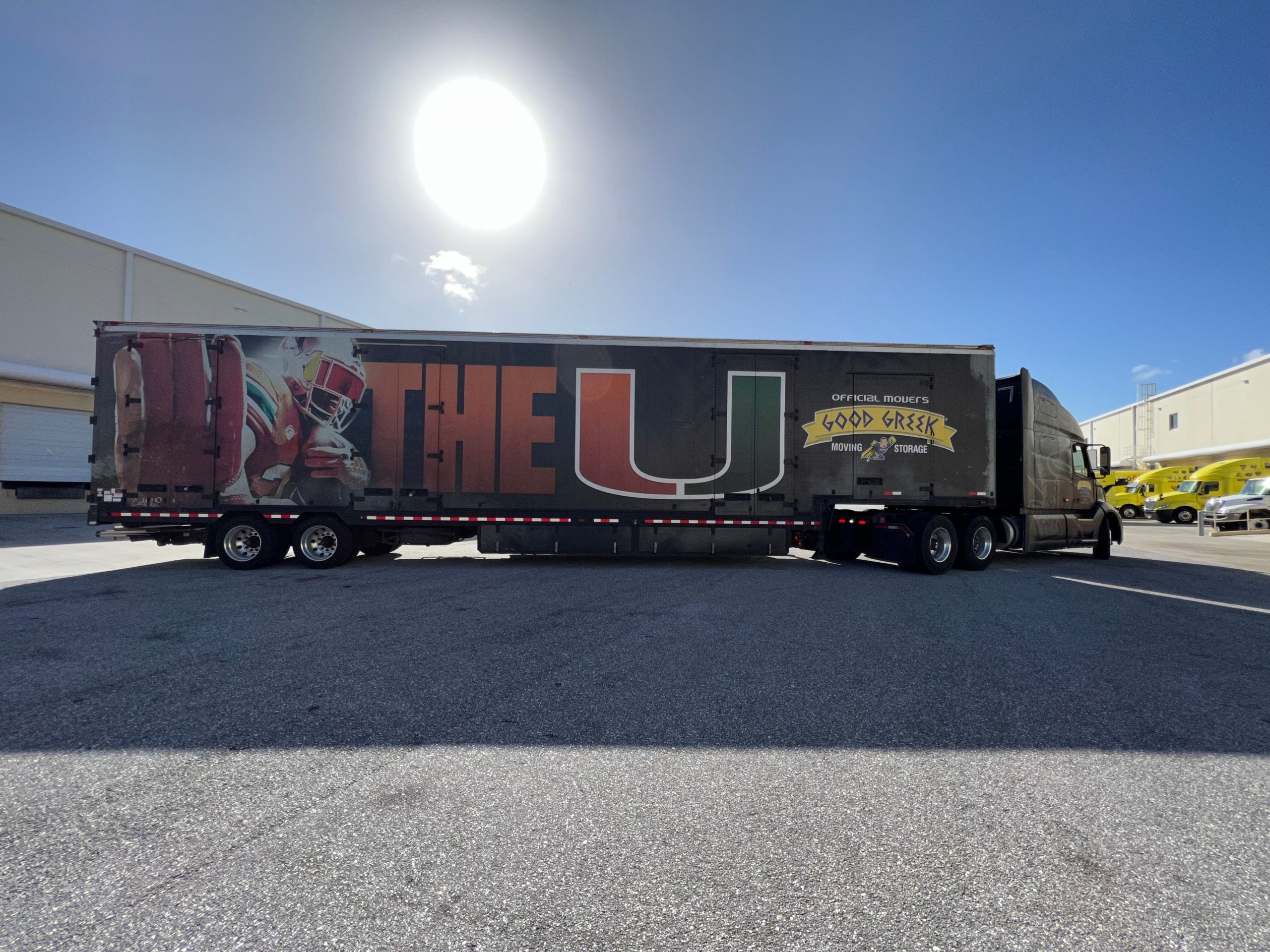 The Hurricanes moved on in the NCAA tournament after beating a Top 10 Auburn Tigers team that started the tournament as the No. 2 seed in the Midwest bracket.
JUPITER, Fla. (March 24, 2022) – Good Greek Moving & Storage, the Florida-based leader in Total Relocation Services for individuals and businesses, is happy to congratulate the University of Miami men's basketball team for reaching the Sweet 16 in the 2022 NCAA Men's Basketball Tournament.
Good Greek Moving & Storage is the Official Mover for the University of Miami, a partnership first announced in 2019. The company manages transportation needs for the Hurricanes, ensuring everything the team needs arrives safely and on time for each game.
"We've said from the beginning how proud we are to work with an outstanding organization like the University of Miami. They're one of the most prestigious universities in the U.S. and mean so much not only to South Florida but to fans around the country," said Spero Georgedakis, founder and CEO of Good Greek Moving & Storage. "We are so excited to see the men's basketball team make the Sweet 16. We couldn't be happier for the players, coaches, and university."
The Hurricanes advanced in the tournament by beating the Auburn Tigers, 79-61. The Tigers, who at one point in the season ranked No. 1 in the country, started the tournament ranked No. 8 and as the No. 2 seed in the Midwest. The Hurricanes, the No. 10 seed, held the lead from start to finish. They were led by third-year sophomore Isaiah Wong, who scored a game-high 21 points. Clutch shooting helped seal the win for the Hurricanes, who went on a 15-5 run to end the game and scored 7 points in the last 73 seconds.
The Hurricanes will play the Iowa State Cyclones on Friday with a chance to reach the Elite Eight on the line.
In addition to the Hurricanes, Good Greek also operates as Official Mover for the Miami HEAT, Miami Marlins, Florida Panthers, Inter Miami CF, Tampa Bay Buccaneers, Tampa Bay Rays, and Tampa Bay Rowdies. At the collegiate level, Good Greek Moving & Storage is the Official Mover of the University of Florida Gators Football and Florida International University Athletics.
Good Greek Moving & Storage has worldwide headquarters in Jupiter, Fla., and locations in Miami/Fort Lauderdale, Boca Raton/Palm Beach/Treasure Coast, and Tampa/St. Petersburg. The company offers Total Relocation Solutions to its clients, including real estate services, packing/unpacking, moving, auto transport, storage, junk removal, and home concierge services.
Good Greek has a well-earned reputation for transparency and top-notch customer service, which accounts for the company's stellar reputation among globally recognized individuals, businesses, and professional sports organizations. The company offers high-quality, professional relocation services, including in-person estimates, guaranteed pricing, and climate-controlled secure storage facilities monitored 24/7 with CCTV. The company is licensed to handle local, long-distance, national, and international moves.
About Good Greek Moving & Storage
For 25 years, the Good Greek, Spero Georgedakis, has provided moving services in South Florida. The Company offers total relocation solutions that include full packing services, auto transport, junk removal, real estate services, and more. In every area, Good Greek places respect for the client and customer service foremost. Headquartered in South Florida, Good Greek Moving & Storage franchises are expanding across the country. Good Greek Moving & Storage's business mission is straightforward: providing customers their "Best Move Ever."
Press Contact
Stacey Elliott
Good Greek Franchises
(561) 935-3330
Sponsorships (at ) goodgreek.com