Choosing the Right Commercial Moving Company
As the official movers of the Miami Marlins, we know businesses face unique challenges when planning and executing a move no matter if it is once or every week. Good Greek Moving & Storage specializes in business, corporate, and industrial relocation's.
Our experience as a commercial mover in Florida has given us the expertise to work with each client on developing a moving plan that works best for them. We also have experienced movers and the right equipment to ensure the safe packing and transport of a company's equipment, technology, artwork, and other valuable items, providing moving services you can trust.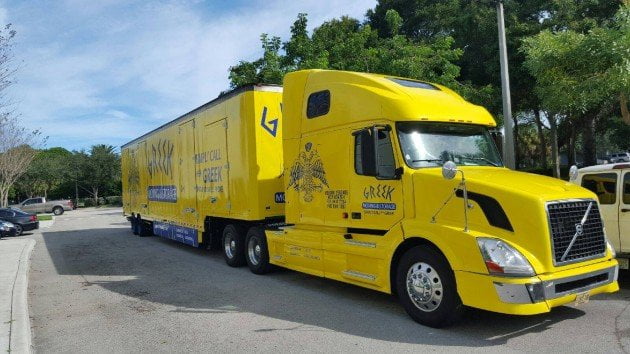 Top Commercial Mover in Florida
We handle corporate and business moves in Miami, Fort Lauderdale , throughout South Florida, anywhere in the state of Florida, and across the country. We ensure the safest, fastest way to transport value goods for a commercial move. Our goal is to move clients quickly and efficiently, so they can get back to business and minimize downtime.
Here are some of the commercial mover services offered by Good Greek Moving & Storage.
We come to your place of business and get a first-hand look at what needs to be packed, loaded on a truck, and transported to the new location

As part of our pre-moving service, we will walk you through every step of the move and provide a estimated price, so you can plan your move. There is NEVER any last-minute surprise at the cost of your move

We offer packing, unpacking, and crating services to ensure any loose or fragile items are protected during transport

Once we reach your new location, we will properly place boxes, furniture, and office equipment in the place where you want it

We offer storage space if needed

We are available for any questions, 24 hours a day, 7 days a week
Popular and Experienced Commercial Movers
As the official movers for the Miami Marlins, minor league sports teams and numerous local businesses, Good Greek Moving & Storage, has experience with all kinds of commercial moving jobs. The types of commercial moves we handle and items we have experience moving include:
Small business and office moves

Professional and minor league sports teams
Local and national hotel chains
Corporate offices
Port of Miami
Top Cruise Lines
Local and national charities

Industrial businesses

Office equipment and furniture

Computer and IT equipment

Appliances and equipment
Good Greek Moving & Storage is licensed for commercial moves anywhere in the state of Florida, from Miami to Tallahassee or Fort Lauderdale to Tampa. We also meet state and federal regulations to handle moves across the country for businesses that are relocating to another state in the U.S.
Commercial Moving Tips
Much like a residential move, every commercial move is at least slightly different. However, there are some general tips to keep in mind as you prepare to relocate your business.
Choose the right movers.

Do the research to ensure your moving company has all the proper licenses and meets all regulations to handle local, statewide and cross-country moves

Check on insurance.

Moving companies are not insurance agents. Each is required by law to offer standard insurance that protects you against any nicks and scratches. However, quality movers will offer additional insurance for your move from a third party and should provide all the information you need on this upfront.

Estimated pricing.

Don't waste your time dealing with movers who do not offer a written, estimated price for your move. Good movers also will come to your business in-person to evaluate your moving needs and make an accurate moving estimate.

Plan ahead.

When meeting with movers, make sure to have a list prepared for all the commercial mover services you will need. This includes issues such as packing, specialty items, and the possible need for temporary storage of some items.

Research thoroughly.

Take the time to research commercial movers in Florida and find the one that best matches your needs. It's also wise to read online reviews and get a sense of how well the company has served past clients.
Why Good Greek Moving & Storage
Why choose Good Greek Moving & Storage? We have years of experience handling commercial moves of all kinds in Florida. We've worked hard to build a reputation for fairness, consistency, safety, and efficiency.
If you are planning on relocating a small business, large company or industrial operation, give Good Greek Moving & Storage a call and see the difference we can make in ensuring your move goes safely and smoothly.
Call For a Free Moving Estimate: South Florida (888) 459-0892 – Greenville (864) 641-1444 – Tampa (813) 438-2700